This morning as I gazed out into the back yard through the kitchen window, I noticed that the Tamaracks (Larches, which are deciduous conifers) are turning colour. Soon their needles will fall. Last night Attila brought in the last few squash from the garden, the harvest is complete. It feels like autumn now.
November took on a very special meaning early in our relationship. Attila was the manager of a very large farm, and autumn was harvest season. He worked every single day, from before light until after dark, from the first of September until early November, once right until the middle of November. I missed him terribly during those harvest seasons, as I hardly ever saw him awake for more than a few minutes each day, before he collapsed in exhaustion into his bed. But in November he suddenly appeared back in his own life. He slept for weeks, catching up, recovering, but he was home. November was a month of reconnection, of rest, of celebration. I don't miss those harvest seasons, but November still feels special. This wonderful feeling was the only positive aspect of the job I think, other than his wage was adequate, just, to pay the monthly bills.
This morning the delicious aroma of the baked second Blue Hubbard Squash is wafting through the house. Attila cut it up and took the seeds out last night. I put it in a roasting pan for the night, ready to pop into the oven this morning, early, so that it would be cooked before 7 a.m. when the power prices increase. Last night I mucked through the gooey core of the squash to remove all the seeds, and discard the muck. We will plant these squash every year now, they are so delicious!
Yesterday I spent the day processing the first Blue Hubbard Squash. I removed the flesh from the outer skin, which was a very big job. The skin is soft and crumbles, so that small bits often broke off and clung to the flesh. The flesh close to the skin was very dry and crumbly, and I wondered if it was bitter, so I tasted it. It was oh so sweet, well worth the effort to remove it carefully from the skin. Once processed, this squash was the consistency of peanut butter, it was spreadable. And again, so sweet and nutty that my low-sugar adjusted palate would have mistaken it for jam.
Today another squash was baked and cooling in the oven by 7:00 a.m. Another day's work. I think that we will have over $200 worth of organic pureed squash and pumpkin, when all of our harvest has been processed. Beans and squash are our most successful garden crops.
Yesterday's yield, eleven 500 ml containers of pureed squash. Today there were nine more for the freezer and one for the refrigerator, making ten 500 ml containers. That is just over ten litres of pureed squash from two of the six Blue Hubbard Squash we grew in our garden. We also have two butternut squash to process. We will probably end up with more than 25 litres of squash puree. And then, there is the pumpkin puree as well, that has been added to our stores, our Jack O Lantern turned muffins.
We have owned the house for more than five years, and have never used chemicals of any kind on our garden or lawn, so these are technically organic squash. The pumpkin, probably not.
These are the seeds removed from the first Blue Hubbard Squash that was processed. After they are dried they will be stored in glass jars, to be planted in next year's garden.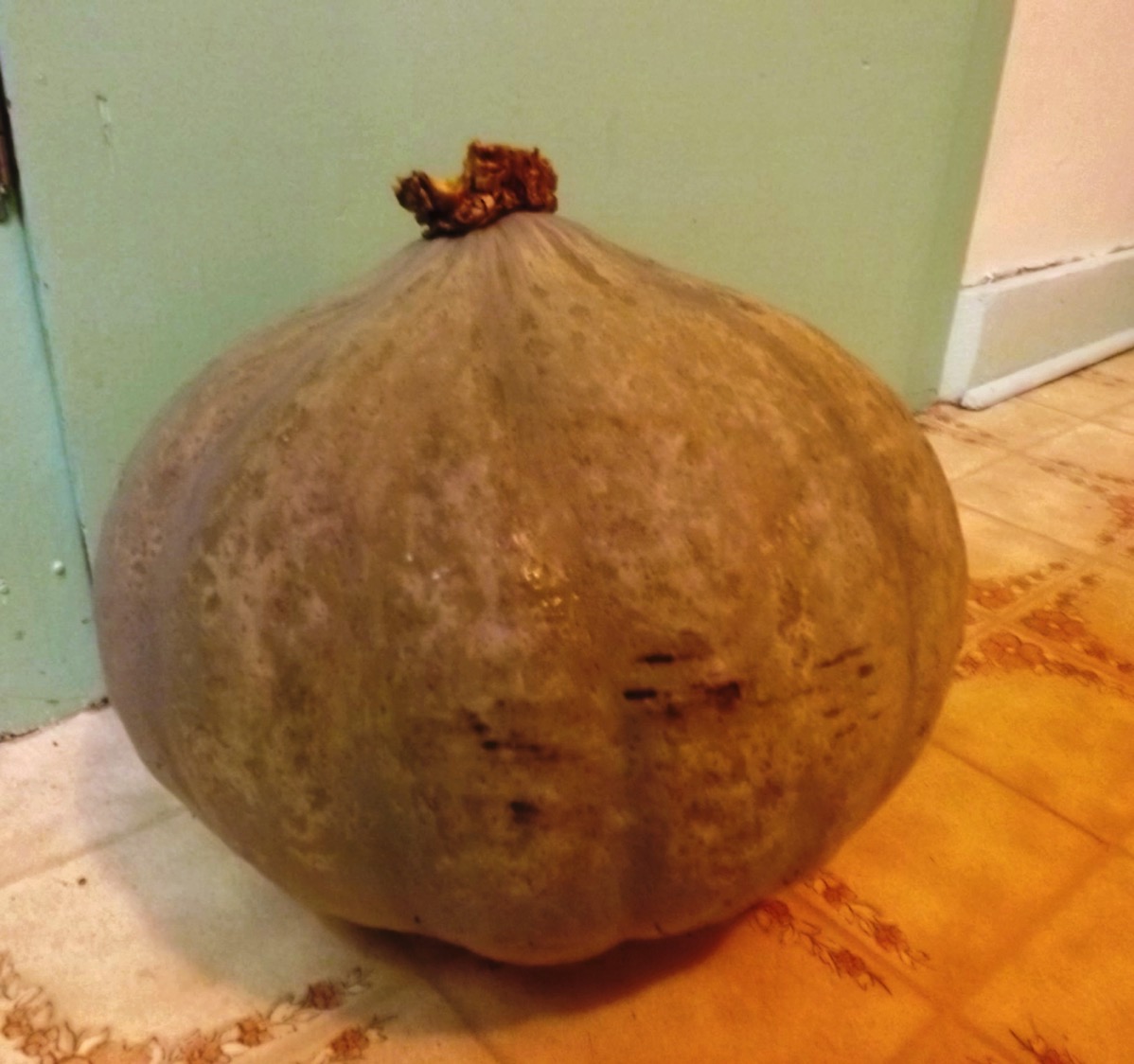 This is the Blue Hubbard Squash that was baked early this morning, and is now sitting on the counter in the form of nine more 500 ml tubs of squash puree. An additional 500 ml bowl of squash puree is in the refrigerator. I have now run out of 500 ml plastic containers. I have saved some two pound plastic margarine containers; fingers crossed that we have enough containers!
Almost all the bills are paid, which is an accomplishment this month, as we have been overextending our financial reach to install the new windows in the dining area of the kitchen, and to procure a new external hard drive to backup our digital records. The juggling isn't quite over yet, Christmas is fast approaching, and we like to give the Grandbabies a wee bit of money in their Christmas cards. There are seven of them, so our gifts must be modest. We usually see them sometime in December, never on Christmas itself, so Attila will bake cookies, and I will make Mincemeat Squares for the families. Buying toys, or any store bought gifts, is beyond our means. During the winter months I like to order some small offering for them, that arrives in the mail at their house, with their name on it. Last year I sent videos and games. We will see what I can find in my price range this year. With a Prime account I can have the items delivered to them without extra charge, making it affordable to send them things. Were I to mail a package at the Post Office, it would cost more to mail it than the item was worth.
I can hear the big fuel truck, driven by our neighbour, pulling up to his house. Every morning he comes home in the truck for a few minutes, pops into the house leaving it running, for whatever reason he has. It is like clockwork.
Yesterday there was a vehicle parked in the driveway of the empty house next door. We still have our fingers crossed that good people will eventually live there.
Worldly Distractions
Weather
12°C
Date: 1:00 PM EDT Friday 3 November 2017
Condition: Partly Cloudy
Pressure: 101.9 kPa
Tendency: Rising
Temperature: 11.7°C
Dew point: 2.8°C
Humidity: 54%
Wind: WNW 22 gust 41 km/h
Visibility: 24 km
Quote
"The lesson which life repeats and constantly enforces is 'look under foot.' You are always nearer the divine and the true sources of your power than you think."
John Burroughs
1837 – 1921