February 1, 2016
February first! I was going to write that I am not counting the days until spring, but a glance at the calendar in the kitchen gave me pause. I see that in January I checked off each and every day! I am inspired to do this as I am counting off the days left of my Mom's therapy treatments. It remains to be seen though, if I continue to check off the days when she is well past the experience and feeling much better.
The clothes drying rack that was purchased last month is doing a fine job drying the freshly washed laundry, and keeping the humidity in the house at a healthy level. It is light and sturdy, easy to setup, and easy to collapse into a compact little unit. We estimate it will pay for itself by the end of the winter, by allowing us to let the electric dryer fall into disuse. It is so successful in fact, that we have ordered a second one, so that we can distribute the wet clothes more evenly. These lightweight dryers can be easily carried outdoors, and used on the back porch, during the warmer months; I anticipate drying clothes out of doors beginning in April.
Attila assembled the second wardrobe for the bedroom, and now we each have one. He is slowly settling in here at Mist Cottage. The clothes that go into his wardrobe must be sorted, some discarded, some donated, and some kept. But the real indicator that Attila is settling in, is that on Sunday he unpacked his travel bag. We have used travel bags extensively for the last five years, living in two houses, one in the country and Mist Cottage in the town. Now that we are living at Mist Cottage, keeping these travel bags current and useful is no longer a part of our lives. It was a bit of a job, sorting through the items in his travel bag, so many important bits and pieces of life were in it, but the job is done and the bag is empty and stored with the other "luggage". Attila has arrived.
I unpacked my travel bag last autumn, after we moved here. Being retired, I have a lot more time to attend to domestic life than does Attila, who holds down a full time job.
This year on my birthday I officially and legally became a Senior Citizen. I haven't felt this jubilant about a birthday in a long time. I made it. Not everyone does you know. Of course you know.
When I arose on the first day of my new world status, I dubbed it my "Senior Debutante Day".
I donned my prettiest clothes, put on the jewelry I wore at my wedding, ate a hearty breakfast, and proceeded to quietly celebrate my lucky existence for the rest of the day.
I baked myself a cake early in the day, before the hydro got expensive, no use being flamboyantly foolish by wasting money on hydro. Attila arrived home with potted pink roses, a card, and a lovely gift. Attila really hit the mark this year with my birthday gift, he bought me long handled, heavy duty, well marked, measuring spoons. Be still my beating heart, I kid you not, this was a gift that truly delighted me. Because of my anaphylaxis, I spend a huge amount of time preparing food from scratch, and have always used the cheapest and flimsiest of equipment. There is nothing like good equipment to make time spent in the kitchen more satisfying. Luna, Terra, my Mom, my two lovely sisters, my cousin in Kelowna, and my friend Steve-Paul Simms all sent messages of congratulations, it was lovely. I spent the rest of the day pleasantly listening to classical music, reading, or doing whatever caught my fancy at the moment. I spent time contemplating what aging means to me, thinking about what things matter most, and what things don't matter; these lists have changed significantly in the last decade. As a finale, Attila and I shared a pizza and watched a movie. Then Attila iced the cake and we enjoyed a slice, a fitting end to a perfect birthday.
Today dawned bright, with streaks of heavy clouds smeared across the sunrise. Later though, the sun came out, and the temperature held at 4C. Out I went for my walk, and oh my, it was grand. By that time fluffs of cloud were all that were left of the morning's cloud cover, and the sky was a beautiful shade of blue. The breeze was brisk, and invigorating. The road was clear, with wet puddles here and there. Almost all the snow is gone. It was springlike, and lifted my spirits higher with each step. Because the temperature was above freezing, my arthritic knee did not need extra protection from the weather. It was a glorious day to be out and about.
Today was the day my drug benefit plan became active. I dreaded going to the drug store to have my prescriptions filled. I had only partially filled my most recent prescriptions because I had to pay cash for the medication, and for the full $11.95 dispensing fee per prescription. I had talked this over with the pharmacist, and the plan we came up with was that as soon as my benefit plan kicked in, I would fill the rest of my prescriptions. Today the benefit plan kicked in. I called last week to check on my prescriptions, and talked to the pharmacist about picking them up today. I was very upset to be told that my plan would probably not kick in, I had to wait a month. WHAT! Fine time to mention this little tidbit of information!
I researched the plan on the internet, and the pharmacist was wrong. The plan kicked in today, our original strategy was based on correct information. So I knew I was going to have problems today. And I dreaded it. I am out of medication, so I feel pressure, a lot of pressure, to obtain the medications in a timely fashion.
So in I went. At the counter I explained about my benefit plan, and that I wanted to pick up my medication. The first thing I was told was that I had to wait a month.
The first thing that came out of my mouth was, "That is not true."
A tense exchange of information followed, and the pharmacist agreed to "try it" and see what happened. I was right, the benefit plan was active. One prescription was filled, and I paid the deductible for it. The other prescription was rejected by the plan. The pharmacist just looked at me, after delivering this news. Pressure! I asked the pharmacist to check and see if it was the actual medication that was rejected, or the prescribed dosage. He did that, and it was the dosage that was not covered by the plan. He could not fill the prescription.
I declined the pharmacist's offer to sell me a few pills to get me by while I sorted this out with my GP, which would not be applied to my deductible, and would cost me an additional dispensing fee of $11.95. I asked him if it would harm me to suddenly discontinue the medication. He responded that he didn't know, I would have to ask my doctor. We chatted a bit more, and he at last made a good suggestion; he suggested I contact the doctor to request that the prescription be reissued, as the covered dosage, and ask that it be done as soon as possible, preferably tomorrow. This seemed workable, so I thanked him for his help, and off I went.
The doctor's office telephone line was busy every time I called. But finally I got through and spoke with the receptionist, explaining my dilemma. She said the doctor would be in late this afternoon and would see the message. I suggested to her that my next step would be to call the pharmacy tomorrow, to see if it worked out, and she felt that was a good idea. We didn't discuss how the doctor would let me know if it was dangerous to suddenly discontinue the medication, but they have my telephone number and I assume that, if I were in mortal danger, his office would call me to let me know. I am pretty sure I will not be in mortal danger if I discontinue the pills for a few days.
Attila and I agree, it might be time to find a new pharmacist.
February 2, 2016
The weather remains amenable for walking, which means that the roads where I walk are even surfaced and without ice. The temperature this morning was just below freezing. I took a chance with my walk this morning, risking the walk without my knee warmer. About three quarters of the way through the walk, I realized that it had been an unwise decision. I experienced some pain at my regular pace, and managed to control it by slowing down. Lesson learned, when the temperature is at freezing, or below, I must protect my knee from the cold during my walks. I think I got away with it this time, but I won't chance it again.
I called the drug store today, no sign of a replacement prescription yet. I will call again tomorrow, and if it has not arrived, another call to the GPs office will be necessary.
I have been backing up my computers, one more to go! Attila's new iPad was purchased in September, 2015, and is the newest piece of equipment in the house. It is in constant use, usually for reading the news sites on the internet; Attila pays attention to the news. I use the iPad as a cookbook, a kitchen timer, and a telephone, when Attila isn't using it. The MacBook Air was purchased in 2012, and has been in constant use ever since. The iMac was purchased in 2008, and amazingly is able to run the most up-to-date operating system available from Apple. The iMac is our entertainment centre, it plays our music, our DVD movies, Netflix, YouTube, and now Acorn.tv as well. We gave up on television in the spring of 2011, and we have never looked back.
It was a quiet day here at Mist Cottage. Attila slept peacefully in the bedroom, while I puttered around the house. I felt satisfied today, that I am making progress. I got out for my walk, did the one crucial knee exercise for my arthritis, and did two of the three sessions of yoga. Recently I bought myself a very inexpensive three pound weight to lift, and every day I "pump iron", sort of, for a few minutes. I hope to work my way up to including the other two knee exercises, and the third yoga session, in my daily routine. All this is outside my comfort zone. I was very athletic when I was young, but for various reasons moved towards a predominantly mental and emotional inner life. I am moving slowly into my body again.
The new wardrobes are completed! They are surprisingly roomy.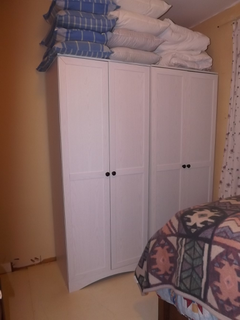 The poinsettias I bought before Christmas, at Home Depot. They like hanging around on the dining room windowsill.
Worldly Distractions
Weather
4°C
Date: 7:00 AM EST Monday 1 February 2016
Condition: Cloudy
Pressure: 100.5 kPa
Tendency: rising
Visibility: 24 km
Temperature: 4.0°C
Dewpoint: 0.7°C
Humidity: 79%
Wind: W 27 gust 45 km/h
SPECIAL WEATHER STATEMENT IN EFFECT
-1°C
Date: 11:00 AM EST Tuesday 2 February 2016
Condition: Cloudy Tonight: Snow or ice pellets beginning late this evening then changing to rain after midnight. Risk of freezing rain late this evening and after midnight. Local blowing snow late this evening. Snow and ice pellet amount 2 cm. Rainfall amount 5 to 10 mm. Wind east 30 km/h gusting to 50. Low minus 2 with temperature rising to plus 3 by morning.
Pressure: 103.0 kPa
Tendency: rising
Visibility: 24 km
Temperature: -1.0°C
Dewpoint: -5.6°C
Humidity: 71%
Wind: ENE 15 km/h
Wind Chill: -6
Quote
"The third-rate mind is only happy when it is thinking with the majority. The second-rate mind is only happy when it is thinking with the minority. The first-rate mind is only happy when it is thinking."
A. A. Milne
1882 – 1956