We are still unloading the third moving truck. Attila stopped to eat around 3:00 p.m., and then he slept, before he works tonight. The truck must be returned mid-morning tomorrow, so we will have a very busy morning.
Terra kept some office equipment at her house for me, it would not fit into Mist Cottage. I sold it today, to a woman just opening up her own business. This meant I was out at Terra's house, and it prompted me to go through the boxes at Terra's. There, in the biggest box, lay my Cowichan sweater and my new winter coat. No wonder we could not find them.
Terra has a "century farmhouse". Her house is old. She and Lares have two very active dogs. She had been confining them to specific areas of the house with baby gates. The system failed recently when one of the dogs discovered how to unlatch it. Terra got to work yesterday, and built two partial doors. She and Lares bought hardware for the doors yesterday, and today the doors were hung. Since I was out there to conduct the sale of the office equipment, I got to see the brand new doors. Terra is getting very good at woodworking.
Terra's doors. They are like the bottom section of a stable door, and are very effective in keeping the dogs where they need to be. You can see the dogs in the bottom right image.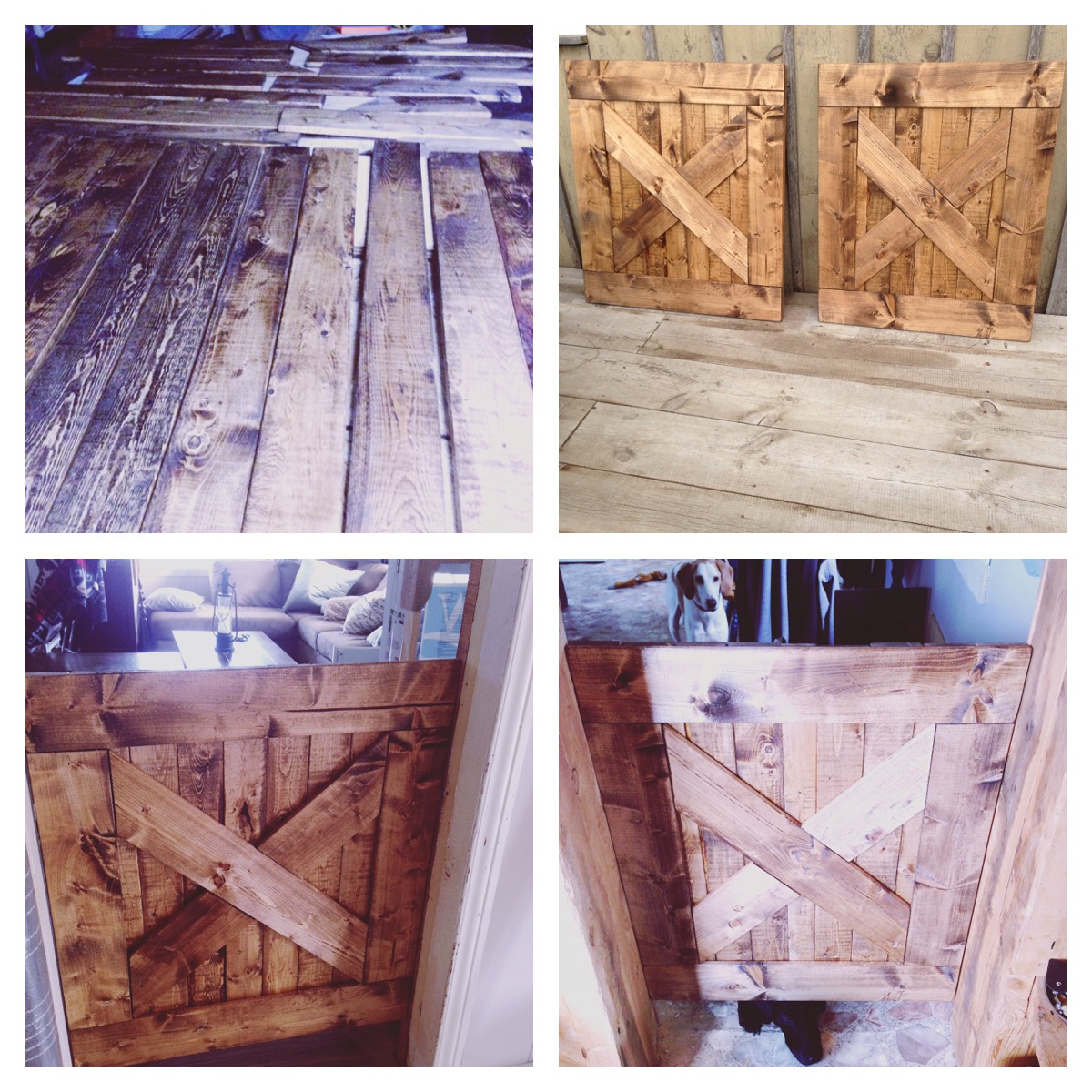 7:00 p.m.
FaceTime is a wonderful thing! My two sisters and my Mom called on Sis's iPhone, via FaceTime. I gave them all a tour of the house and yard, and we had a great time chatting. Such fun!
Attila slept for only an hour or so! He is too preoccupied with getting the truck unloaded to rest properly. I am afraid he is in for a very long night at work, and a very long morning, finishing the unloading, and returning the truck. By noon tomorrow the truck will be gone, and hopefully Attila will fall into a long, deep sleep, to begin recovering from this last push of the move.
It is at times like this that I truly miss being able to physically assist with lifting and toting. I dare not though, for all we need is for me to end up in bed with my back, needing Attila to care for me. That would not do! So I watch from the sidelines, and do every little thing I can to facilitate the process.
One of the things Attila brought is the flooring and siding we purchased years ago, for this house, and the garden shed. Now the building materials are here, in the truck, and they need to be unloaded. I think that the flooring and siding, in particular, have been on Attila's mind. He needs to find a protected storage area for them, so that they are not damaged before we get around to the building project… that will be next year I think!
Worldly Distractions
Weather
16°C
Date: 5:00 PM EDT Sunday 4 October 2015
Condition: Mostly Cloudy
Pressure: 102.6 kPa
Tendency: falling
Visibility: 24 km
Temperature: 15.9°C
Dewpoint: 5.9°C
Humidity: 51%
Wind: ENE 12 km/h
Quote
"Life loves to be taken by the lapel and told, 'I'm with you kid. Let's go.'"
Maya Angelou
1928 – 2014