Saturday, April 20, 2013
Yesterday afternoon the firewood for next winter was delivered. We bought 12 cords, which will be just enough if we get a severe winter. The truck backed in closer to the woodshed this time around, so it will be a shorter trip to move the wood for stacking. The grass was a little bit torn, but nothing I couldn't mend with my boots and a bit of stomping.
Just after the delivery truck left, Attila arrived home from work. He packed the car for a trip to the little house in the city. Part of what he loaded was materials for the front porch, which he purchased at a good price, about a third of the cost had we purchased the materials from a superstore. While Attila packed, I steamed our fresh asparagus, which we ate for a quick dinner, along with small portions of baked beans. Then we were off on our weekend adventure.
The drive was uneventful, the roads dry and clear. The wind was ferocious, buffeting the car at high speeds. We slowed a bit to accommodate the wind, and still arrived in good time, a four and half hour drive.
When we arrived we were relieved that the furnace was running and the temperature in the house was 12C. The thermostat had been left a 7C, but the temperature was 12C. It must have been warm in this part of the world over the last week! We were also relieved that the delivery of fuel oil that I had requested earlier in the week had taken place. The tank was full.
The last time the tank was filled was last spring. That means that we can keep the interior of this house at 7C all through the winter months with one tank of fuel oil. So it will cost close to $1000 annually to heat this house, which bites, but so far is manageable. It would cost much more to heat if we lived in the house, because the temperature would be kept at around 18C, not 7C.
Next winter's heating is now accounted for.
Attila was famished when we arrived! While he unpacked the car, I heated up a frozen pizza. After we had our belongings put away, and had eaten our fill, we went right to bed and to sleep.
This morning we enjoyed a visit from Terra. She had been out for a walk before dropping by, and had been caught in the rain/wind/snow/hail that we have been experiencing all day. She was ruddy faced and chilled, but soon warmed up over a hot cup of coffee and a piece of toast. We were quite pleased to be able to offer a warm place to sit and chat.
She and Lares are just settling into their new house. It is over a century old, so they have their work cut out for them. It seems daunting, I am sure, at this point. But in a few years they will have become accustomed to the kinds of expenses home renovations entail, and the kind of time it takes to get things done, particularly as they work long hours and rotating shifts. Already the place has a homey feel to it, warm and inviting. That comes from them, because it certainly did not feel that way when we viewed it before purchase. But I am prejudiced, I am her mother.
After Terra left to head home to sleep, Attila and I set out to buy supplies. We shopped at two food outlets, and stocked up on frozen vegetables and items we cannot reasonably afford at the stores near our country home.
Attila finished painting around the kitchen window, which, when dry, will allow him to install the hardware for the kitchen curtains. Then I will bring my sewing machine with me on a future visit and make the new curtains. I can use the kitchen table to set up my sewing shop.
Why we need to replace the kitchen floor at the little house in the city. Would have tried to keep the old, BUT this how we found it when we bought the house! The original hardwood seen at the bottom of the photo is staying though, it needs a lot of attention, as it is damaged in spots.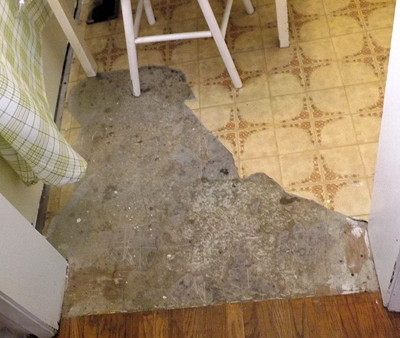 Sunday, April 21, 2013
Today dawned sunny and clear and cold. There was frost sparkling on the shingles of the roofs, as I looked down the street through the living room window.
My sleep was briefly interrupted during the night by a smell. The odour of rancid cooking grease and overcooked food woke me from a deep sleep. At first I couldn't figure out where I was. Was this a dream? As I struggled awake, I realized I was in my bed at the little house in the city. I turned on my right side, and the smell was gone. I turned back onto my left side and the smell returned. There is a hole in the wall right beside my bed, a hole that I face when I am lying on my left side. I believe that is where the smell was coming from. The solution; lie on my right side and go back to sleep. So that is what I did.
The bedroom where we sleep has many holes in the wall. Someone was very destructive in that room. We plan on removing all the drywall, re-insulating the exterior walls, then replacing the drywall. This project is way down on our list of things to do at the little house. So, until then, we will put duct tape over the hole in the wall so that I can sleep without the disturbance of odour.
The holes in the wall that I sleep beside, foul smelling in the night.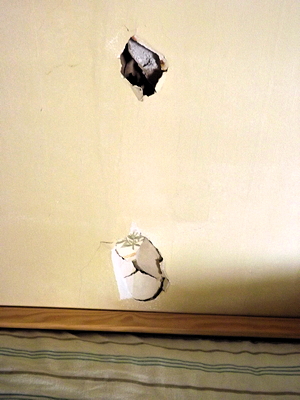 The holes in the wall that I sleep beside, better nights to come.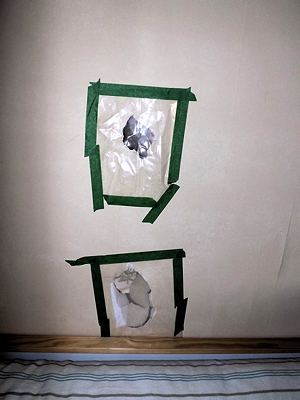 Terra arrived bright and cheerful from her morning walk, which is also her after work walk, as she is working nights. She gave Lares a call and he joined us for a breakfast of pancakes, genuine local maple syrup, and fresh strawberries. It is wonderful to see them!
We had thought to remove the ceiling wallpaper in the bathroom on this trip. The wallpaper is very old and is not going to come off. We will paint over it with primer and see what it looks like; then decide what our next step will be.
Our first project, when the weather is reliably mild, will be building a front porch. I hope this is done early enough in the season so that I can begin to transplant some of the perennials into a new front garden. If not, I will create the new front garden in the fall. We will probably only plant tomatoes here this year, and also plant some tomatoes at Terra and Lares' house. They will water them and eat most of them, but there will probably be enough for us as well.
The yellow jackets are beginning to stir. They crawl into, and winter in, the space between our living room windows and the storm windows. We removed a very large nest from a tree last year, but there are still plenty of them about.
Group Hug: Yellow Jackets waking up on the window frame, between the window and the storm window.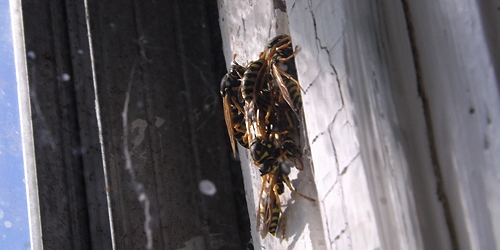 As I stood gazing out the front window, a Robin flew by with a bit of building material in its beak. It is building a nest about 20 feet from the front window, at eye level, deep in the branches of the evergreen. We will have baby birds to watch at this spring!
Robin's Nest: the Robin's tail is just visible as it reaches deep into the recess of tangled branches to build it's nest.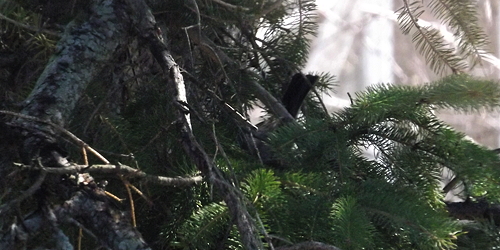 We enjoyed our trip home, sunny skies, dry pavement and light traffic. I have been wanting to take photos of barns along the way, but my little camera just couldn't handle photos taken from a car travelling at high speed. The new camera does a little better. I shot over 300 photos, and quite a few of them are plain blue, the sky, or the tops of trees, or a blur of brown. I did get some actual shots of barns. Those will be sorted through at some future date.
Attila and I arrived home to a cold house and a cold shoulder. Mist was not impressed that we left her alone, in a house that became increasingly cold. I tried to make it up to her. I gave her some fresh milk, right away. I opened the blinds so she could gaze out the window. I sat on the floor and petted her and talked to her for quite a while. Attila built a fire and lit it, and replaced the water in her water bowl. At last, after a few hours of letting us know just how disappointed she was in our behaviour, she curled up in her kitty basket bed and went to sleep.
Worldly Distractions
Weather
4°C
Condition: Sunny
Pressure: 103.6 kPa
Visibility: 16 km
Temperature: 3.7°C
Dewpoint: -9.6°C
Humidity: 37%
Wind: SSW 11 km/h
Quote
"The highest reward for man's toil is not what he gets for it, but what he becomes by it."
John Ruskin
1819 – 1900