Another day has disappeared, flowing painlessly and almost silently into the what-has-been. How I cherish this kind of day.
Deciding on what type of blanket to crochet has proven to be a time consuming, yet enjoyable process. At the end of the day, the choice has not yet been made.
The garden has yielded many pounds of scarlet runner beans, a veritable bumper crop. The plants are beautiful, the blooms brighten even the greyest, dullest day. The beans are a wee bit furry, and delicious. Attila has been blanching and freezing almost every weeknight, so that we will enjoy organic garden green beans with our warm winter meals. The tomatoes are not prolific, but have provided me with weeks of toasted tomato sandwich lunches. The tomatoes continue to produce modest numbers of fruit to keep the supply coming. The cabbage is small, Attila will use it in stir fries in the coming weeks. The celery is small as well, one plant in particular, but it will make a welcome addition to dishes all winter long, as we will chop, blanch, and freeze it. The squash has not ripened yet, but it looks to be a good crop of Hubbard and Butternut squash.
I recently gifted two genealogy reference books, which had been gifted to me. I left them under Iris the Trailer last weekend, well packaged in a box and a plastic bag, so that my fellow researcher could pick them up at her leisure. She willingly shares her research with others, and tries to help anyone with their research if she can, so that I feel the books well placed in her hands.
I don't usually buy books these days, they are expensive, and they require storage space, if I fall in love with them and want to keep them near. Although I enjoyed the Ferrante books, I did not fall in love with them, they did not open inner doors and windows for me, perhaps because the author's experiences are not entirely dissimilar to my own. I am thinking of donating the books to a library, having only been read by me they are in new condition.
I have been intrigued by the author Sigrid Undset (1882-1949), a Norwegian author who received the Nobel Prize for Literature in 1928. I had not heard of her before, and wonder why. She wrote two series of novels set against the background of medieval Norway in the 13th century: the 3-volume Kristin Lavransdatter, and the 4-volume Olav Audunssønn. I have just ordered the 3-volume Kristin Lavransdatter series, to arrive at the end of September. My winter reading will be ready, for cozy winter nights at Mist Cottage.
One night last week, deep into the night, while I was burning the midnight oil in the living room, unable to sleep, Attila heard a loud sliding noise, it woke him up. In the morning we discussed the sound, speculating on the source. It wasn't until the next day that I opened my closet door, to find that my clothing was no longer hung neatly on the rod. The rod support had collapsed. Attila will fix this, in time. Attila and I will drive to the city tonight, to do some needed shopping, and will pick up the needed hardware. The very, very cheap wardrobes that we purchased on sale are not exactly robust. You really do get what you pay for!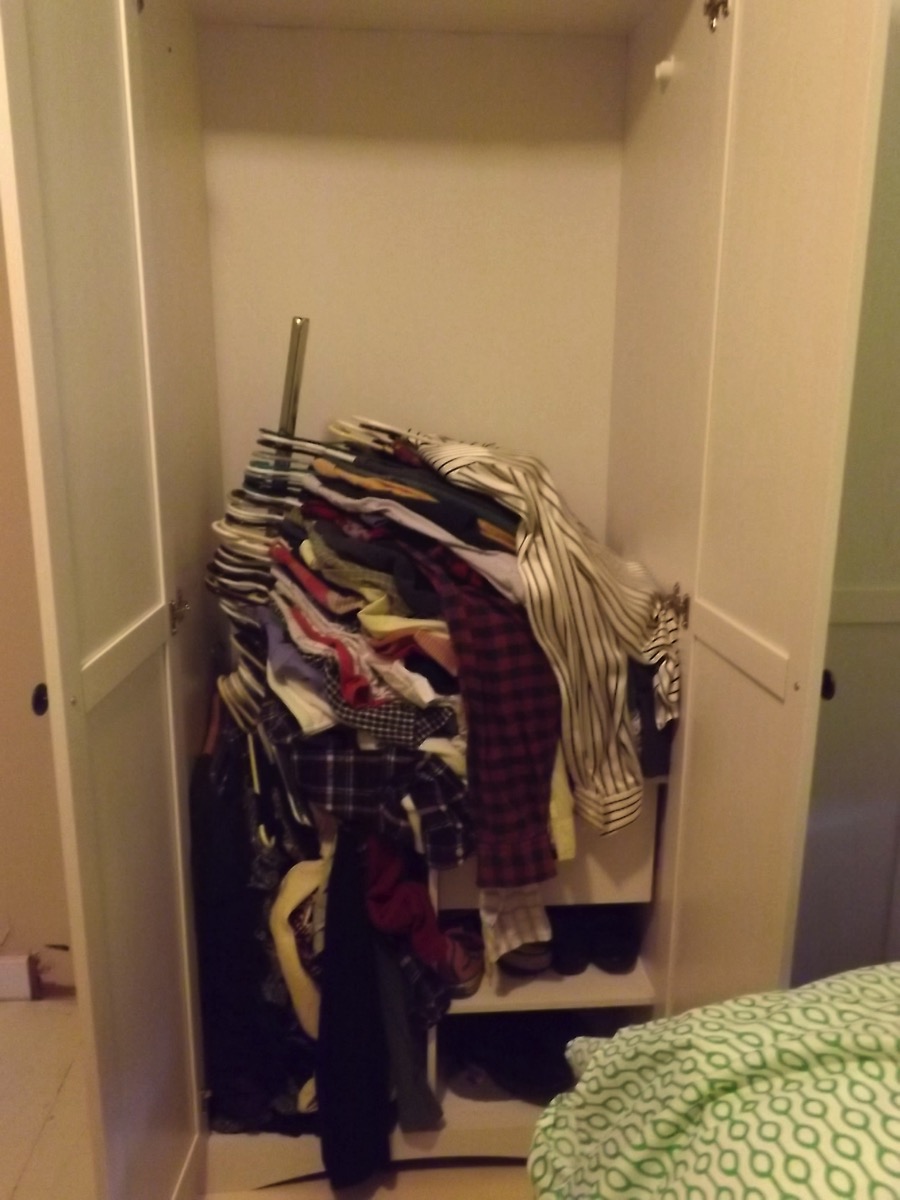 This what I found in my closet after Attila heard a loud "sliding" noise in the night.
Worldly Distractions
Weather
22°C
Date: 12:00 PM EDT Tuesday 19 September 2017
Condition: Partly Cloudy
Pressure: 101.8 kPa
Tendency: Falling
Temperature: 22.2°C
Dew point: 19.1°C
Humidity: 82%
Wind: SSE 12 km/h
Humidex: 29
Visibility: 24 km
Quote
"The moment a little boy is concerned with which is a jay and which is a sparrow, he can no longer see the birds or hear them sing."
Eric Berne
1910 – 1970
[Rigid parameters have their uses, but it is a sad day when control the way we see the world around us.]