I sat quietly this morning, after Attila left for work, staring out the living room window, occasionally sipping my coffee, comfortable in my new easy chair. The light came slowly, blushing before revealing itself completely. Morning is my favourite time of day.
When Princess Diana died, I felt that the world had turned a corner, and not in a good way. Her passing was significant to me, and to many others. At that time, in September of 1997, I taped television coverage of her funeral. That was when I first perceived that the world was turning to darker times. I think that back then the tragedy of technology for the human race was only beginning to be felt, and has escalated beyond anything I could have imagined in 1997. Like any weapon, its use depends on who is wielding it.
Watching some of these old VHS tapes I am noticing how many of the programs in the 1990s displayed car chases as the epitome of excitement and daring. How different things are now, when entertainment is so saturated with extreme violence, graphic gore, and death… those are things I do not find entertaining in the least.
I spent several hours on Saturday researching bread recipes, in particular salt-free bread recipes. I have decided to try a recipe that includes oatmeal, and have my fingers crossed that it turns out reasonably well. Finding the recipe is only the beginning however, I need to actually bake the bread, and will hopefully break my state of inertia this week and do so.
This week I need to get our car in for a Drive Clean inspection. Owning a car is a necessity in holding down most jobs in areas without public transportation, and it is an expensive necessity!
The weather today was lovely, sunny and mild, 12C. I hung my laundry out to dry, and managed to get out for a walk. When Attila arrived home from work he felt like going for a walk on this glorious day, so out we went. The summer was hot, dry, and horrid, but our autumn has been something to write home about!
On September 8, 2016 I began taking my own blood pressure with a home electronic blood pressure machine made by OMRON. When I started taking my own blood pressure I had been taking the quadrupled dosage of my high blood pressure medication for a week, and had been eating the low sodium, low sugar diet, and taking a daily walk, for a week. At first I took my blood pressure every day, at erratic times of day, taking it only once per session. On November 3, I began to take my blood pressure routinely in the morning, and in the evening; I took multiple readings at each session, and calculated the average. It was interesting that when taking multiple readings, the initial levels were always a little higher than the subsequent levels. I decided to do this when I read about a doctor who takes multiple readings to mediate "white coat syndrome". Apparently I am affected by my own imagined white coat! This is a chart of my readings, and some of the significant changes I have made along the way; ACV stands for Apple Cider Vinegar. I think the ACV was very helpful in working with the restricted diet and exercise to lower my blood pressure. I have been eating the low sodium, low sugar diet, which is also low in calories, and haven't lost an ounce, although Attila says I look a little thinner, which I think is due to the daily walk and muscle mass, not weight loss. Attila says I have a "Scotch" metabolism, that won't part with one single calorie, has to save them all.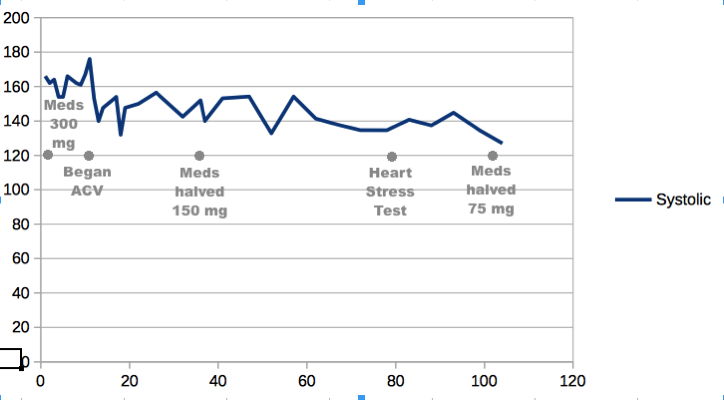 Worldly Distractions
Weather
11°C
Date: 11:00 AM EST Monday 14 November 2016
Condition: Mainly Sunny
Pressure: 101.5 kPa
Tendency: Falling
Temperature: 11.2°C
Dew point: 2.0°C
Humidity: 53%
Wind: SW 13 km/h
Visibility: 24 km
Quote
"Look to your health; and if you have it, praise God and value it next to conscience; for health is the second blessing that we mortals are capable of, a blessing money can't buy."
Izaak Walton
1593 – 1683