The page was blank this morning, but now it isn't.
The weather is wonderful, cool, sunny, breezy, truly astonishing for this late in November. I have been out for my walk already this morning, it is now getting on towards lunch time. Usually I walk briskly, and do not pause. This morning I paused, looking up. There were hundreds of Canada Geese flying overhead, flying in a southerly direction. We live near the water, we can even see it in the winter when the leaves have fallen from the trees. The geese gravitate towards this water, and we enjoy hearing them as they travel through, both in the spring and in the autumn.
I spoke with Terra this past week, for the first time since July. She has been busy, nesting and bonding with her babies. Both are healthy and over 11 pounds now, bright eyed little treasures. We interacted via Facetime, and they stared and stared at me as Terra presented my image and voice to them, and then they cried, they were making strange! That means they see and recognize that my face, and my voice, are not their mother's. This is a very good thing. Although they were born in June, they would have been full term the second week of August, so their gestational age is 3 months.
"Your baby may think of a new person as unfamiliar, which can make him feel unsafe. 3 and 6 months of age. This is why many babies between three and six months of age 'make strange' when they are spoken to or picked up by a person they don't recognize."
I continue to take my blood pressure twice daily, it is work. I am now taking the original low dosage of blood pressure medication, and when I began this dosage my blood pressure shot up again, not quite so high as it was in August and in September. I resigned myself to the possibility that I would have to double the dosage again, but decided to give my body a chance to adjust before making any decisions. As I had hoped, my blood pressure has come down again, I have even reached my target levels on two or three occasions. I don't know if it is the strict low-sodium, low-sugar, low-fat diet I am following, the slight weight loss (finally my body has decided to release a few of those calories it has hoarded away), the Apple Cider Vinegar & Honey concoction I drink before each meal, the regular daily walk, the lavender oil scented sachet by my bed, and/or the mission to reduce stress in my life. I KNOW the drop in my blood pressure has nothing to do with prescribed medications. If I reach my target levels, and can stabilize my blood pressure at a normal level, I might try eliminating the high blood pressure medication altogether, but I am getting ahead of myself, that is just a fantasy.
To take my blood pressure I have a machine with an arm cuff. This has meant I have to change how I dress! It is miserable, and chilly, to have to pull a sweater off over my head to bare my arm each time I want to measure my pressure. I have had to drag out my summer blouses, and wear them under a cardigan sweater that is easily removed when needed. There is a wrist model device that will measure blood pressure, made by OMRON, but I am going to wait, as the wrist model does not allow relaying the data to a computer, not yet. The newer cuff models will use bluetooth to relay the data to a spreadsheet, even send it to your doctor, but the wrist model only displays the data. I am waiting for the technology to advance a little more before I consider the investment. My present model merely displays the data for each reading. I then have to record it with pen and paper, then enter it into the spreadsheet, then type in the formula to average the readings for the session.
Not all cheeses are made alike. In September I began my sodium reduction campaign by eating only soft unsalted cheeses, Ricotta and Pressed Cottage Cheese. My first Ricotta cheese was a product made by Saputo in a plastic tub, there was something about the taste I just did not take to, and I found myself avoiding eating it. On our last shopping excursion I purchased Ricotta cheese made by Silani, it was pressed and sold wrapped in paper, and then sealed in plastic. I find myself looking forward to eating the Silani product, which has a similar taste to the Saputo, but fits my taste buds much better. The pressed cottage cheese I purchased was made into an odd Mac n' Cheese that used pureed pumpkin and cottage cheese as the sauce. It was OK, but not stellar. I am going to try a macaroni based lasagna dish next week, and hope it will be a better fit for the pressed cottage cheese.
My taste buds are adapting to eating food without any salt added, in cooking or at the table. It is a big adjustment. What I have found to date is that when I am hungry, the taste is acceptable, but when my appetite is satisfied, the taste begins to seem very, very bland, and there is no temptation to eat beyond actual hunger. So far I have not wanted any "seconds". Most of the sodium I consume comes from bread, and flavourings. My sodium intake levels are well under 1200 mg a day, and always over 500 mg a day, as one needs some sodium in their diet.
I miss the sugar, I miss the fat, but most of all I miss the salt and flavourings.
You know, I really understand how older people talk about their health a lot. Maintaining it becomes so challenging and intrusive, and can require so many extreme adjustments to daily life, that it dominates one's thoughts, just as it can come to dominate one's daily way of living. I did not understand that when I was younger, and luckily was not prone to criticize that which I did not understand.
When I was in my early 20s I had the privilege of working at a Senior's Centre. I loved almost all the people I met at the Centre during those years. A friend and I ran programs of all kinds for the YMCA, and organized events and trips as well. One of the seniors, Melli, was a dear character. She wouldn't commit to any activity, coming only when she was able, providing us with the caveat that she would be there "if the bowels move". She was so straightforward about what she had to cope with, and we delighted in her. And here I am thinking fondly of her, more than 40 years later. That was one of my most loved jobs, ranking up there with developing communication devices and skills for people who could not speak (mostly quadriplegic individuals without the power of speech). I guess I just really like spending time with people who live their lives beyond the bullshit in our culture, even if it is because they don't have any choice.
We spent last Sunday at the Rideau Camp, it was busy, in a restful, regenerating sort of way.
Then. This is the log pile as it was when we purchased the property in April. It was taller than Attila, topped with dead trees, and surrounded by a field of brambles. It was daunting. Everything in this pile was removed by hand by Attila, a giant pick-up-sticks game, and either stacked by Attila, or burned by me. I pulled all of the brambles out by the roots, individually, and then burned them.
Now. Looks a mess doesn't it. Looking at it brings pleasure to both Attila and I, as it has changed tremendously. We aren't quite done yet, but we are getting there!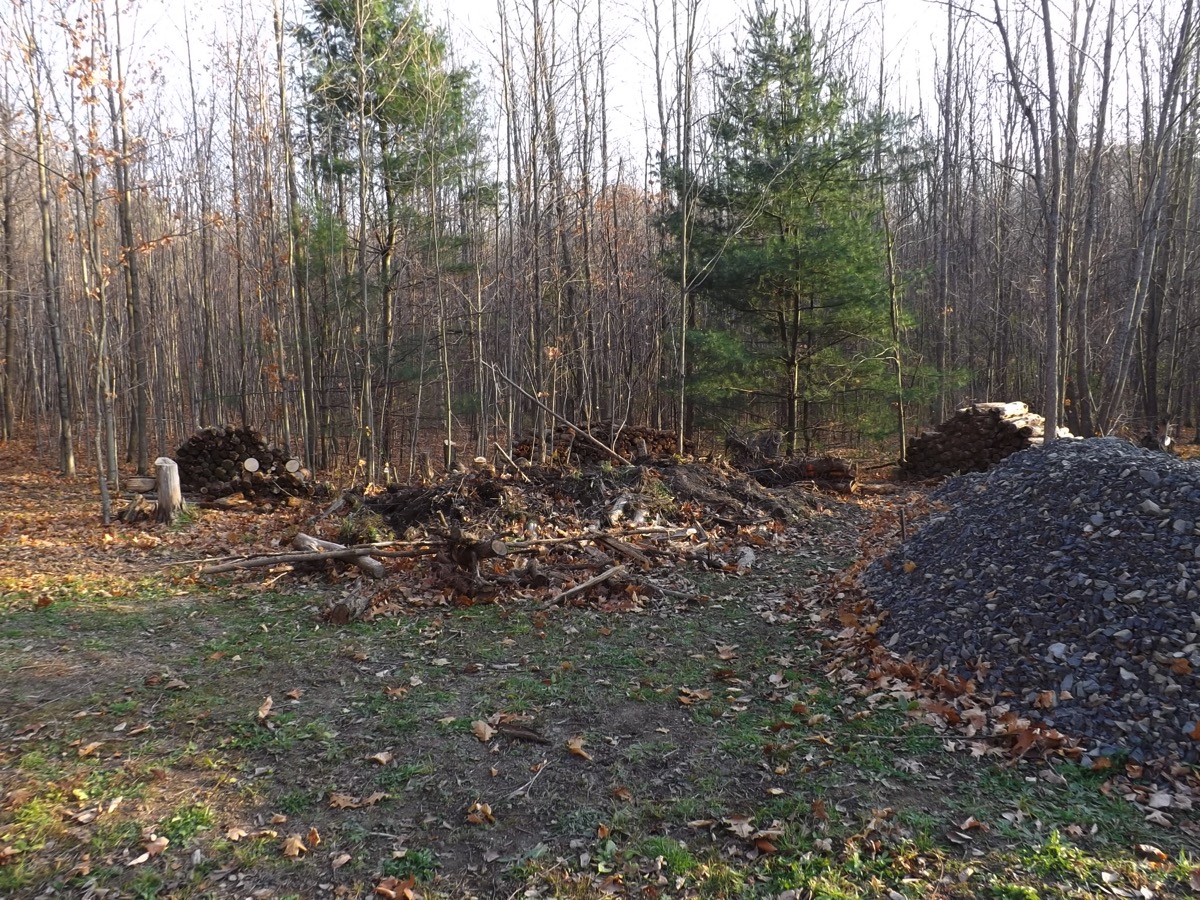 Our Rideau Camp sits in a level area of clay soil, but all round it the Canadian Shield makes itself evident. This is the landscape that Attila and I trek when we go for walks at the Rideau Camp. At one location on the property there is a thirty foot rock cliff.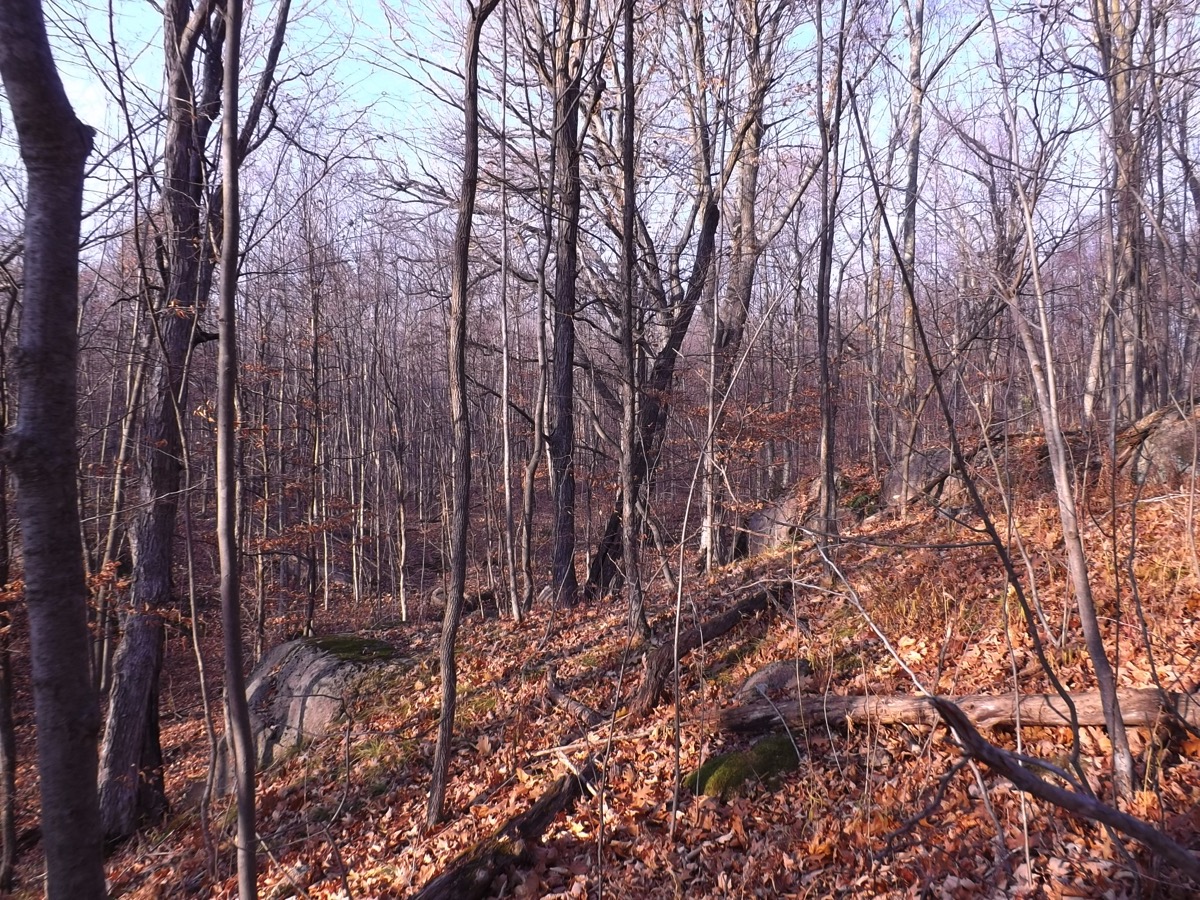 A November evening at Rideau Camp. The sun begins to fall into the horizon early in the evening, still visible through the barren branches.
The Harvest Moon was spectacular on Sunday evening. I took this photo as we were heading out of the bush on our way home.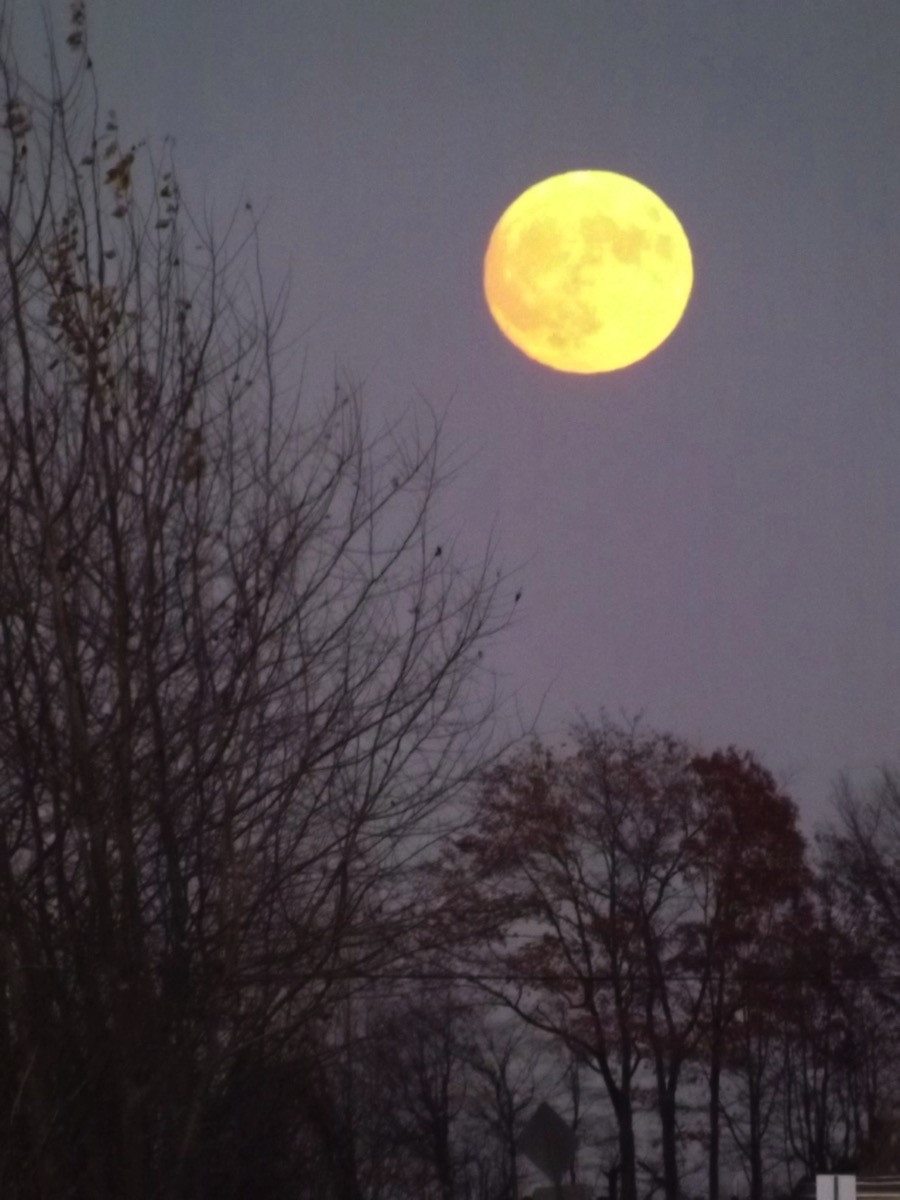 Worldly Distractions
Weather
10°C
Date: 11:00 AM EST Friday 18 November 2016
Condition: Mostly Cloudy
Pressure: 102.0 kPa
Tendency: Rising
Temperature: 10.2°C
Dew point: 6.0°C
Humidity: 75%
Wind: S 17 km/h
Visibility: 24 km
Quote
"We should manage our fortunes as we do our health – enjoy it when good, be patient when it is bad, and never apply violent remedies except in an extreme necessity."
Francois de La Rochefoucauld
1613 – 1680