Attila started back on the day shift today, hooray! He was up and "at em" at 4:30 a.m. this morning, and out in the garden. No greens for me this morning, he has finished thinning the Spinach and Swiss Chard, perhaps tomorrow. It will be time to pick the Spinach soon, it is bolting already. He did pick four pounds of Rhubarb for me. I baked a Rhubarb Crisp this morning, and froze four 2 cup packages

Rhubarb is a plant that will grow in most gardens in Canada, even a small front yard. It wasn't until recently that I became aware that it will not grow in warm climates, thanks to interacting with other gardeners on the internet. Rhubarb has been in all of the gardens of my life. I remember when I was around three, my Mom used to give us a cup with a little bit of sugar in it, then set my brother Carl and I out on the veranda step at our first little house, with a stalk of rhubarb to dip in the sugar, the sweet and sour of it was amazing.

Rain is predicted for today, and thunderstorms. It is supposed to be a real stinker of a day, with a Humidex of 38C, so not good for working outside. Mosquitoes love this kind of hot humid weather, so it won't be a good day to sit out on the porch either. No worries though, I am quite comfortable indoors, and will be quite busy taking care of all this rhubarb.

The garden loves the rain, and we did get some this morning, along with thunder but no lightening. After a rain the garden always looks so relieved, revived, quenched.

We are learning all about the soil here, which Attila amends with our own compost, peat moss, and manure. My powdered egg shell collection goes to good use as well. We compost everything except meat and fats.

I am also learning all about imported competitors for our food. The Red Currant bush we purchased this spring came with its own type of aphid issues, which I have been able, so far, to control with a mixture of dish soap and water in the spray bottle. The High Bush Cranberry came with a more serious infestation of aphids, and I am still battling them by frequently spraying with the dish soap and water, and spraying once with a chemical pesticide. It was very disappointing to purchase plants that came to us with this level of infestation, but I plan on restoring them to health, with great effort.

My thoughts on having used the chemical insecticide on the High Bush Cranberry are this. If I had allowed the insects to destroy the plant, I would have to buy fruit. The fruit I would buy would not be organic, as I cannot afford to buy organic products from the grocery store. So, since what I will buy will be grown on plants treated with chemical insecticides, herbicides, and fertilizers, I am just as far ahead saving my plant with the chemical insecticide here at home, where no chemical herbicides or fertilizers are being used.

We also have competitors for our food that are native to this piece of property. Beetles are devouring our Scarlet Runner Beans, Attila sprays them and picks the beetles off by hand, but we have lost a few healthy plants to them already. Rabbits chewed up one of my two new Veestar strawberry plants, so we had to move those two plants into the fenced part of the yard; they seem to be recovering from being chewed and transplanted twice this spring. Squirrels burrow in the gardens, killing small bedding plants, so that we have to cover a lot of things with chicken wire to protect them from the squirrels. Every year the birds eat all of our Black Currants, so if I want any I will have to net the bush to keep the birds out. And the Squirrels and birds will eat all of my strawberries, if any grow, unless I cover the crop effectively. Tomatoes too are sometimes subject to sampling by the Squirrels.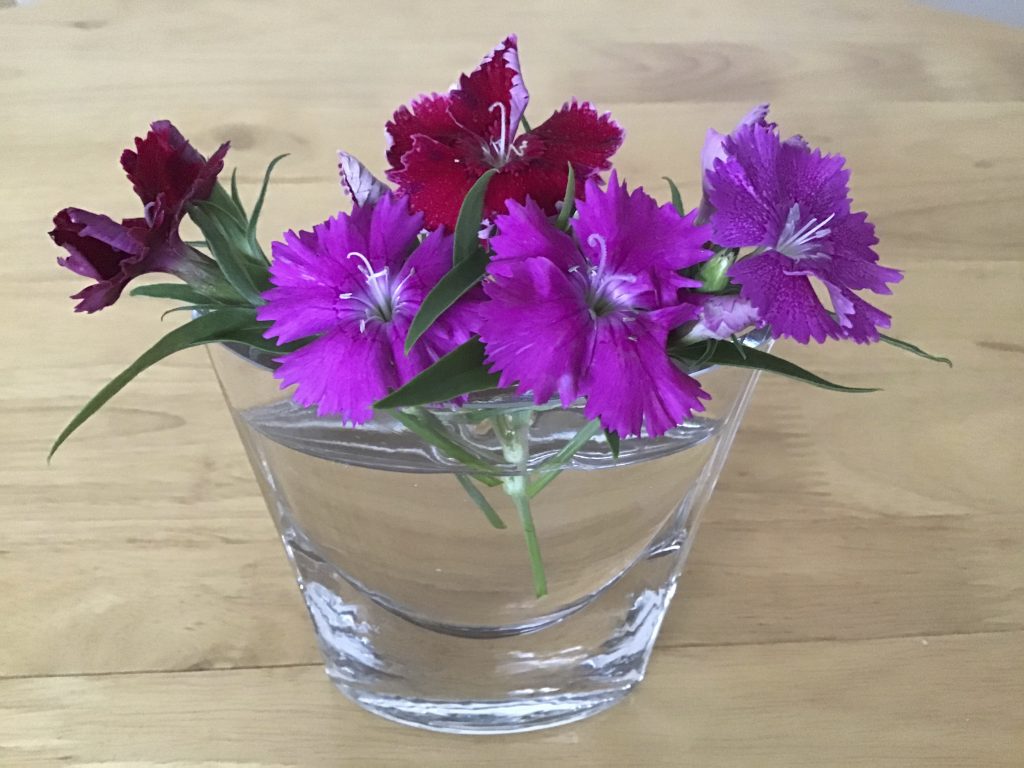 Worldly
Weather
17°C
Date: 6:00 AM EDT Wednesday 10 June 2020
Condition: Mostly Cloudy
Pressure: 101.0 kPa
Tendency: Falling
Temperature: 16.6°C
Dew point: 13.8°C
Humidity: 83%
Wind: ENE 10 km/h
Visibility: 24 km
Quote
"An education isn't how much you have committed to memory, or even how much you know. It's being able to differentiate between what you do know and what you don't."
Anatole France
1844 – 1924