After feeling very tired all day yesterday, I slept deeply all through the night last night. What a relief!
Another lovely day here, just above freezing and the sun was shining brightly. I got out for my daily walk in the morning. The road was dry and I got away with wearing my walking shoes.
We have been waiting with bated breath to see what Attila's pay check would bring this week, and good news, it was enough to pay all of the bills! What a relief! Both of us had been experiencing low level stress about the possible size of the pay check, relative to the bills that needed paying. This morning, after the good news, I was able to pay all of the backlogged bills. It felt very good.
We received a message from our Doctor's office, near the country house, checking to see if I had managed to find someone to give me my flu shot. I called them back right away to give them the details. I admit that I was completely and very pleasantly surprised by their concern. To be honest, I am extremely grateful for their concern.
Attila was very keen to have Cherry Squares for his lunch, so when the hydro was a bit cheaper this afternoon, I baked up a batch. I couldn't resist them though, and had a slice for my afternoon snack.
Attila has to go in to work an hour early tonight, to attend a seminar on the company's benefits package. Time well spent! We are not eligible for the benefits package until well into February, so we have our fingers crossed that we won't need any medications, or medical extras, until after he qualifies.
I had to pay cash to get my last prescriptions filled, and was charged almost $24 in additional fees to have them filled. Ouch! That was on top of the cost of the medications. That medication bill has now been paid!
I am thinking about my Mom today. Hi Mom! xoxoxo
This is our new "kitchen cabinet" that we bought on sale before Christmas. It fits perfectly into the space between the refrigerator and the range, it has a lot of storage space, a wooden countertop, is very sturdy, is easy to keep clean, and it is on wheels, so we can move it easily when it comes time to install the new floor. As you can see, it is a workshop cabinet, meant for a garage, but it works perfectly in our kitchen. Oh yes, it is also stainless steel and therefore fireproof!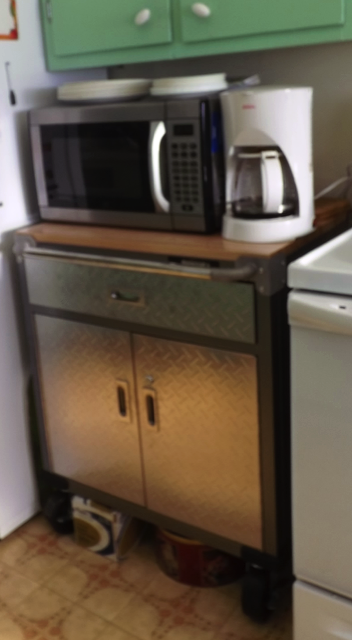 Worldly Distractions
Weather
2°C
Date: 4:00 PM EST Thursday 7 January 2016
Condition: Mostly Cloudy
Pressure: 102.4 kPa
Tendency: falling
Visibility: 24 km
Temperature: 1.8°C
Dewpoint: -2.0°C
Humidity: 76%
Wind: ESE 4 km/h
Quote
"I like nonsense, it wakes up the brain cells. Fantasy is a necessary ingredient in living. It's a way of looking at life through the wrong end of a telescope. Which is what I do. And that enables you to laugh at life's realities."
Dr. Seuss
1904 – 1991