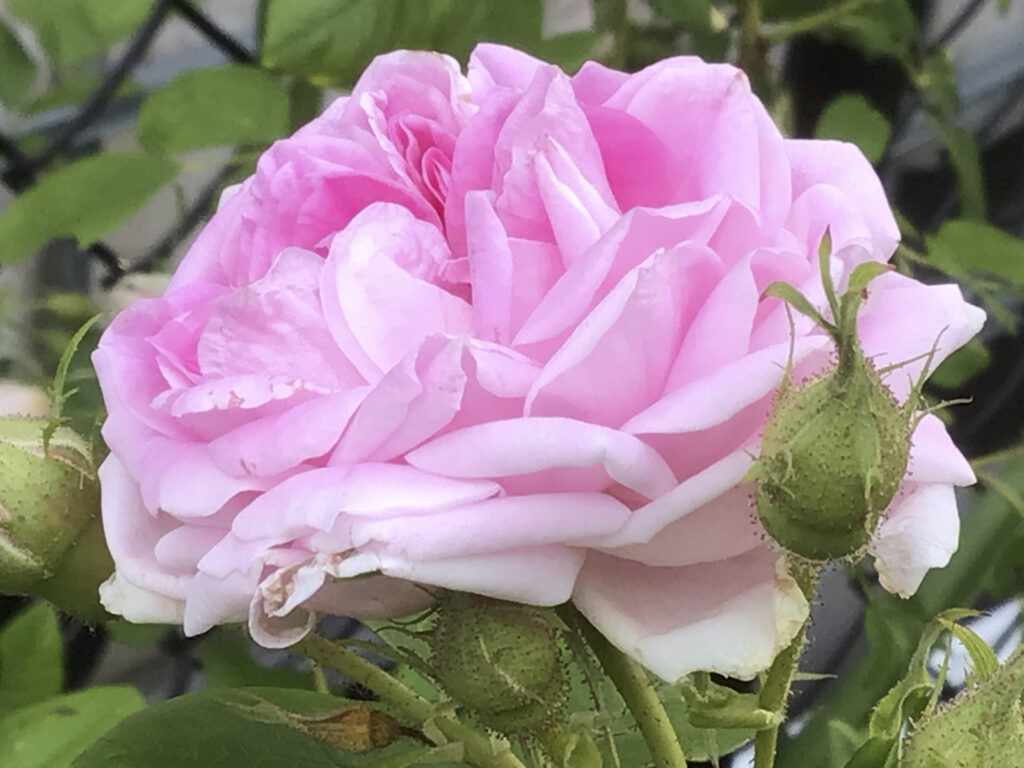 What is a perfect summer day! Why it is today!
I've brought the laptop out onto the back porch, which I do sometimes, when the mood strikes me. I've already taken a walking tour of the garden. Our way of life revolves around our garden, our kitchen, and our pantry. We eat like kings, but only because we work like peasants. We are grateful that we can do this. In most aspects of life we live below our means, but when it comes to food we live above our means.
The Red Current bush has a lot of fruit on it for a young, small shrub, and they are starting to turn red. I hope to harvest enough for a batch of jam or jelly.
There is one Strawberry ripening in the wee Strawberry patch. This is the first established year for the plants, having been transplanted twice last year, so the yield is small and sporadic. Still, it is lovely to walk into the kitchen to see that one lone sun ripened Strawberry sitting on the counter, where Attila has left it as a surprise.
The salad greens are doing well, we have been enjoying fresh green salads for more than week now. Hopefully there are a few more weeks of fresh salad greens in our near future.
The earliest Kohlrabi is ready to harvest. Three varieties were planted, all maturing at different rates.
The Snap Peas and the Snow Peas continue to climb and blossom. Fresh raw Peas, pods and all, add a nice crunch to green salad.
The Beets look ready. There have been two harvests so far. The Beets were cooked in the Instant Pot. The greens and stems are blanched and frozen in two serving packets.
Most wonderful of all today is Granny's Rose. It is in full bloom. The breeze captures the scent, it washes over me, surrounds me, seduces me. I can close my eyes, and go back, back, back to a sunny day on the porch at my Granny's house. As a child I thought Granny's house was heaven, quite literally. It was exactly as the bible quoters described it, a place of quiet and peace and love. There was enough love there to last a lifetime, and it has.
Granny's Heliopsis has now grown a foot above the fence. It will bloom later in the summer.
The dark purple Clematis is in full and glorious bloom. It grows near Granny's Rose, which is pink and white.
The Scarlet Runner Beans have reached the top of the fence, along which they are planted. The first brightly coloured blossoms have emerged. Soon there will be Beans. Soon there will be Hummingbirds visiting the blooms. I first saw Scarlet Runner Beans at my Granny's House. It was years after my Granny had passed away. My Mom had planted them in the ground near the wall of the back shed, just outside the back door. She ran string from the ground to nails high up on the weathered boards. The plants and blossoms were so beautiful. I held on to that memory until I had a garden, and a resident gardener.
The Hawkweed in the lawn is spent, the wind has taken the fluff and seeds and carried them away to parts unknown. The Dandelions blooms too have lost their blooms to seed and wind. Blooming on the lawn now are the dreaded Bindweed, white clover, pink clover, and Birdsfoot Trefoil. I love the Birdsfoot Trefoil. The bright yellow blooms could cheer the dreariest of days. The plant grows low to the ground, and remains green through the our longest dry spells.
Wind! The spring has been very windy here, and summer is the same so far. I think often that a windmill might be just the thing to harness some of this energy. I wonder if solar and wind power will ever be harnessed in a financially viable way. There are systems of course, for those with the budget for them. But here we are, at the last miles of our journey in this incarnation, we do not have enough years to recoup the cost of a huge investment in infrastructure here at Mist Cottage. And so I sit on the porch and imagine, and that must be good enough, and it is.
Our neighbour's daughter graduated from High School yesterday. When we bought Mist Cottage she was nine years old. We have watched her and her friends as they have grown up. She is a gregarious, confident, friendly young woman. Her parents had a small gathering for her, yard signs of congratulations, balloons, it was delightful to see. One year, as Attila was toiling in his garden, she and her friend drove by on the golf cart they used to tour their yard with. I overheard her telling her friend, "That's Old McDonald!" Time passes of its own volition.

Another neighbour's dog is enjoying the day in his back yard. She is retriever, a "bird dog". She is a good natured individual, and only barks at me when I pick up sticks, I think she wants me to throw them. Today she has a small blue object, that she drops, picks up, runs about, drops, rests in the shade, then begins again. It is difficult to discern what the small blue object is. My best guess is a deflated beach ball.
We have a few lovely dogs living near us. The people to the back of us have an interesting dog, who is well trained to their invisible fence. I've only heard him bark once. The daughter takes him for a long walk every day, he is quite affable. One day I watched him walking with the Dad, who was glued to his cell phone. The dog was having none of it, and decided to take the cell phone, missing it repeatedly, but not giving up. Poor Dad eventually put his cell phone in his pocket, problem solved! I like watching the dogs enjoy themselves.
From my vantage point I observe two quick moving Cabbage Moths. We do our best to kill them as we see them, but in this wind I find it impossible to catch them. We use a tennis racket to knock them down. The Cucumber Beetles are numerous, but so far Attila has been able to keep ahead of them. A few plants have been lost to ants, which is unusual; Attila attributes it to the drought like conditions. Ah, a Dragonfly just passed through the garden. How I love dragonflies.
The front yard garden is being expanded slowly, testing the waters. One of our neighbours is very nosey, and is quite the little social engineer. It was she who reported us years ago, for flooding her basement, when the municipal water main broke in front of our house. She has called the authorities on several of the other neighbours. I am ready for her!
In the front garden we have added Pumpkins, Squash, and Tomatillos to the existing Garlic, Rhubarb and Walking Onions. Next summer I think we will add Brussels Sprouts and Kale. I think too we will add a border of annual flowers, just to make it questionable as to whether it is an ornamental, or an edible garden.
It is a beautiful day to sit on the back porch, to contemplate life as I gaze out at Attila's patchwork garden, and watch the wind as it tries to decide, it is a breeze, or is it a gusty gale.
Worldly
Weather
Updated on Thu, Jun 24, 1:55 PM
27 °C
FEELS LIKE 27
A few clouds
Wind 28 S km/h
Humidity 31 %
Visibility 42 km
Sunrise 5:24 AM
Wind gust 42 km/h
Pressure 102.2 kPa
Ceiling 10000 m
Sunset 8:55 PM
Quote
"The greatest thing in the world is to know how to belong to oneself."
Michel de Montaigne
1533 – 1592

This is my definition of success.