I woke up at 3: a.m. this morning and made my way through the dark to the washroom.  My bare feet became icicles before I made it back into bed.  Attila had kept the bed warm, so I warmed quickly after diving back under the eiderdown.
This morning I am dressing for the indoor weather.  From toe to head:
Wigwam -40F/C socks (ca 2010)
faux-fur lined mid-calf slippers
thermal tights
flannel pants (pajama day!)
cotton short sleeve t-shirt
long sleeve turtle neck shirt
long sleeve sweat shirt
Cowichan Sweater (ca 1989, Banff)
I'm layered large and comfortable. The warmest part of the house is 16C, it is about 12C where my desk sits nearer the windows.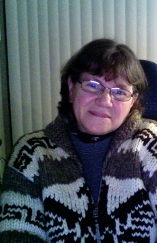 Attila gave me two pairs of Wigwam socks for Christmas.  I love getting these socks for Christmas, they are a real indulgence.  My feet feel almost massaged when I put them on; they are the most comfortable socks I've ever worn in my life.  Made in Wisconsin, they are about as locally produced as a sock can be in North America.  The price reflects not only the fact that they are made in North America, but also the quality.
My Cowichan Sweater was a gift to myself. I was presenting a paper at a conference in Banff, where almost every retail clothing store sold Cowichan Sweaters. I spent most of my free time touching and feeling and looking for the one that was meant for me. I found it and have been wearing it ever since. These sweaters are registered and numbered, like art prints are numbered.  The joy of quality is that a little bit of product goes a long, long way.  After the initial cost, there is nothing left to do but enjoy the item for a lifetime.  I intend to make this sweater an excellent investment.
Pat Logier loved his Cowichan Sweater. Once, on a camping trip, he let me wear it for an evening around the campfire. I fell in love with Pat, and his sweater. Wearing my Cowichan Sweater, I am wrapped in the warm blanket of the past.
This morning Attila is making blueberry pancakes.  I really enjoy my pancakes with vanilla yogurt.  Maple syrup is better, but that is just too much sugar. I just said that to be logical and correct. I will be eating vanilla yogurt with my pancakes.  What I really feel though, is that you can never, ever, ever have too much sugar.
Worldly Distractions
Weather
-23 °C
Condition: Cloudy
Pressure: 102.0 kPa
Visibility: 13 km
Temperature: -23.0°C
Dewpoint: -25.9°C
Humidity: 78 %
Wind: N 9 km/h
Wind Chill: -30
Quote
"Take rest; a field that has rested gives a bountiful crop."
Ovid
43 BC – 17 AD
Notes
It has occurred to me that simple links to information about things like Wigwam Socks and Cowichan Sweaters may be temporal.  One hundred years from now those web pages may not be accessible.  The Great Great Grandkids won't know what I'm talking about.  The way things are going it is possible the Grandkids won't know what I'm talking about!  Though, to be honest, I think what I write here will be of much more interest to my distant descendants than to the descendants that actually know me in the here and now.  So this is for you, unknown babies of the future.
Wigwam Socks
"Wigwam Mills, Inc. is proud to knit its socks in Sheboygan, Wisconsin, U.S.A., just for you because we care.
We care that thousands of manufacturers in this country sacrifice quality for less-expensive labor in other areas of the world, to increase the bottom line. We continue to lobby in Washington D.C. for programs that responsibly limit the quantity of imported products coming into this country while still pursuing a policy of fair trade with our many global neighbors. We care about the environmental, sociological, and financial implications of this policy."
Source: http://www.wigwam.com/AboutUs.aspx
Cowichan Sweaters
"Cowichan knitting is a form of knitting developed by the Cowichan people of southeastern Vancouver Island, British Columbia. The distinctively patterned, heavy-knit Cowichan sweaters, popular among British Columbians and tourists, are produced using this method. Cowichan knitting is an acculturated art form, a combination of European textile techniques and Salish spinning and weaving methods. From this union, new tools, techniques and designs developed over the years."
Source: http://en.wikipedia.org/wiki/Cowichan_knitting