At last I have received news from Ontario Hydro! Apparently they have scheduled in our property for the week of October 3rd, this week! I called them yesterday to inquire if the electrician had contacted them, and yes he had, on the day he said he would, so that part of the wait is moving along as it should. I've no idea what happens next, but I am now very optimistic about getting this electrical upgrade and furnace install completed before we actually run into frigid weather!

At night the temperature outside is dipping down to or just below freezing. Yet, the interior of the house loses only one and a half degrees Centigrade overnight, falling from 23.5C to 22C. In the mornings, by the time I've finished my morning coffee, the interior temperature rises to 24C. We have not yet turned on the heat. I could really get used to this!

We had our first frost Sunday night, and luckily Attila had covered the garden so we only lost the uncovered plants, and the tips of the plants that touched the coverings. We are trying to prolong harvest season as long as possible!

We are recovering well from the head cold Attila acquired on the job, still coughing, but the fever has subsided, and the running noses are requiring less paperwork.

I canned five jars of pickled peppers yesterday, there may be more, we shall see. I also made ten cups of vegetable broth for the freezer, using vegetable scraps from the freezer, which were collected as we processed our garden harvest. This morning I've vacuum sealed three medium bags of frozen diced green beans, and a bag of frozen orange zest. Vacuum sealing seems to work much better if the items are frozen first. Freshly baked bread is also cooling on the counter.

We have kale yet to dehydrate, and cabbages to come. There will be a few more beans and peppers and tomatillos coming in. There are loads of green tomatoes, still on the live vines, so they may or may not vine ripen, we are keeping an eye on them. In 2021 year my last garden canning project was pickled peppers, on October 25th. It doesn't seem the peppers will keep going that late this year, but one cannot really predict.

I made a nice Cabbage Roll Casserole on Sunday with a split cabbage from the garden. It was in pretty rough shape but I salvaged about six cups of chopped cabbage from it. The casserole was delicious. Yesterday I made a batch of Corn Chowder, using up some softening potatoes, two cans of creamed corn that expired in 2018, and a can of tomatoes that expired in 2021. Time to use up and replace the canned goods, we don't keep much in the way of commercially canned items around, mostly just vegetables, but this winter I will be concentrating on using them up, and replacing them with newer items. Making large batches of casseroles and soups give us a lot of leftovers, which we love. Today I had the Corn Chowder for lunch, and Attila had Cabbage Roll Casserole. For supper tonight I will have Cabbage Roll Casserole and Attila will have Corn Chowder. Mix and match, we love our leftovers, they provide us with multiple menu choices.

Attila has taken a vacation day today, to get his Covid booster. All of his vacation time this year has been used for medical appointments, we try to make the most of these intermittent days when he is here, but I hope someday vacation time off resembles the intent of the word vacation. Since he is here Attila has finished off the last details of the back porch supports, and put away the tools and equipment. He is also moving items, that were moved to the garage for the furnace install, back into the basement. Things like paint cans that really should not be left out where they might freeze. There is much organizing to do in the basement, it is chaos, which has migrated to all areas of the house, and will remain in chaos until the electrical panel is upgraded and the furnace install in completed. The big job of organizing can begin at last when those projects are finally completed. It has been tiring to live in a state of relative chaos in a small space. As I sit in the living room I am surround by food storage items that have had nowhere else to go! Bags and pails and bits and bobs, soon to be sorted and stored.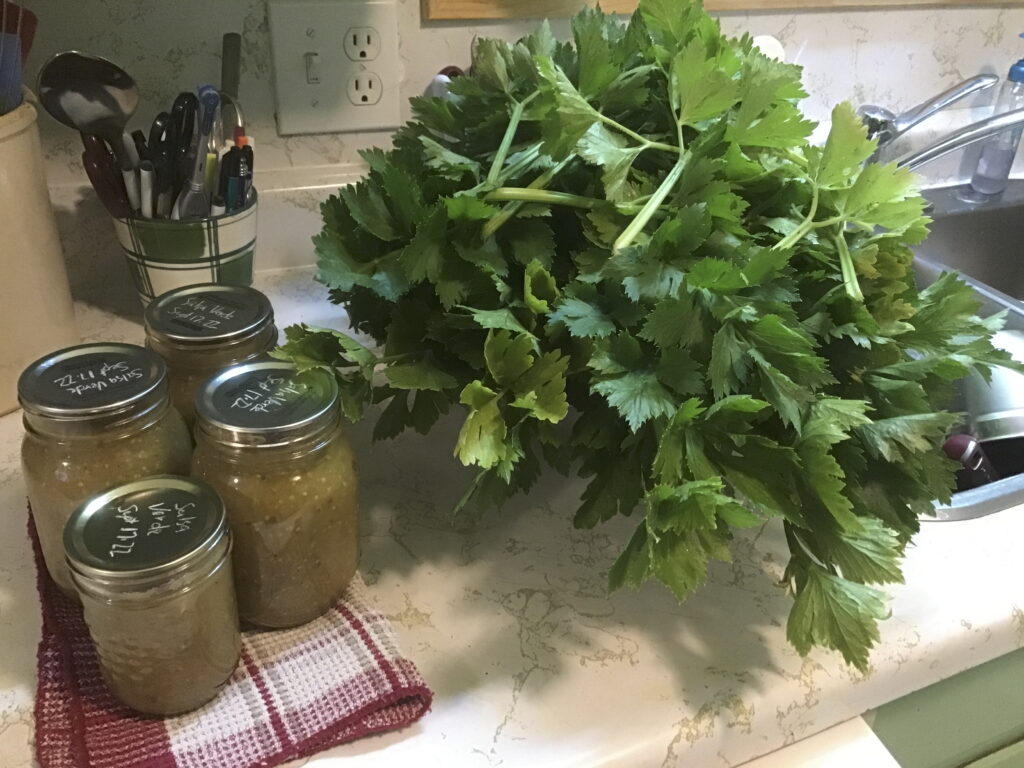 Worldly
Weather
Updated on Tue, Oct 4, 1:55 PM
17 °C
FEELS LIKE 17
Partly cloudy
Wind 4 N km/h
Humidity 39 %
Visibility 21 km
Sunrise 7:08 AM
Wind gust 7 km/h
Pressure 102.1 kPa
Ceiling 9100 m
Sunset 6:43 PM
Quote
"Listen! The wind is rising, and the air is wild with leaves,
We have had our summer evenings, now for October eves!"
Humbert Wolfe
1885 – 1940