Kate in Saskatchewan is implementing a very interesting idea on her blog, creating entries for some of the blogs she reads. I was more than a little pleased to be a part of her project! you can read the entry here on Kate's A Letter Out, at Golden Grain Farm. Thanks Kate!
Since Attila plugged the hole in the attic around the sewage vent pipe, we have seen no signs of mice, our baited traps in the kitchen remain empty, night after night. The cold season has passed, and there is plenty of food for them outdoors, so their absence may be the result of mere indifference. We hope that we have blocked all entry points, but only time will tell.
Yesterday Attila rearranged the garage to get the lawn mower out, and then he mowed the lawn.
I put on my glad rags and headed for the city for a day of shopping. My goal was to find a little gift for my Mom for Mother's Day, and for her upcoming 85th birthday. She has been doing very well, and is beginning to get bored, itching for warm weather so that she can be out and about more. The boredom is a sure sign of a good recovery!
I found a lovely little gift for my Mom, I hope she likes it; not giving it away here, Mom reads this blog!
I took advantage of being in the city to do a bit of shopping that has been on hold, waiting until I had access to more specialty stores.
First stop, a fabric store, where I bought a membership and another two packages of curtain ring clips. I am a senior, so I got the senior discount on the membership, and saved money with the membership on the ring clips. On the final bill I ended up paying $10 for the annual membership, which cost me $25 last year, before I had my day as a Senior Debutante.
The next stop was Value Village. Considering that all of the items in the store are donated, I am shocked by the prices. I don't think they pass their profits on to the people working at the store, which were mostly young people, just out of high school I think. I wouldn't object to high prices if the profits were used to enhance the life of the employees, and the community, but I see little evidence of that.
At Value Village I spent a lot of money, about $50. I bought two brand new XL men's shirts, one for Attila, and one for me, to be sprayed with permethrin and worn over our clothes when we are working in the bush. That was the main item I was looking for, and for $25 I procured two excellent quality shirts, that should last for many years. I found a nylon jacket with no lining for $6.99, and purchased it for wearing around town while grocery shopping. It will fold up nicely and I can remove it and pop it into my backpack when I am too warm. I looked at other clothing, for both Attila and myself, but didn't find anything interesting
Our new big shirts, to be sprayed with permethrin and worn over our clothes when we are in the bush. Attila's is the checked shirt, mine is the mauve pinstripe shirt.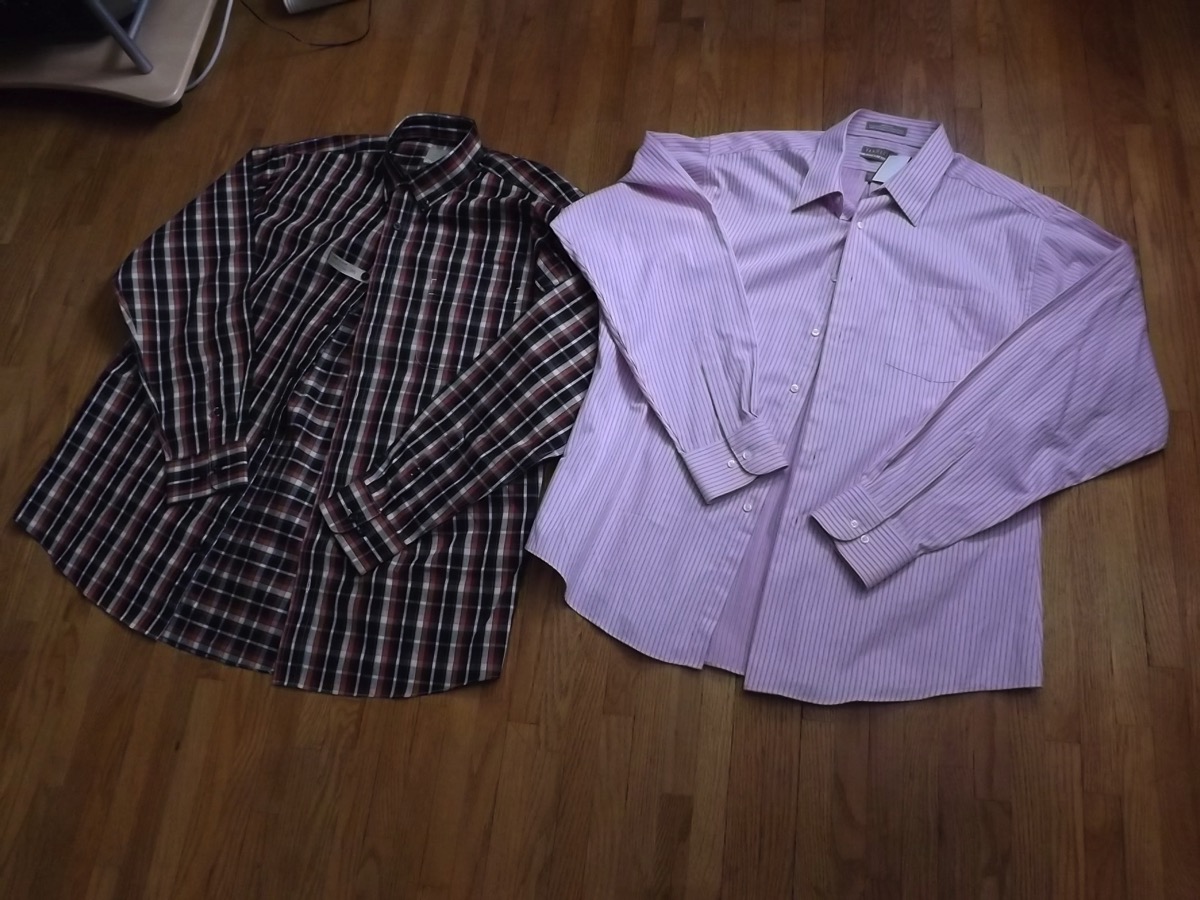 My "new" nylon jacket, perfect for running around town, not so good around the campfire, sparks will melt holes in it.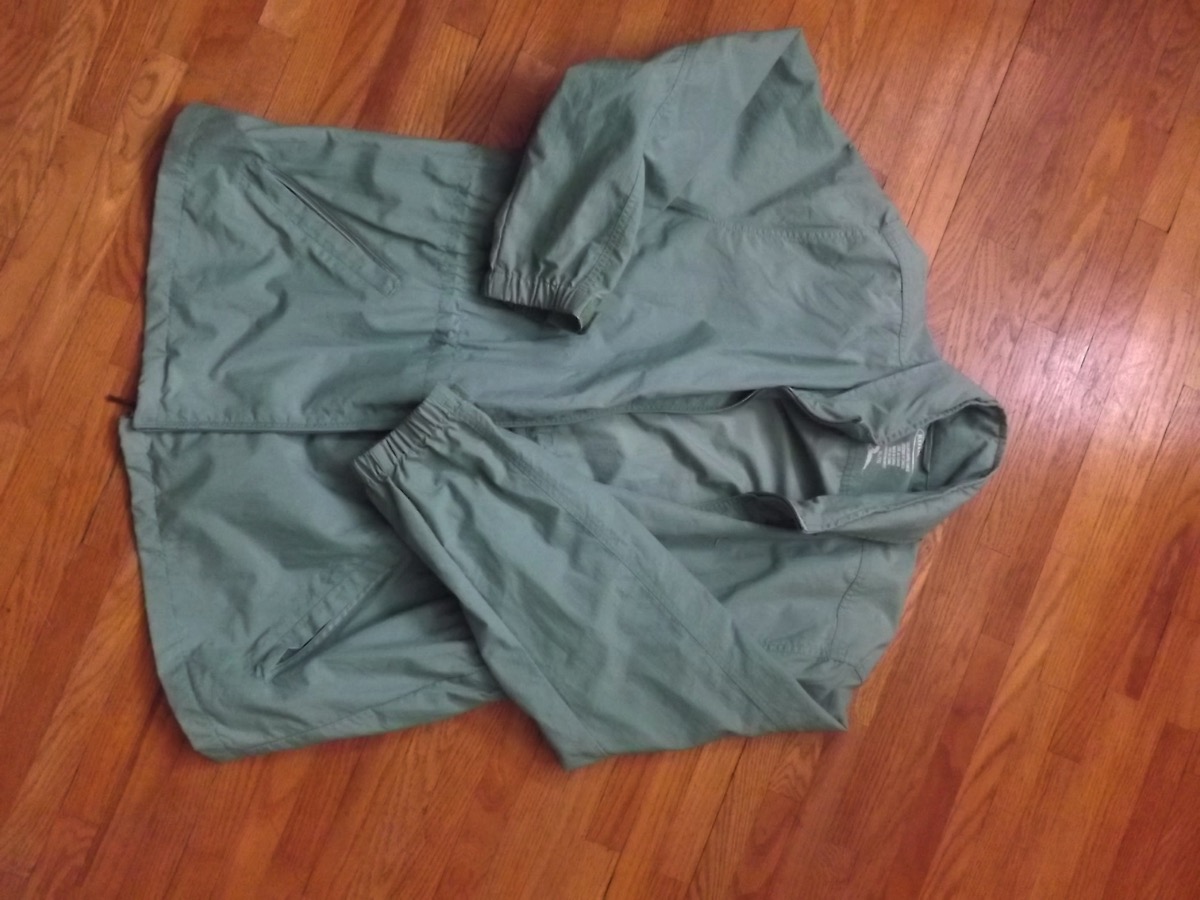 For the kitchen I bought two Corelle lunch plates. We use the lunch plates a lot, they are perfect for small lunches and snacks. That is why we are short on them, there are only three left of the eight in my original Corelle dish set, which I purchased in the 70s. New ones cost $5.44 each, and these cost $1.99 each, a considerable savings. We need more of them, so I will keep my eyes open at garage sales and charity shops. The patterns don't matter much to us, function is the most important aspect as far as we are concerned.
For the Rideau Camp I bought a heavy duty stainless steel frying pan with a metal handle. We will use this frying pan to cook or heat foods over the camp fire, so the metal handle is mandatory.
I also purchased a very large recycling tote, the kind the city sells you for your recycling. This was used and much cheaper, $2.99.
My favourite purchase at Value Village was a stainless steel breadbox. My plans for this breadbox are somewhat unorthodox. It will reside on a shelf in our future outhouse. In it I will store the extra rolls of toilet paper. One of the things I discovered at the Ancestral Camp, where we use the outhouse at my Granny and Grandpa's house, was that if you leave toilet paper in the outhouse over the winter, the mice will chew it up and use it for nests. That is a waste of good toilet paper! Since I doubt we will be able to keep the mice out of the outhouse we will build at the Rideau Camp, I plan on protecting my toilet paper by placing it in the stainless steel breadbox.
The third stop on my shopping trip was Home Depot. There I purchased a 5 gallon plastic pail, which will be used with a seat in our future outhouse at the Rideau Camp. My other purchase was two square rubber tiles, which I added to the rubber tiles on the front porch, which is slippery when wet, as I found out last June when I had my serious fall down the stairs.
My 5 gallon plastic pail, which I plan on using as the liner under the seat in the future outhouse at the Rideau Camp. The tote I thought might serve to line the outhouse hole, but Attila says it is too small. I am sure I can find another use for it.
My favourite purchase of the day, the breadbox! This beautiful little piece of stainless steel will protect my precious toilet paper in the future outhouse at the Rideau Camp.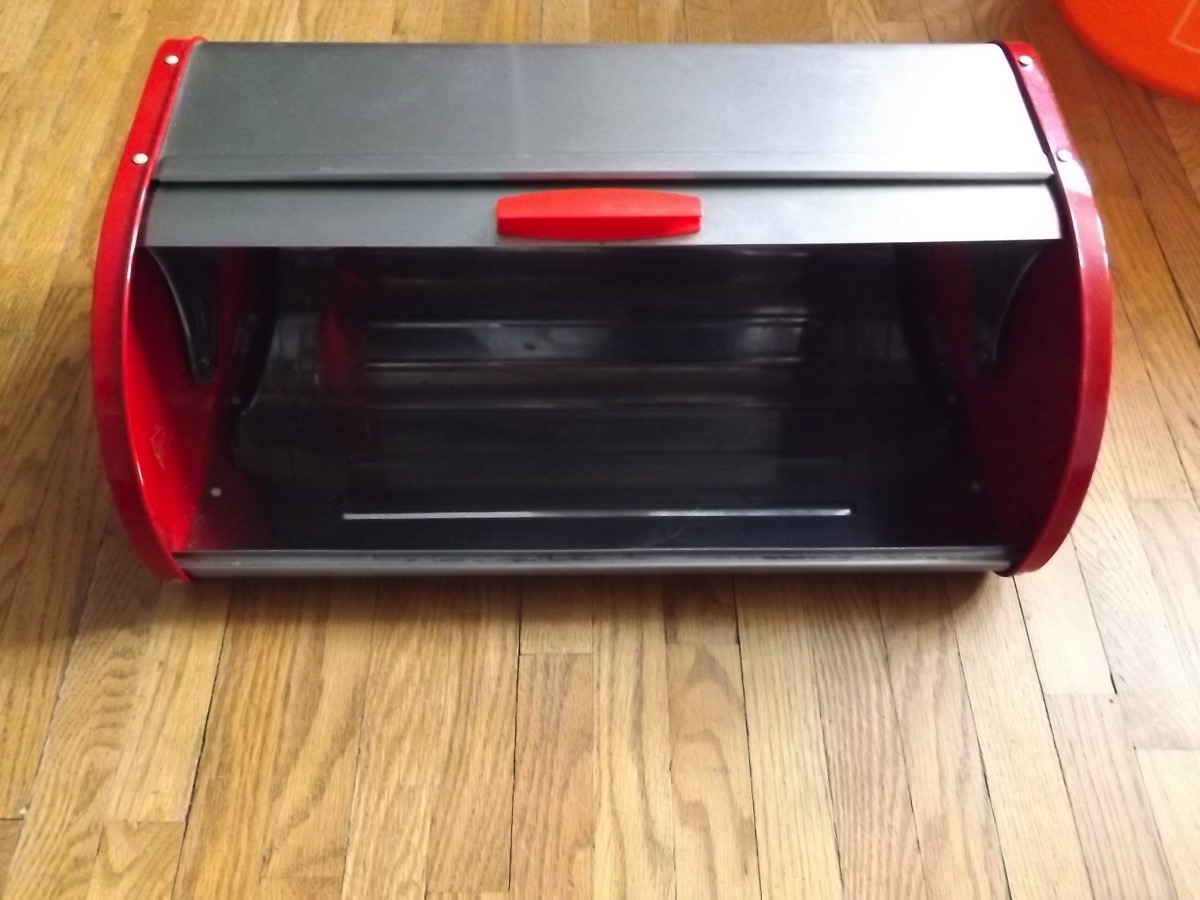 Today dawned sunny and relatively mild at 10C. Attila arrived home from work, ate a leisurely meal, took a long hot bath, and went to bed and to sleep.
I went shopping. Again.
I have a lot of pairs of pants, some of them are over 30 years old. As I grow older I am less and less tolerant of a tight fit, so that most of my older pants are uncomfortable for me now. Although they still fit, they don't fit right. Today I headed out to the local stores to look for comfortable pants. I hate shopping for clothes. I have never found clothes on the rack to fit me properly, or comfortably, and it takes a lot of sweat and frustration to find anything passable. Today was no exception, I had a miserable time.
The only two local stores with clothing in the price range I am looking at are Walmart and Mark's Work Wearhouse. All the rest of the stores here are up-market from there, aimed at people who don't mind spending a few hundred dollars on one item. That isn't me.
I tried on dozens of pairs of pants. Some were too big. Some were too small. Some fit funny. It wasn't much fun. I also made the mistake of trying on tops and blouses. Not ONE single top or blouse I tried on fit, not one!
I ended up buying five pairs of pants, it took all day to find them. They are all comfortable, but only time will tell which were good purchases, and which were not. When I got home I removed the tags on all of them, put them in the wash, then hung them out to dry on the back porch line. They were dry before darkness fell, so I gathered them in, folded them carefully. Tomorrow one of them will be put to the test!
I have just received a lovely letter from one of my relatives who bought my first genealogy book. They are waiting for the next volume! I had better get my behind in gear and get moving on the next volume. It is beginning to come together, so maybe I can speed it up a bit!
Worldly Distractions
Weather
12°C
Date: 9:00 PM EDT Thursday 5 May 2016
Condition: Mainly Clear
Pressure: 100.9 kPa
Tendency: rising
Visibility: 24 km
Temperature: 12.1°C
Dewpoint: 4.6°C
Humidity: 60%
Wind: E 13 km/h
Quote
"Every man serves a useful purpose: A miser, for example, makes a wonderful ancestor."
Laurence J. Peter
1919 – 1988
No misers in my family line!