Peace and Joy to you on this Christmas Morning! From our house to yours.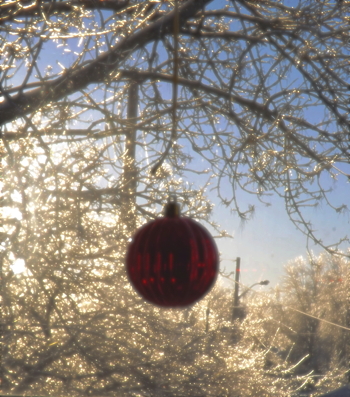 Greetings! Wishing you all a peaceful day full of comfort and joy!
We made it! We drove to the little house on Christmas Eve day, yesterday. The ice storm provided us with fairytale beautiful scenery, it sparkled and shone! The power was on in the little house. The ice is thick at the little house. Our Christmas present from Terra and Lares, and Luna and Janus was delivered Christmas Eve, and installed by Lares. They gave us a hot water heater!!! A gift that will keep on giving for many years to come!
Worldly Distractions
Weather
Partly Cloudy
-25°C
Date:
11:00 AM EST Wednesday 25 December 2013
Condition: Partly Cloudy
Pressure: 103.5 kPa
Tendency: falling
Visibility: 19 km
Temperature: -16.4°C
Dewpoint: -19.4°C
Humidity: 78%
Wind: NE 9 km/h
Wind Chill: -31
Quote
"To cherish peace and goodwill, to be plenteous in mercy, is to have the real spirit of Christmas."
Calvin Coolidge