The weather seldom gets me down, here at Mist Cottage, but Saturday morning's snow surprise unexpectedly affected my mood. After our Friday night walk in a blizzard, which I enjoyed, the two inches of snow on the ground on Saturday morning had the opposite effect. And the continuing cold and cloudy weather is making the uphill climb a bit more difficult. I am getting there though. And warmer weather is on the way by the end of the week, albeit cloudy and raining, but warmer. The garden is bursting into many shades of green, which is beautiful, and adds cheer to the dreary light of day.

Nothing for it though, but to keep busy!

Years ago Attila gave me a dehydrator, for Christmas I think, or was it my birthday, oh well, it was a welcome gift. A project that has long been under consideration is to dehydrate carrots. So yesterday our 3 pound bag of carrots was peeled, then sliced into 1/4 inch thick medallions by the food processor. The medallions were blanched in boiling water for 3 minutes, removed from the heat, drained, then plunged into cold water, ice water is best but we don't have ice, so cold water it was. After draining a second time, the medallions were spread in the dehydrator, and left there about 6 hours. They are tough to chew but taste great, and they don't take up a lot of room on the shelf. They will be great for stews and soups.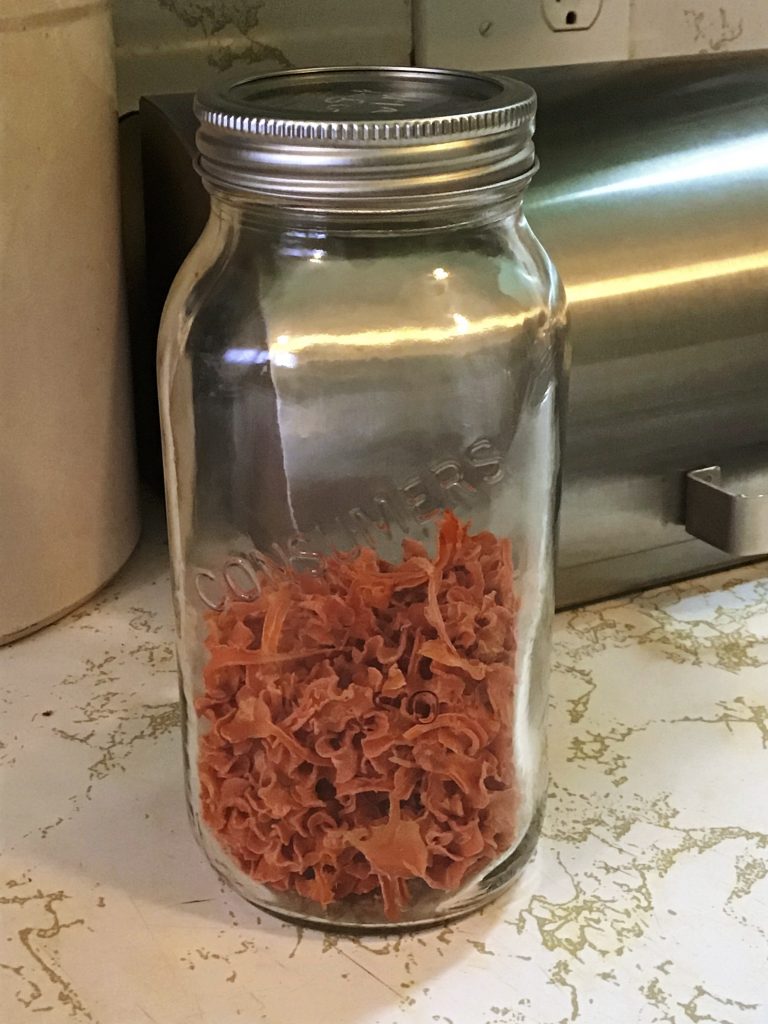 The carrots were such a success that they have inspired a second project, dehydrated sweet potatoes. Last January, or February, a 10 pound bag of sweet potatoes was purchased at a greatly reduced price, less than perfect potatoes. They have made wonderful Sweet Potato Fries in the Air Fryer, but are now showing their age, so it would be best to process them before they end up in the compost bin. Tomorrow's project.

Last week a new bread recipe was attempted: Squash Spice Raisin Bread. I began with a recipe I found online for Pumpkin Bread, and then made quite a few significant changes to the recipe. I used pureed squash instead of pumpkin, added raisins, added cinnamon, ginger, nutmeg, and cloves, used 100% whole wheat flour instead of white bread flour, added gluten flour, changed the sugar amount, added liquid stevia, reduced the sodium to 1/8th tsp., and used the bread machine to knead the dough. The resulting bread tasted wonderful! But my baking time and temperature were off, the centre was under cooked. We ate the whole loaf in less than two days!

Yesterday a second, revised batch of the bread was attempted. This time I divided the dough between two loaf pans instead of one, lowered the oven temperature, increased the baking time, and the results were wonderful. Attila loves this bread toasted. It really is more like a sweet bun than a bread. But it only has 3 teaspoons of sugar, and 145 mg of sodium added per loaf. The 3/4 cup of raisins that I added were just the right amount, they add additional sweetness to the loaf.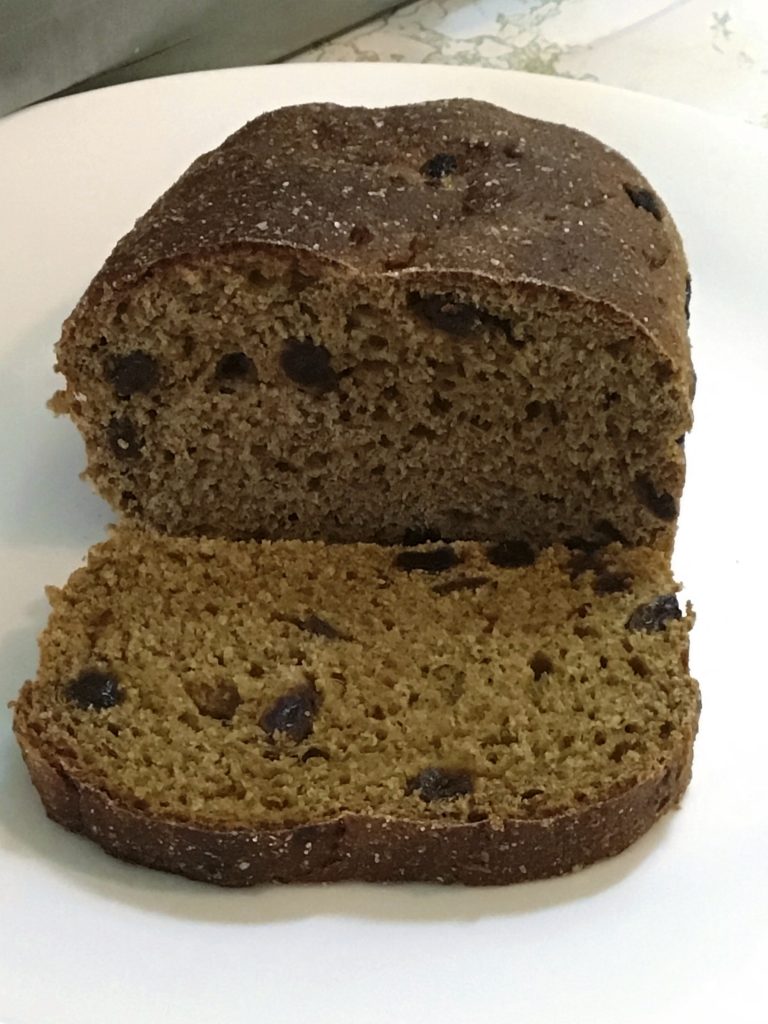 When baking I like to use half the sugar called for in a recipe, and replace the other half with liquid stevia. That way we get the flavour of sugar, and the results are just as sweet and tasty as they would be, using only sugar as a sweetener.

Attila is spending his time, when it is too wet and cold to garden, in the basement. The surface of half of the basement floor is pock marked, holes really, in the floor, where unmixed sand was trapped, the surface broke, and a depression in the cement was left. It is now being patched. Since we already have concrete paint here, from a few years ago, the patched floor will be painted when it dries. The job will be done in small squares and rectangles, as we begin to move things around down there; moving things onto the newly painted floor, and exposing more of the unfinished floor to patch and paint. This could take some time! We have time.

There has been a slight increase in the kinds of retail outlets that are allowed to be open in Ontario, significant to us are hardware stores and nurseries. This means that Canadian Tire has again changed the way they handle shopping, as they are now allowing customers into the store. However, we don't want to go into a store where other customers do not wear masks, even though the staff at Canadian Tire do wear masks. So I ordered our concrete patch material online, and Attila was able to pick it up at the docking area door. This will work for us!

Our expenditure on this concrete patch project is $9.99, which isn't a lot I guess, but on our new great-to-have-but-low-enough-to-cause-pause income level, it took a bit of thinking to make sure we could swing it. Food, heat, and basic shelter costs are our priority, and household improvement projects are more of a luxury than a necessity.

We are getting into a routine when buying items from the outside world. Attila has his "plague clothes" that he wears to do pickups, and he has developed a whole routine when he returns, that involves stripping down and throwing the clothes in the washing machine, sanitizing any items coming in, and washing his hands using what we now call our "medi-wash" technique, which is outlined on many websites and videos on how to wash your hands. This whole routine gets easier over time.


Worldly
Weather
5°C
Date: 2:00 PM EDT Monday 11 May 2020
Condition: Mostly Cloudy – Periods of rain mixed with snow ending this afternoon then cloudy.
Pressure: 101.3 kPa
Tendency: Rising
Temperature: 4.7°C
Dew point: 1.3°C
Humidity: 79%
Wind: NNW 20 gust 30 km/h
Visibility: 24 km
Quote
"Life is a great big canvas; throw all the paint on it you can."
Danny Kaye
1913 – 1987

As a kid I loved Danny Kaye, and in particular his preformance in The Court Jester.