Tank was supposed to be ready by noon yesterday. I heard nothing from the garage. Attila called them when he got back from work, and they said they just had to check it out to make sure everything worked, wanted us to come get it the next day, Friday. Attila told them his wife would like it today, Thursday, and that we would be at the garage at 5 p.m. to pick up Tank.
When we got to the garage it was very busy, and Tank was nowhere to be seen. We greeted the desk staff, who said that it wouldn't be long. Then we saw Tank arrive back from the test drive. We waited patiently. We watched as Tank was driven off the lot again, alerted by the terrible noise she was making as she drove away, she sounded like a diesel truck. Tank does not have a diesel engine. Not good. They explained something about two cylinders not working, they were working when she came to the garage, now they are not working. Not good. The fellow told us Tank will be ready today.
When we were there I decided to take charge of the interactions, after all I am here during the day, so I can call them. Actually I am the "bad cop" when we approach situations like this, a role I can easily assume. I pleasantly but firmly told the fellow that if Tank were not ready by Monday morning, they would HAVE to provide me with a courtesy car. I asked that I be called today to let me know what is going on with the vehicle. It was just after 1:00 p.m. and I hadn't heard from them yet, so I called them. They are ordering parts directly from the dealer he said. No word on when the vehicle will be ready. They will call me this afternoon to keep me up to date on how things are going. At least no empty promises were made.
It is hard to remain optimistic about this situation. These guys are clearly in over their heads with this repair. I think they will try to make it right, but my GOD this is getting ridiculous. I had a very bad experience with a garage when I was doing research for my PhD and needed a vehicle. The garage was awful, wanted a fortune to return the vehicle, not having fixed it. I took them to small claims court and won, and since they were a franchise I called the mother company. I did not let that one lie. That garage lost their franchise, and I didn't feel in the least bit sad about that. The consequences of the lost vehicle were catastrophic for me. It wasn't until this morning that the bad feelings about that past fiasco resurfaced. This situation is going on way too long for comfort.
Feeling so tense, so irritable, what to do!
Why can of course!
I had saved all the apple peels from the 26 Northern Spy Apples that I used to make and can applesauce. They had been boiled until transparent, then strained. The liquid sat all day yesterday, I was too distraught to function in the kitchen. I did boil it for five minutes though, since it was sitting on the range for the day. This morning I made Applescrap Jelly with it. It is so good! I used the Apple Jelly with no pectin recipe from the National Centre for Home Preservation, and included the lemon juice. When the liquid was first strained there were eight cups, which were boiled down to four cups. The jelly had to cook for around twenty minutes to reach the sheeting stage, and it seemed as if it was not going to jell, but finally it did. The yield was small, but oh so good!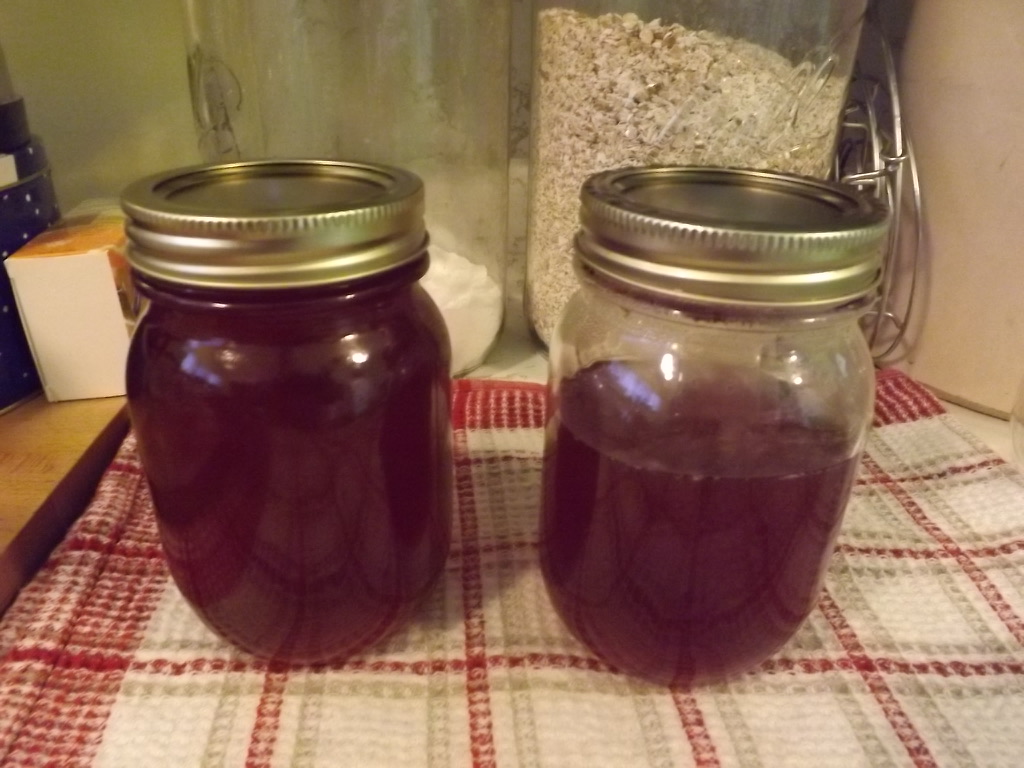 Worldly
Weather
4°C
Date: 1:00 PM EDT Friday 26 October 2018
Condition: Cloudy
Pressure: 102.1 kPa
Tendency: Falling
Temperature: 3.6°C
Dew point: -4.3°C
Humidity: 56%
Wind: E 10 km/h
Visibility: 24 km
Quote
"Yesterday is not ours to recover, but tomorrow is ours to win or to lose."
Lyndon B. Johnson
1908 – 1973