Iris on a sunny day.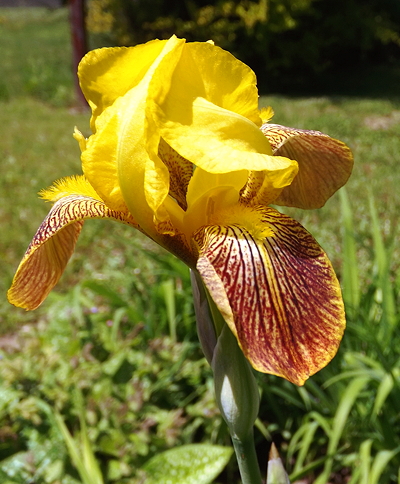 Big excitement here today, a large dead branch fell, from the top of a dead white birch tree, near the house. It didn't hit anything but the ground, with a mighty thump. Mist didn't feel the vibration, so maybe it wasn't exactly earth shattering. But that is my news, here in the bush.
Attila has contracted a skin and eye reaction to Hogweed. Bad stuff. He will be all right, we drove for an hour last night to visit the emergency ward at the nearest hospital. We even found a drug store open to fill the prescriptions he was given. He was already feeling better this morning. I can attest to the undesirability of coming into contact with Hogweed. Attila has been having a miserable time of it. He is on the mend now though.
We visited the little house in the city again last weekend. Attila had Saturday off work. He will get another Saturday off work in July, so that is it, for getting much done this summer at the little house in the city. We accomplished a lot while we were there. We tackled the lawn and gardens, and this time round I removed about a half bushel of dandelions from around the back porch. Slow going, those dandelions seemed the size of cabbages; they had been growing there for years.
Attila finished the last few tasks, installing the new gate. He also turned over a new section in the garden for tomato plants, which we will plant next time we visit. I did my usual go-for jobs, or is it gofer, picking up new work clothes that Attila was in dire need of, while we were near stores that sell such things. He now has decent footwear for work, to keep his feet dry and safe from harm. He has had a challenging spring, with boots that leaked, with all the rain we've had.
We had been putting off working on the bathroom until we decided whether the tub could be salvaged, or needed to be replaced. It had a lot of those Rubbermaid sticky things on it; black and tattered and totally disgusting. If we could not remove them, we would replace the tub. Attila set to and removed them with a paint scraper and baking soda. Baking soda does an amazing job at cleaning! So we will keep the tub. Which is a relief, because they are expensive to buy new.
We have decided to proceed with removing the wallboard and drywall. Removing it will mean that we cannot use the shower until the walls are reconstructed and finished. I have decided to cut my hair short, so that I can wash it quickly under the tub tap. We will be able to take baths, so it is just hair washing that is problematic, and only for me.
I have ordered the plumbing fixtures, to replace the rusted and worn out ones that exist. The new fixtures will not arrive for several weeks. We will be working on the bathroom in dribs and drabs for the rest of the summer.
I hope to travel down to the little house in the city by myself, and stay there for several weeks, to work on the place. Of course, my pace will be very slow, so I don't know how much I will accomplish, but at least the tomatoes will get watered!
We have Macs, so I was going to keep in touch with Attila via FaceTime. But Attila has plans of his own here at the country house, while I am away. He wants to spend his time on his projects. So, rather than force him to spend any of his precious time on computer setup, and his time is precious, I have found a less technical solution to our communication needs, while I am away.
I purchased a Skype account, which allows unlimited calling to Canadian and USA telephone numbers. This cost $30 Canadian. With this account I can call Attila on the land line in the country, from my computer, anywhere that I can find a high speed internet connection. This means Attila need not spend time setting up and configuring an account, he can answer my telephone calls by merely picking up the receiver.
We did try communicating by cell phone the last time I visited the little house in the city by myself, and went through a $100 credit before the week was out. The Skype account will see us through a whole year, for $30.
Worldly Distractions
Weather
18°C
Date: 3:00 PM EDT Tuesday 28 May 2013
Condition: Cloudy
Pressure: 101.6 kPa
Visibility: 16 km
Temperature: 18.2°C
Dewpoint: 6.4°C
Humidity: 46%
Wind: ESE 18 gust 37 km/h
Quote
"When I'm working on a problem, I never think about beauty. I think only how to solve the problem. But when I have finished, if the solution is not beautiful, I know it is wrong."
R. Buckminster Fuller
1895 – 1983