Kermit the Frog used to say "it isn't easy being green". Some environments are more tolerant of green folk than others, some paths more attuned to the land they traverse. There are times, in this life we lead in the bush, that I feel imprisoned by the tight social fabric around us; so much space, so much beauty, so much self interest, so much denial…
For instance, the politics here are just too rich for me!

We have this:

"Senior Conservative officials broke federal rules to shower $50-million on the riding of the minister now overseeing Ottawa's austerity plan, according to the final audit of a G8 program that fuelled opposition charges of pork-barrel politics….
Mr. Clement insisted that not a penny went missing and that the projects were all completed to the benefit of the Muskoka region, although he acknowledged the paperwork "could have been better."
G8 spending in Clement's riding left 'no paper trail' DANIEL LEBLANC AND BILL CURRY.

At the same time we have this:

"Having a job does not necessarily mean that income earned will cover the cost
of basic needs. When full-time minimum wage employment ($8.75 per hour) is
a Muskoka family's income source, 67 per cent of this income would be needed
just to pay for food and rent."
Source: http://www.omssa.com/lib/db2file.asp?fileid=35924

"…residents of Simcoe and Muskoka receiving social assistance, pension income or
a minimum wage would need to use much more of their limited incomes to cover basic food and
housing costs, as can be seen from the 2010 income/expense scenarios on the back of this page.
For example, based on NFB survey results and CMHC rental rates for Simcoe and Muskoka, a family of four receiving
Ontario Works would have to spend 90.5 per cent of their income for food and rent alone!
Unfortunately having a job does not necessarily mean that income earned will cover the cost of
basic needs. When full time minimum wage employment ($10.25 per hour) is the income source
for a Simcoe Muskoka family of four, 68.7 per cent of this income would be needed just to pay
for food and rent combined."
Source: Simcoe Muskoka Health Unit
The world around us is as green as I've ever seen it in my life. We have had lots and lots of rain.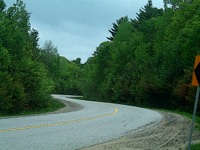 And we had a tornado touch down nearby this past week. It missed our neighbourhood and my workplace. The storm was spectacular. Many of the roads were blocked by fallen trees and the power was out for quite a while, I think it is still out in a few areas around here. Two tall trees in our back acreage were toppled by the winds, their roots torn out of the ground as they fell; more firewood. I was asked by a customer from Toronto if I had been scared. It never occurred to me to feel scared. I was alone at work when the worst of the storm hit. The building lost power, which was when I decided which interior steel desk I would shelter under if conditions deteriorated. Then I calmly watched the magnificent storm, a nice break. Within twenty minutes the power came back on, I started up the computer systems and went back to work.
Attila and I are just plain tired. With both of us working full time there are only a few hours left in the day to follow any pursuits of choice. This is easier for me of course, than it was when I was working part-time, going to school full-time and raising two children by myself. How did I do that? I don't know, I was younger, driven to do the best I could for my kids and there wasn't anyone else to shoulder any of the responsibilities. There are just us two adults now, the responsibilities are fewer by far, and yet I am very tired. Age may have something to do with this.
Our firewood delivery is scheduled for this week. This means lots of work, in particular for Attila. All that wood needs to be moved and piled in the woodshed and lean-to, a very very big job.
We are hoping to get down to our little house in the city again soon, the grass needs cutting. We are looking forward to seeing how the garden is doing. Terra and Lares watered the vegetables for us this week, then it rained. I am hoping that the flowers in the front yard are doing well. It seems to me our plantings should do well, if the flourishing grass and weeds on the property are any indication.
I haven't managed to get back at scraping the flaking paint off the exterior siding, the yard work is all we've managed to tackle this spring. On our next trip down to our little house we are transporting the new window for the basement. Attila picked up this used window for $20. It is in excellent condition, is double glazed and even has a screen. Local cast-offs tend to be of very high quality. It will be a huge improvement, visually and environmentally as it will help prevent heat loss during the winter.
So the days go by, up early for work six days a week, one day of rest per week, four days of rest per month. These are my golden retirement years!
The way I see it, if I am healthy enough to work, and lucky enough to have work, then our life is as good as it can get for an ordinary Canadian; never mind the media portrayal of carefree recreation and travel for seniors, that is not for most of us, it is for the relatively few seniors with pensions high enough to afford purchasing power. On an even grander scale, our life here is stupendously fortunate compared to most of the population on planet earth!
Still, watching material wealth daily does wear on one's sensibilities.
Worldly Distractions
Weather
17 °C
Condition: Cloudy
Pressure: 101.3 kPa
Visibility: 16 km
Temperature: 17.0°C
Dewpoint: 9.0°C
Humidity: 59 %
Quotes
"Ordinary riches can be stolen, real riches cannot. In your soul are infinitely precious things that cannot be taken from you."
"Imprisonment
When first I was put into prison some people advised me to try and forget who I was. It was ruinous advice. It is only by realising what I am that I have found comfort of any kind. Now I am advised by others to try on my release to forget that I have ever been in a prison at all. I know that would be equally fatal. It would mean that I would always be haunted by an intolerable sense of disgrace, and that those things that are meant for me as much as for anybody else – the beauty of the sun and moon, the pageant of the seasons, the music of daybreak and the silence of great nights, the rain falling through the leaves, or the dew creeping over the grass and making it silver – would all be tainted for me, and lose their healing power, and their power of communicating joy. To regret one's own experiences is to arrest one's own development. To deny one's own experiences is to put a lie into the lips of one's own life. It is no less than a denial of the soul. De Profundis"
Oscar Wilde
1859-1898
Note
Oscar Wilde
"In London, he had been introduced to Constance Lloyd in 1881, daughter of Horace Lloyd, a wealthy Queen's Counsel. She happened to be visiting Dublin in 1884, when Wilde was lecturing at the Gaiety Theatre (W. B. Yeats, then aged eighteen, was also among the audience). He proposed to her, and they married on the 29 May 1884 at the Anglican St. James Church in Paddington in London.[49] Constance's annual allowance of £250 was generous for a young woman (it would be equivalent to about £19,300 in current value), but the Wildes' tastes were relatively luxurious and, after preaching to others for so long, their home was expected to set new standards of design. No. 16, Tite Street was duly renovated in seven months at considerable expense. The couple had two sons, Cyril (1885) and Vyvyan (1886). Wilde was the sole literary signatory of George Bernard Shaw's petition for a pardon of the anarchists arrested (and later executed) after the Haymarket massacre in Chicago in 1886.
Robert Ross had read Wilde's poems before they met, and he was unrestrained by the Victorian prohibition against homosexuality, even to the extent of estranging himself from his family. A precocious seventeen year old, by Richard Ellmann's account, he was "…so young and yet so knowing, was determined to seduce Wilde". Wilde, who had long alluded to Greek love, and – though an adoring father – was put off by the carnality of his wife's second pregnancy, succumbed to Ross in Oxford in 1886…
After Wilde left the court, a warrant for his arrest was applied for on charges of sodomy and gross indecency. Robbie Ross found Wilde at the Cadogan Hotel, Knightsbridge with Reginald Turner; both men advised Wilde to go at once to Dover and try to get a boat to France; his mother advised him to stay and fight like a man. Wilde, lapsing into inaction, could only say, "The train has gone. It's too late." Wilde was arrested for "gross indecency" under Section 11 of the Criminal Law Amendment Act 1885, a term meaning homosexual acts not amounting to buggery (an offence under a separate statute)… 
The final trial was presided over by Mr Justice Wills. On 25 May 1895 Wilde and Alfred Taylor were convicted of gross indecency and sentenced to two years' hard labour. The judge described the sentence, the maximum allowed, as "totally inadequate for a case such as this," and that the case was "the worst case I have ever tried". Wilde's response "And I? May I say nothing, my Lord?" was drowned out in cries of "Shame" in the courtroom…
Wilde was imprisoned first in Pentonville and then Wandsworth prisons in London. The regime at the time was tough; "hard labour, hard fare and a hard bed" was the guiding philosophy. It wore particularly harshly on Wilde as a gentleman and his status provided him no special privileges.[129] In November he was forced to attend Chapel, and there he was so weak from illness and hunger that he collapsed, bursting his right ear drum, an injury that would later contribute to his death.[130] He spent two months in the infirmary…"
Source: http://en.wikipedia.org/wiki/Oscar_Wilde