8:15 a.m.

I am taking a break after washing the jars of canned tomatoes that were preserved yesterday, drying them, labeling them, and taking them down the stairs to the basement to be stored away on the shelf. The kitchen has been put to rights as well, after being neglected for the last 24 hours.

After spending three consecutive days preserving, baking, and cooking, spending the days on my feet, from 6:00 a.m. until 10:30 p.m., with a few short breaks for snacks and meals, I am tuckered right out!

And there is more to go.

We now have two dozen one litre jars of tomatoes on the shelf for this winter. One dozen of those jars contain our garden tomatoes, the other dozen are Roma Tomatoes we managed to acquire as part of a grocery order.

The online grocery shopping experience is improving steadily. Also with the order was 11 pounds of Red Shepherd Peppers, that have yet to be preserved. They sit in a cooler on the kitchen floor, calling my name. The quality of the produce we have been receiving has been very good, which is a relief after having received a bag of rotting carrots a few months ago. I think providing the grocery store with feedback is important, they really do seem to want to do a good job with online grocery shopping.

Having spent three days pushing myself to the limit canning Tomatoes, Dill Pickles, and Cowboy Candy, milling flour, baking five loaves of bread, and making my first ever batch of Naan bread, I needed a break!

Yesterday we ignored all the waiting tasks in the garden and the kitchen, packed a lunch, loaded the generator and tools into the car, and headed for the Camp. At first I was reluctant to go, with so much work left to do at home, but Attila persisted in persuading me that it was the best thing to do. And I am oh so very glad he did.

The day was overcast, and extremely windy, warm but not hot. And it was a wonderful, wonderful day!

The first task was to get a camp fire going, so that there would be hot coals, over which to roast wieners. Our lunch consisted of nitrite free wieners, on home-made 50% whole wheat buns, topped with our own garden tomatoes and home-made dill pickles, chopped onion, and a bit of mustard. Some days food just tastes better than it does on other days, and yesterday was one of those days; those hot dogs tasted wonderful.

It was time to close up Grace the Trailer for the season. The mouse trap had no mice in it, hooray! A mouse had been in the trailer however, and it chewed the tassles on the area rug. Why it ignored the peanut butter in the trap, and decided to feast on an area rug, I do not know. That was easily cleaned, and the mouse trap was reset with fresh peanut butter. Grace has a slide, that needs to be retracted for the winter. Attila spent some time cleaning off the roof of the slide, then got the generator going so that I could use the switches to retract it. Once retracted, there were several gaps that needed to be filled with steel wool, to attempt to keep the mice out. Grace it tucked up now, nice and cozy for the winter.

The wind was awesome. Sitting around the camp fire it cold be heard approaching, whipping the tree tops this way and that, roaring across the clearing where we sat. The fire was kept very small, thereby being easy to control. We have a rain-barrel which is full of water, with a bucket beside it, in case the wind carried sparks into the forest. But there were no problems at all with sparks. The fire cheerily flickered through the afternoon, as it was fed small branches. Dead branches were collected from around the clearing, wind fall. There were quite a few of them, the wind being so strong. We were very careful not to venture under the trees while the wind roared through the bush, collecting fallen branches during the lulls.

Everything at the Camp is ship shape, and ready for winter. It is sad that we did not have the opportunity to stay there overnight in 2020,. What a year! The Pandemic Lock Down, our garden, and food preservation, have kept us very close to home. If all goes well, there will be more day trips out to the Camp through the autumn, for picnics, and walks, and sitting by the camp fire.

Attila was talking to his Mom yesterday, she lives in the USA, as do his brothers. Sadly, another member of the extended family has been take by Covid-19, a cousin, in his 70s. Apparently he went to a car show, felt safe wearing a mask, and contracted the virus there, He died within a week of the first symptoms. That is two lost now for our extended family, both USA citizens. The virus is very real to us. I think Attila's Mom feels it keenly that the borders with Canada are closed, and there is no possibility of seeing her son. They had a lovely long chat.

I've been enjoying sitting here with the laptop, committing my thoughts to the page. But a half a bushel of garden Tomatoes, and 11 pounds of Red Shepherd Peppers are waiting in the kitchen for my undivided attention. I might get back to this entry today, but then again, I might not!

7:27 p.m.

Phew! Well it is has been a busy day. Processing the tomatoes occupied the entire day. Six one litre jars of canned tomatoes are on the counter, all sealed, ready to be labelled and put away on the shelf tomorrow morning. So far 28 jars of tomatoes have been canned, not nearly enough to get us through until next harvest season. There are lots more tomatoes out in the garden, so things are looking pretty good, as far as adequately filling the shelves.

The Red Shepherd Peppers are still in the cooler, they will need a change of freezer packs to keep them chilled until tomorrow. They might be diced, vacuum sealed, and frozen. They might be roasted, vacuum sealed, and frozen. Or they might be roasted and canned. Decisions, decisions, that won't be made until the last minute.

Tonight Attila brought in the garden bounty:

2 medium Musk Melons
1 quart of Cherry Tomatoes
1 quart of Ground Cherries
1 quart of Scarlet Runner Beans
4 quarts of Tomatoes

A delightful discovery: the Scarlet Runner Beans are delicious cooked in the Instant Pot. Although I do like beans, they aren't my favourite vegetable, but cooking them in the Instant Pot has moved them up the list. The Beans are starting to produce in quantity now, with six meals worth frozen already, and much more to come. They will be perfect for a warming winter meal of ground Beef and Onion gravy in the Instant pot, cooked with a trivet and steamer over the gravy mixture, with fresh Potatoes, Carrots, and frozen Beans. It is one of our go-to "junk" foods, fast, easy, tasty. Our other go-to "junk" food, is Cheese Tortellini with homemade Pesto.

Darkness is quickening outside the windows, the evening is chilly, and I am now sitting with my feet up, satisfied with the day's labour.

Stay safe dear friends!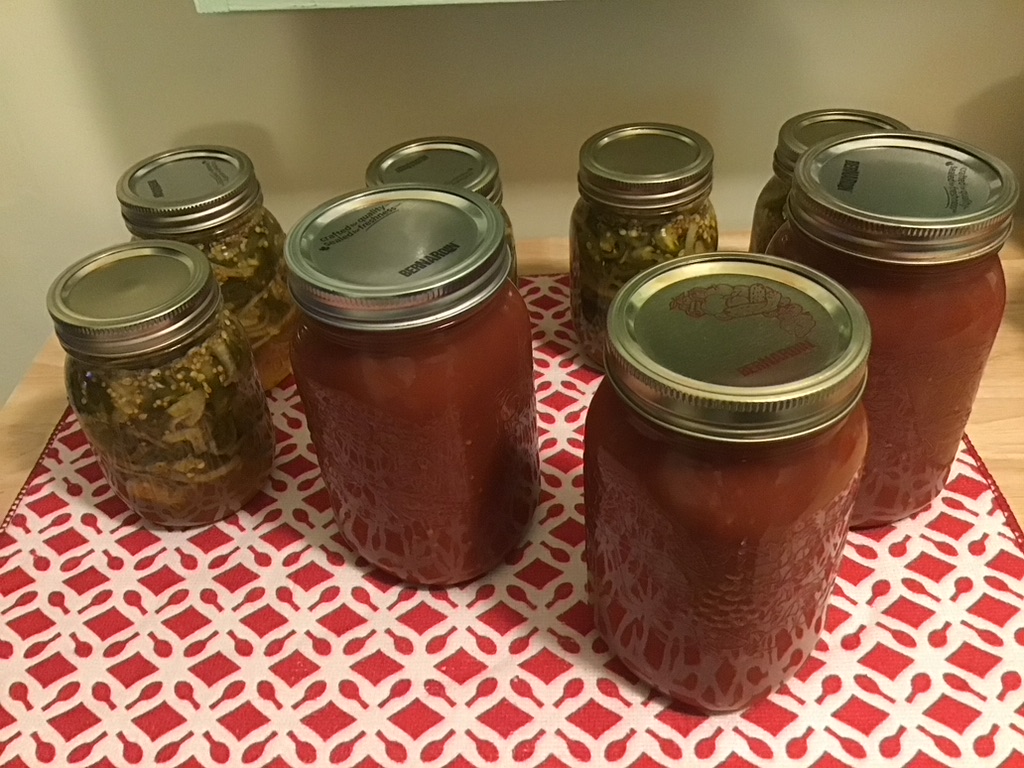 Worldly
Weather
15°C
Date: 7:00 PM EDT Tuesday 8 September 2020
Condition: Mostly Cloudy
Pressure: 102.2 kPa
Tendency: Rising
Temperature: 14.6°C
Dew point: 11.7°C
Humidity: 82%
Wind: NNE 18 km/h
Visibility: 24 km
Quote
"Just because something doesn't do what you planned it to do doesn't mean it's useless."
Thomas A. Edison
1847 – 1931