It has been an intense week!
The shed project continues, slowly. Attila estimated it would take him two weekends and the week in between to complete it; not even close! The roof is on, which is an essential part of the project because it keeps things dry. But the issues with water are not all addressed. The shed sits at the back of the garage, where the water from the garage roof drains. Attila has a plan as to how to prevent that water from pouring into the shed, but I don't know any details. Best not to get involved at this point, and I will feel relieved when that final phase of protection from the elements is completed. Then on to the walls, the door, and the window.
And then there is the old shed, which sits in bits in a heap on the back lawn. Last night we packed about a third of it into Tank and headed to the Rideau Camp. There we sectioned the wood and burned it as a campfire. Two or three more trips and campfires should have the wood debris burned. The remaining materials, insulation, etc. will be bagged and taken to the construction waste site for disposal, which we will have to pay for.
For the last ten days Attila worked every minute of time off work on the shed, grabbing a bite to eat after dark when he came in from the yard. It wore us both out. We are going to slow the project down, and at least eat dinner together this week. Hopefully he will have the job done by the end of the month, but even that might be optimistic. Attila works slowly, learning as he goes. He is not a seasoned builder, although he does have some experience. Experience is what really counts in the building trade though, and going slowly allows him to self-correct as he moves forward. The shed is built to local and provincial building codes, but there is a lot more to it than simply meeting code.
The shingles are on! It took all day Saturday, into the night, but Attila got the shingles on, with only the roof cap and the trimming left to do on Sunday morning. Water is still an issue, because the garage roof, seen through the shed, drains in the direction of the shed, so it if rains the water from the roof will pour into the shed, might pour into the back of the garage. We are supposed to get thunder storms this afternoon, I have my fingers crossed Attila can get the drainage issue sorted before it rains, otherwise we might have a huge mess to clean up! Life can be very exciting.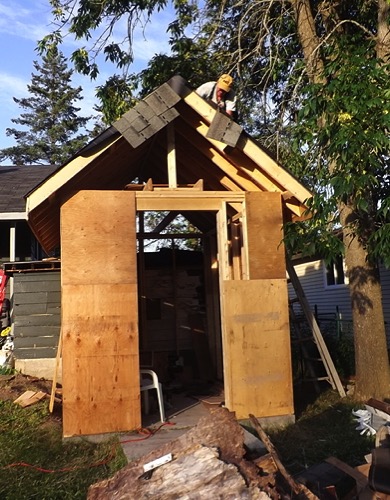 On Saturday morning early our neighbour's yard sale began. He had advertised the event, and then put flyers in the mailboxes of all the neighbours to invite them to join in on the event. Four other households put items out for sale, which included us. I put out four items, two of which sold, the portable air conditioner, and an iron. The air conditioner was a good deal for the fellow who bought it, as it was still on warranty. We just don't have enough room here at Mist Cottage to store things we do not use, and our heat pump provides excellent air conditioning so the unit was not going to be used again. The iron was one of the two we had, one for each of our two houses; it is lovely to have just one house!
Also on Saturday there was a Baby Shower for Terra, which I attended. It was tricky getting the vehicle out of the driveway, as the yard sales had generated quite a bit of interest, and the street was lined on both sides with cars, but I managed. It was a 45 minute drive from home, and held in the afternoon at the home of Lares first cousin. Luna drove to stay with Terra for the weekend, and she and Imp and Tink (girls) were at the shower, while Elf (boy) was on a rough camping trip with his Dad and another Dad and son, for a boys weekend Father's Day extravaganza. There were oodles of people at the shower, many of whom I had met once before, and lots and lots of children and babies. Of course Sunny and Sky were not there, they remained safely under the watch of the professionals at NICU. It was wonderful to see Imp and Tink, I almost didn't recognize them they had changed so much since the last time I saw them at Christmas. Attila stayed home and worked on the shed, he isn't fond of "get togethers", and wanted to keep working on the shed.
Yesterday morning, Sunday, Terra, Luna, Imp, and Tink arrived bearing cards and gifts for Attila for Father's Day. Terra soon departed, heading for the hospital to feed Sunny and Sky. After Imp and Tink had finished their lunch of cheese, crackers, raw carrots and peppers, and cranberry juice with ginger ale, a beverage Grandpa made for them, Grandma slipped in a bowl of ice cream for each of them. Soon they were off to visit friends on their way home, a four to five hour drive away.
The afternoon found us welcoming Sister-The-Middle-Girl and her Beau Bob for a visit. They had been camping at a nearby Provincial Park, and made a detour on their way home to stop by at our house. The weekend was perfect weather for it, they had their bicycles with them, and it sounded like a lot of fun. It was their first visit to Mist Cottage, so we showed them around, then sat on the back porch talking. The back porch is scorchingly hot in the afternoon sun, so I hung blankets across the porch clothes line to shade the sitting area, it worked well to keep the area relatively cool.
During their visit, I found myself gabbing away about my book, which has been occupying almost all of my time over the last ten days, while Attila has been working non-stop on the shed. Sometimes, when I have spent a lot of time in solitary work, I am like a little kid at show and tell, when I find a willing ear, even a not so willing ear, I share and share and share. I wonder if this output only mode is a partial consequence of having spent so much time at a keyboard which requires constant output, and offers interactive feedback only when I am in touch with my Mom and sisters. I have become unused to interacting with people face t face, other than very superficial pleasantries, with the exception of Attila.
After my sister and Beau Bob headed out on the next leg of their journey, Attila decided he wanted to go to the Rideau Camp. Within an hour he had loaded up a third of the wood debris from the old garden shed and whipper snipper, I had filled 7 water jugs, snacks and beverages, and loaded them into Tank, and we set off for the Rideau Camp.
We were relieved that the army worms had not stripped the leaves from the trees at the camp! Everything was lush and green and a sight for sore eyes. Attila cut the grass and weeds in the camp area and on either side of our long driveway. I burned the wood debris we had brought with us, as luckily there was no fire ban in the Township, we checked online before we left. I watch the watch for fire bans carefully and always obey them; I would hate to loose our beautiful trees! By the the time we had burned the fire down to grey ash, it was dark. After taking our time putting out the fire using the water we brought from home, we headed out towards Mist Cottage under moonlight. It was a perfect ending to the day.
The moon is full tonight, today is Summer Solstice, the longest day of the year and the first day of summer. With a humidex of 38C, Mother Nature is emphasizing the event.
Worldly Distractions
Weather
18°C °C °F
Date: 5:00 AM EDT Monday 20 June 2016
Condition: Not observed
Pressure: 101.9 kPa
Tendency: falling
Temperature: 17.8°C
Dewpoint: 14.9°C
Humidity: 83%
Wind: S 12 km/h
Today
Mainly sunny. Wind becoming southwest 40 km/h gusting to 60 this morning. High 30 except 25 near Lake Ontario. Humidex 38. UV index 8 or very high.
Tonight
Partly cloudy with 60 percent chance of showers or thunderstorms this evening. Clearing overnight. Wind southwest 40 km/h gusting to 60 becoming northwest 20 gusting to 40 this evening then light after midnight. Low 15.
Quote
"A child becomes an adult when he realizes that he has a right not only to be right but also to be wrong."
Thomas Szasz