The older I get, the more eccentric I get, or so I think.
What have I done with any spare time I have had over the last week?
I have watched a series of movies on youtube, each about an hour and a half long. Not so odd you think. Well, the thing is, they weren't speaking English, and that is all I understand! So for the approximate four and a half hours that I spent watching the film, I didn't understand a word that was spoken. Wait, not true, I understood the names Franz Joseph, Sissi, Ludovika, and Poppi, which was the affectionate name for fathers in the film. Not understanding what they were saying did not slow me down too much. I missed the nuances of the dialogue, but because I had read the history of Sissi's life, I understood most of what was going on. The most important aspect of it all though, was that I enjoyed and was mesmerized by the film, every single second. I like the German language, I discovered, although I don't understand a word of it! How is that for a way to spend time!
Sissi is a 1955 Austrian film directed by Ernst Marischka and starring Romy Schneider, Karlheinz Böhm, Magda Schneider, Uta Franz, Gustav Knuth, Vilma Degischer and Josef Meinrad. Wikipedia
Initial release: December 21, 1955 (Austria)
Director: Ernst Marischka
Running time: 105 minutes
Sequel: Sissi – The Young Empress
Screenplay: Ernst Marischka
I think I may try watching English movies with the sound muted, and see what kind of an experience that provides.
Today we are experiencing an all day rain. Sometimes it comes down in buckets, and at other times it is a gentle patter; and it has been constant all day long. Attila is out there working in it. When I talked to him at lunch time he said he wasn't minding it. I guess that after the recent long winter, our honeymoon phase with warmer weather is not yet over!
Attila and the Grassy Knoll.
On Sunday Attila worked to clear the brush and dead wood near the back of our forest at the camp. The forest ends where a large outcropping of granite rises, and is covered with feathery, swaying grass. I call it the Grassy Knoll. Now we can see the Grassy Knoll from the front of the camp! The breeze can travel the length of the lot now, which is very pleasant indeed.
Attila found bear scat on the Grassy Knoll, and Deer Droppings. We are not alone. This is to be expected, as behind our Grassy Knoll lie miles of wild forest.
We have bears at the country house too. One adapts, and is very careful to take precautions to avoid conflict with the wild beasts with whom we share out little bit of earth.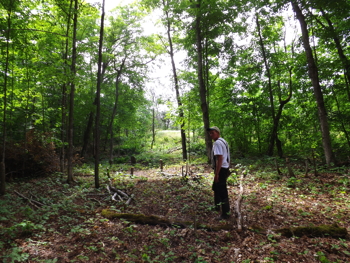 Worldly Distractions
Weather
18°C
Date: 5:06 PM EDT Tuesday 8 July 2014
Condition: Mostly Cloudy
Pressure: 99.8 kPa
Visibility: 16 km
Temperature: 18.4°C
Dewpoint: 17.4°C
Humidity: 94%
Wind: W 13 km/h
Quote
"Later on, when they had all said "Good-bye" and "Thank-you" to Christopher Robin, Pooh and Piglet walked home thoughtfully together in the golden evening, and for a long time they were silent.
"When you wake up in the morning, Pooh," said Piglet at last, "what's the first thing you say to yourself?"
"What's for breakfast?" said Pooh. "What do you say, Piglet?"
"I say, I wonder what's going to happen exciting to-day?" said Piglet.
Pooh nodded thoughtfully. "It's the same thing," he said."
A.A. Milne
Winnie-the-Pooh