It is mild outside!!!! The temperature is 0C, it hasn't risen this high since last November. Oh happy day! But, there is always a but, it will take a real dive to -22C on Monday night. Oh well, there will be fewer of the frigid nights and more of the mild ones in the days to come.
We managed to visit the little house in the city during Attila's two days off work last weekend. He worked Saturday, but in Ontario Monday was a statutory holiday, Family Day, so Attila had Sunday and Monday off. This is the second visit since the beginning of December. We visited at Christmas, and again last weekend. And, as luck would have it, the temperature dropped to below -20C at the country house on both nights we were away; adding expense to the trip as the electric heat had to be left on while we were away.
How lucky we were! The weather was sunny on the drive there, and on the drive back! Amazing! The roads were clear and dry. The traffic was light.
The little house in the city was just as we had left it, no problems. There was 1/4 tank of fuel oil left, which we hope will last until March. It had been a concern, because the winter was so cold, that the oil would not last the season.
Terra and Lares visited each day we were there, with their new puppy Maci! She is a chocolate lab and such a sweet tempered dog! So, Family Day was actually spent visiting with family!
On Sunday I persuaded Attila to accompany me for a shopping trip for fabric, for the apron I want to sew. We arrived at the strip mall where the fabric store was located, and I spied a haircutting establishment. Just in case, I ventured in to see about an opening, and after waiting about five minutes, I was sitting in the stylist's chair. I asked for something short, puffy above the ears, taking advantage of my natural curl, and beyond that told her to do what she thought best. I didn't like it! But I thanked her with a smile, gave her a decent tip, and headed over to the fabric store.
Fabric is expensive! After searching the regular stock, a discount table was found tucked away in a corner. After perusing the discounted fabric for more than thirty minutes, a bolt of very nice plaid cotton came to my attention. It was $3 a meter, and two would do for the apron. I purchased four meters, so as to sew an apron for Terra as well. Terra has promised to help me replace the table legs on an old metal top kitchen table. A good exchange of skills!
All the time I was having my hair cut and purchasing fabric, Attila was sleeping in the car. He only likes to shop for things he wants. So, off we headed to Rona for an air gun attachment that was on sale for only $17.99. Apparently this is a fantastic price. Who knew. I headed off in my own direction in the Rona store, looking at all sorts of things that were interesting. Right now we do not need much in the way of building materials, as we have had no time for renovations this winter.
Attila and Lares had a look at the broken down refrigerator at the little house in the city. The coils were on the bottom and clogged with black greasy masses of dust and dirt; probably never been cleaned, we certainly had not cleaned the coils. Attila and Lares worked together to vacuum out what they could, but had to resort to blowing a lot of it out. There was black dust coating everything in the kitchen! On a future trip we will turn the refrigerator back on, and see if it works properly, keeping an eye on the hydro meter throughout the experiment. Fingers crossed that greasy dust bunnies were the problem!
Back at home, Mist was angry with us for the first five minutes after our arrival. A strategic bowl of milk, and a friendly brushing, and some petting soon earned her forgiveness. The house was warm, as we had turned on the electric heaters for her while we were away.
I have since decided that I like the haircut after all, and I am very glad I graciously thanked and tipped the stylist who cut it, without giving away my disappointment at the time. It is such a relief to have shorter hair, particularly in the winter, when drying longer hair is more than merely inconvenient when the house is cold!
The apron is coming along nicely, but slowly. The last time I constructed a garment was about five or six years ago, a jumper which I wear a lot. It is all coming back to me, and I haven't made any mistakes that cannot be easily fixed; bless the stitch ripper. However, I am at a standstill with the project. The pattern calls for a lot of double folded bias tape, to finish the edges. It was more expensive than the fabric, so I didn't buy any. I forgot to buy enough fabric to make my own bias tape, so I will have to wait until I can get back to the fabric store to purchase more fabric.
The apron pattern offered six sizes, so rather than destroy the integrity of the other sizes, by cutting along the lines of size I wanted, I traced my size on plastic sheeting, marked it with a Sharpie, cut it out and used the plastic pattern for my apron. Here it is all pinned up and ready to cut, on the dining room table. I rearranged the pattern layout on the fabric, quite a bit, which is not advised unless you are an experienced sewer. Attila is good natured about losing the use of the table for the duration of the project.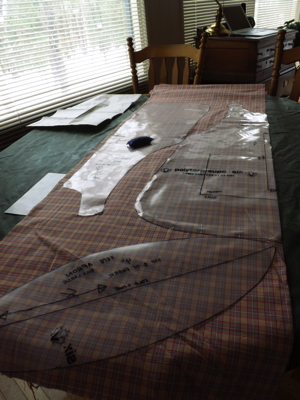 The alternative to a bias tape finish would be a rolled hem. There are hemmer foots for sewing machines, but I do not have one. I tracked down a dealer and have ordered one, that is being shipped to me. It might work on the edges of the apron. I will have to work on a scrap of fabric first though, to see if I can do a good enough job of it.
The hemmer foot may not work with my machine though. My little Elna Lotus was purchased in 1969, and has been going strong ever since. But it remains to be seen if there are accessories for her. The Elna Lotus is the only sewing machine on display at the New York Museum of Modern Art, MOMA.
Tomorrow I will cut out the material for Terra's apron, and keep myself going on the sewing, until the hemmer foot arrives for experimentation.
Worldly Distractions
Weather
0°C
Date: 8:29 PM EST Thursday 20 February 2014
Condition: Light Snow
Pressure: 101.2 kPa
Visibility: 10 km
Temperature: -0.3°C
Dewpoint: -1.4°C
Humidity: 92%
Wind: E 17 gust 32 km/h
Wind Chill: -5
Quote
"When I do good, I feel good; when I do bad, I feel bad, and that is my religion."
Abraham Lincoln
1809 – 1865