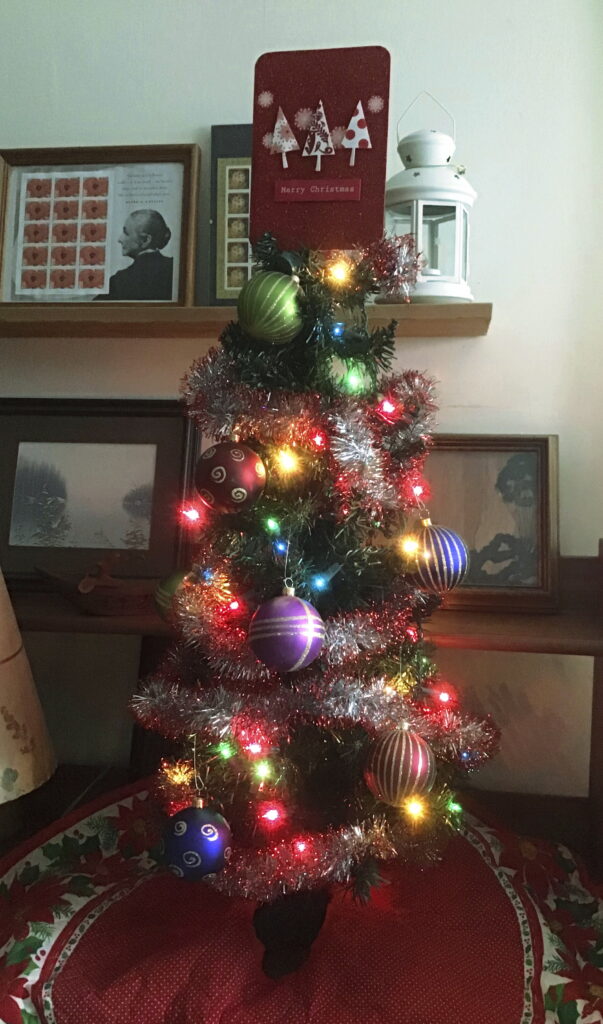 We are still here, something to be thankful for.

My gastrointestinal issues are improving, slowly. It hasn't affected my appetite, I still love to eat!

It is worrying that there are 15 new Covid-19 cases in workplaces in the area where Attila works, 9 of which are in the facility next door to the building he works in. Hurry up Christmas break! Hurry up vaccines!

So here we are, December at last!

On the weekend Attila put Christmas lights up around our front door. This is the first year that we have put up outdoor Christmas lights, a modest offering, but very cheerful. We weren't the only ones who made the effort over last weekend. Up and down the street people decorated their yards with lights and wreaths on their doors. It is very cheerful of an evening to look out the window!

There have been quite a few homes for sale near here, and they aren't for sale very long before being sold. Four homes on one street sold within a few weeks, and people are already moving out and in. Home prices have doubled since we purchased Mist Cottage, a shocking situation when you consider wages have not significantly increased for most people.

Our Christmas tree is up!

When we lived at the Country House, we harvested our Christmas Trees from our own property, usually from the hydro right-of-way where the trees would be felled anyway. We loved those spindly, highly scented trees. When we moved to Mist Cottage just over five years ago, we chose to purchase real trees. This year though, after losing significant income during the pandemic lock-down, and then again when Attila was ill, we have had to make some choices. Frozen turkeys and Christmas Trees are around the same price here, we could not manage both. We chose to purchase a turkey for our Christmas Dinner, and forego the real Christmas Tree.

We will miss our real tree very much, but we do have an alternative. Years ago we found a $5, three foot tall, artificial Christmas Tree that was on sale at Walmart. On Sunday it did not take very long to decorate it with lights, a garland, and a few ornaments. Our regular Christmas Tree Star was far too heavy for it, so I rummaged around through the old Christmas Cards that I had saved, and found a lovely red one to perch at the top of the tree. Cheap and cheerful!

Attila has been busy for the last week organizing his seed collection. He managed to harvest quite a variety of seeds from the garden, to plant next season. They had been drying in their containers, all over the living room.

During preserving season we were down to our last canning jars. Now we are beginning to accumulate empty jars, as we enjoy the jams, relishes, pickles, and pie fillings that filled the pantry. Jar management is a big part of preserving our own food. Luckily I have managed to setup shelves in the basement, that will store the empty jars.

There will be quite an improvement over last years strategy for jars. Last year, as jars emptied, they would be placed on the counter, and would remain there for quite some time. The kitchen felt continuously cluttered with clean empty jars that were waiting to be carried to the basement, two at a time. This year I have two jarboxes, one for 1 liter jars, one for 500 ml jars. As the jars are emptied, they are cleaned, graced with a ring, then stored in the jarbox in the kitchen. When I have a dozen jars, Attila carries the jarbox to the basement for me, where I empty it into the cardboard boxes in which the jars will be stored until needed. This way there are no clean empty jars on the counters, and it only takes one trip to the basement per dozen jars. Note: The price for the jarbox on amazon has gone up substantially, when I bought the jarbox it less than $15, now it is $59.

Here I am writing myself into good humour. Every day I read the latest reports on the virus, and scan the media for any hint of something that might improve our chances of survival. Then I try to detach from all the woeful information, and focus on what I can do something about, here at home.
Worldly
Weather
6°C
Date: 11:40 AM EST Tuesday 1 December 2020
Condition: Light Rain
Pressure: 99.6 kPa
Tendency: Rising
Temperature: 5.9°C
Dew point: 5.7°C
Humidity: 99%
Wind: S 18 km/h
Visibility: 19 km
Quote
"The deeper sorrow carves into your being the more joy you can contain."
Kahlil Gibran
1883 – 1931