I get an RSS feed from a homesteading site. These people merely collect and distribute articles, as opposed to writing about their own experiences. Nothing wrong with that, but sometimes what they share makes my head spin. Here are two consecutive articles they posted: Christmas Tree Strawberry Brownie Cupcake Mix, and How To Make A Stun Gun With A Disposable Camera. I can just see a thirty something homemaker, coifed and ready for a cell phone youtube video session in the kitchen, whipping up cupcakes and stun guns. Makes me wonder about people's sanity.
I continue to receive the feed though, because occasionally there are gems included, like cleaning your fireplace glass door with newspaper and ashes. I am passing on cupcakes and stun guns though. Take what you like and leave the rest is sensible approach to such things.
Today is full of excitement. The freezing rain is pelting down out there, driven by gusts of wind, roaring up to 50 km an hour. These winds are not damaging though, and nothing in comparison to the 100 mile an hour winds on the West Highlands of Scotland, described in a Crofter's blog that I read.
Other distractions for the day: I caught the bank making a self-serving and invisible change to my credit card account, and got us out of that mess. I found records of a previously unknown relative and have been entering the data from BMD (birth, marriage, death), and Census records. Tonight's supper is started, in the cast iron dutch oven. If we lose hydro in this wind I will need to get busy, and fire up the little wood stove downstairs, so that I can cook dinner on it. And I am decorating the Christmas tree, slowly but surely.
Mist is snoozing in Attila's seat, which she regards as HER seat. There is often a bit of a scrap when Attila wants to sit down!
This is a heritage apple Attila picked in the wild. He picked a half bushel of apples from this old tree, which had not been sprayed or pruned in anyone's memory. The apples taste a bit like spies, and are very sweet and crisp.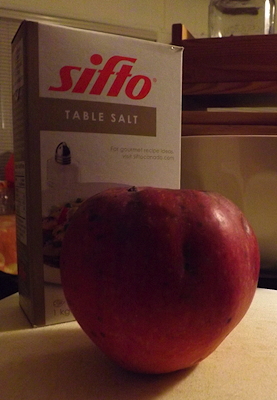 Complaint Department: Right Here: Right Now

The BANK OF NOVA SCOTIA in Ontario, Canada, changed my credit card from a monthly billing VISA to a line of credit, where interest is charged the second you use the card, long before you ever see the bill. Same old card, brand new method of charging interest. Quite a stunt. Caught them on day three, with only 50 cents interest to their credit. That is a credit card that will be cancelled and burned! And I'll be closing all my accounts at the BANK OF NOVA SCOTIA as well. Credit Unions are looking pretty good.

The BANK OF NOVA SCOTIA slipped that one by me in some kind of mysterious small print deal, I don't know how, because I never would have knowingly agreed to that kind of an arrangement for a credit card.

They did call here trying to get me to switch to a different kind of credit card, with a monthly fee, but I liked the card I had so I said no; they didn't mention anything about the existing card switching to a line of credit debit thingy though, in fact they didn't mention any changes to my existing card, only offered me a different one. IF it was the bank who called me, one cannot know for certain.

I don't do business with banks who call me, too many scams in the world for that kind of trust to be sensible.
Worldly Distractions
Weather
7°C
Date: 12:04 PM EST Thursday 5 December 2013
Condition: Mist
Pressure: 100.5 kPa
Visibility: 10 km
Temperature: 6.6°C
Dewpoint: 5.0°C
Humidity: 89%
Wind: W 30 km/h gusting to 50 km/h
Quote
"I don't believe in blooming where you're planted. I've been in too many sterile to hostile soils to adhere to that."
Allen, Anchor Struck
THAT RESONATES!!!!!!!!!!!!!!!!!!!!!