Attila worked six days in a row, and now he is off work until after Christmas. It is a real treat to have him home and awake during the day.
We have had a busy time, trying to settle the house for Christmas. We are fast-forwarding on clearing the boxes out of the front bedroom, because that is where the Grandbabies will be sleeping during their visit. It is likely they will also be playing in the same room. We are leaving the toy box in the room, so that they will have plenty to keep them busy during their stay here.
Earlier this week I baked, and baked, and baked; bread, mincemeat squares, pumpkin pie squares, and croutons. I will bake an apple pie tomorrow, and some peanut butter oatmeal squares as well. Perhaps two batches of the peanut butter oatmeal squares, as the Grandbabies liked them a lot, and so does Attila. Attila is baking chocolate chip cookies this afternoon.
Yesterday we visited the nearby city to do some Christmas shopping. We were astounded by the road traffic. It was "rush hour" slow everywhere we travelled. We had thought to go out for lunch, but the thought of battling the traffic to get to the restaurant was just too much for us, we decided we could hold off eating until we got home.
We visited Lee Valley Tools, which is a great store if you want to buy the highest quality tools, cabinet hardware, wood crafting tools, and many other craftsman type items. We enjoyed our visit, having a good look at everything on display. I bought a roll of festive tape, for $1, which was the only item we found that we actually needed. We saw a lot of items we wanted, but on our budget, and considering that we are downsizing, we opted not to purchase anything other than the tape.
At Home Depot we picked up garbage bags. Not a very exciting purchase, but we need them.
Attila drove off at one point to shop for my Christmas present, and returned to pick me up within an hour. After that we needed to buy "something little" for the Grandbabies for Christmas. We found a very nice toy store, where a very nice young girl assisted us in choosing the three gifts we needed. We had thought to spend $10 per child, which we considered extravagant for us, considering this years circumstances. But the reality was that there was nothing that suited us in that price range. We ended up spending more than twice as much on each child, and came away from the store with gifts which we are excited to give the children. One can always squeeze in a little Christmas cheer.
Attila is wrapping presents today. I am sorting through the boxes in the front bedroom. It is slow going, and a lot of items will go to the basement, only to be brought up again for sorting, when our visitors have waved goodbye.
Terra and Lares will be dropping in for a visit later today, before they leave to spend Christmas with Lares brother, his brother's wife, and their new baby girl.
Our checklist is almost all ticked off. Baking, check. Turkey, check. Presents for all, check. Christmas music CDs, big search, then check. Kiss the cook, check.
Christmas decorations! We sit at the table facing this window. We can see our decorations when we eat our meals, when we are working in the kitchen, and when we work at the table using it as a desk. This year we are quite content with our window lights, Poinsettias and cheery Christmas cards on the window ledge.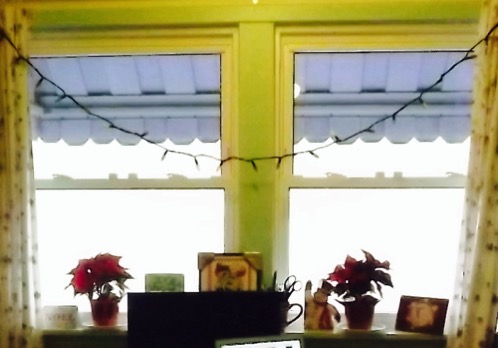 Worldly Distractions
Weather
FOG ADVISORY IN EFFECT
Mist
6°C
Date: 9:00 AM EST Wednesday 23 December 2015
Condition: Mist
Pressure: 101.8 kPa
Tendency: rising
Visibility: 10 km
Temperature: 5.8°C
Dewpoint: 5.4°C
Humidity: 97%
Wind: NE 9 km/h
Quote
"The heart has its reasons which reason knows nothing of."
Blaise Pascal
1623 – 1662