We have accepted a conditional offer to purchase for our country house. The conditions must be lifted within weeks, and then we will know if the deal will go forward. The country house had been on the market ten days when the first offer was made. If the deal remains intact, it will close at the end of August, which is when we will need to reside somewhere else. I got a little less for the house than I had wanted, but only a little less. I could have pushed for that little bit more, but I slept on it, and decided not to push hard, for no other reason than it felt right to accept the offer as it was. The person buying the house loves it, and will be happy here. So, you might say I put my money where my intuition is, I sold the house for a good price, far more than was predicted by the appraisal, but a little less than I had in mind. A home is more than just a financial investment.
Excitement, trepidation, and weariness!
So much can go wrong with a sale, so really, it isn't over until closing, which is a long way away. I will be on kept on my toes for the next few months, as it falls to me to administer our interests in the sale!
Attila takes care of the physically demanding aspects of our existence together, and I take care of most everything else. It is a balanced approach, we both use our strengths, and have our weaknesses covered.
There are new complications with the camp lot. The man who owned the lot died some time ago. His wife did not hire a lawyer and transfer the deed. Then the wife developed dementia and entered a home. The daughter gained power of attorney, decided to sell the property, then (after she sold it to us) discovered that the deed had not been transferred to her mother, yet! So, the seller's lawyer is scrambling to transfer the ownership, and then complete the sale. My goodness, estates are a real mess to deal with!!! Where it stands now is that it could take weeks more, even months more, for the necessary deed transfer to complete, and the sale to close. The universe is taking care of us though, I am sure… we just don't understand how exactly.
My realtor says she deals with a lot of big dollar estate situations, and her advice to people with children is to sell before you go, and divide the money between your children… if you want them to speak to one another after you go! It has been her observation that some siblings, usually but not always the executors of the will, feel entitled to skim off the top for their perceived "sacrifices and services", to which they attach a large monetary value. She says she has only seen one group of siblings remain on friendly terms after dealing with an estate situation. They apparently lost their parents when they were little, and relied on one another throughout life, so that they understood that no amount of money in the world is enough to justify greed, and the personal loss of loving relationships.
Mist catching a nap in the sun. Eighteen years old, and her muzzle has gone white just this month.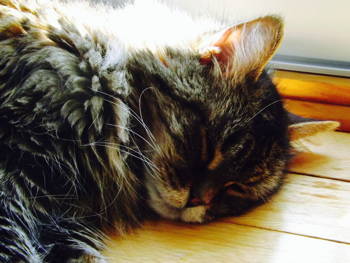 Worldly Distractions
Weather
20°C
Date: 12:00 PM EDT Saturday 24 May 2014
Condition: Sunny
Pressure: 102.0 kPa
Visibility: 16 km
Temperature: 20.1°C
Dewpoint: 9.1°C
Humidity: 49%
Wind: WSW 11 km/h
Quote
"If you don't risk anything you risk even more."
Erica Jong