Attila and I discussed a trip to the village this morning, a trip I would take.  It snowed all night and it is still snowing.  I can hear snow blowers in the distance, as people clear their drives.  Soon the plows will be clearing the roads.  Perhaps tomorrow would be a better day for a trip.  The errands can wait a day or two or three.  Attila has returned to work and the days of being cocooned in a snowy wonderland have begun in earnest.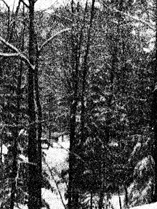 WordPress has a new security upgrade that needed installing.  The task was tackled this morning, and completed.  For some reason the automatic update does not work for on this system, it stalls and it fails, every time.  After trying the automatic update once again, this morning, I reverted to a manual install.  All went well and it took less than half an hour, start to finish.
Reflecting on style, I've been a minimalist all my life.  Growing up on a farm gave me an acute sense of function.  In addition, my Grandfather had no admiration, and much contempt, for "doo-dads".  Little wonder my focus is function.
However, I sometimes envy what I regard as the "clutter queens".  Clutter queens are people who, with a sense for appeal, create very busy objects and spaces that largely serve no purpose at all except that they are fun to look at.  I've tried this approach, and the upshot is truly unnerving, for myself or anyone else who has to expose themselves to the resulting object or space.  This is on my mind because I've been reading blogs, some of them are full of appealing, visual fluff.  If I don't stop to look at the fluff in detail, I enjoy the web page and the content of the actual entry.  Once I begin to pay attention to content of the fluff, the joy withers on the vine.
I've plans for my Kobo this morning!  Helena sent me an eGift of Kobo credits, just because she says, so I can select a few more books to read!  What a treat.  It seems too, that it might be possible to download library books to the Kobo through my local library services.  Well, I have my reservations about that, services are limited here, the Township does not have Inter-library Loan services, even within the Township!  I'm game to give the digital download a try though, I've nothing to lose except a bit of patience and a little of my time.
Worldly Distractions
Weather
-3 °C
Condition: Snow
Pressure: 100.8 kPa
Visibility: 5 km
Temperature: -3.0°C
Dewpoint: -3.3°C
Humidity: 98 %
Wind: SSW 11 km/h
Wind Chill: -7
Quote
"Put more trust in nobility of character than in an oath."
Solon
638 BC – 559 BC