Saturday, February 22, 2014
Chickadee on a sunny morning!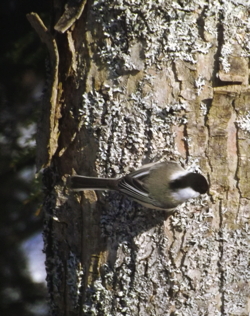 8:00 am, the sun is shining, a pleasant breeze plays in the trees and the temperature is -2C.
8:30 am, a bank of clouds is approaching from the west, blowing off Georgian Bay. It is slowly advancing east, eating up the blue sky as it comes along. A few snowflakes are drifting down.
9:00 am, the wind is gusting strong, the snow is blowing horizontally across the view, the sky is completely grey. The temperature is holding at -2C.
We are in for a mild winter storm, bringing more snow.
Attila works today, and I will be glad to welcome him home!
I have packed up my sewing gear in anticipation Attila's Sunday off work, in an attempt to keep the home front as comfortable as possible while Attila has time to spend here. I am at a standstill anyway, until my hemmer foot arrives in the mail, for how I finish the edges with determine how the seams and ties are constructed. Hopefully next week the accessory will arrive and I can continue to work on my new apron. I anticipate that this apron will last for decades, so I want to take my time and do the best job I can with it; it will possibly last me a lifetime!
Monday, February 24, 2014
Winter has decided to let us know who is boss! The temperature has been gently falling throughout the weekend. But mother nature is taking the temperature down for deep dive this week, and right on into next week. By Friday night the nighttime low will be -30C. The low nighttime temperatures are to continue into next week. And we will have snow, probably a few inches a day, almost every day as well.
Our woodshed was almost empty, and with this cold snap coming on there was nothing for it but to dig out the backup woodpile. Attila began Sunday morning, building a path through the deep snow by laying boards across it, to reach the woodpile. Then he shovelled the huge snow bank off a section of the woodpile. Finally he was ready to move the exposed wood to the woodshed. After removing wood to the level of the snow, he had to kneel and reach down to access the wood below snow level, about three feet, give or take. By supper time he had moved enough wood into the woodshed to carry us through the coming cold snap. The incredible bonus was that the wood is dry! Small blessings!
This is Attila, who, after having removed the snow from a section of the woodpile, is sizing up the rest of the job. He stands on a plank laid out across the deep snow. I make the snow yellow because it cheers me, and reminds me that the sun will soon melt the seemingly endless expanse of white.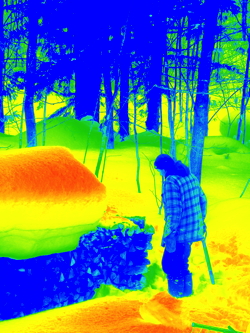 This is closer to the reality of black and white that dominates the landscape from the end of November to the beginning of April.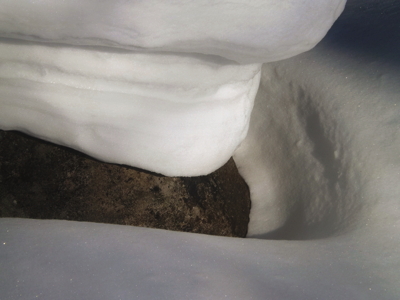 Sunday saw another chore completed as well. While the temperature is still well below freezing, I wanted to empty the freezer to defrost it. I haven't defrosted the freezer for years! So Attila obligingly emptied the contents of the freezer into garbage bags, which he stashed in the screened in porch for the duration of the project. The contents would remain frozen while out of doors. I went to work defrosting the freezer. I must have taken the equivalent of ten gallons of water out of that freezer! Using baking pans filled with boiling water, strategically placed, I melted all the ice that had accumulated over the years. The last chunk of ice melted off the top wire shelf at 10:00 p.m. I dried the interior of the freezer and Attila went to work putting the frozen food back into it, and turned it on.
I was a bit miffed with myself, because I cut my finger on that very last piece of ice. That slowed me down a bit, as the only bandage I could find kept sliding off when it got wet. Eventually the job got done though, and the bandage was reapplied successfully.
Yesterday the house was very warm, so we decided that one firing in masonry heater would do. The house cooled overnight, and was 17C by the heater this morning. We will now be aiming at three firings a day as the temperature relentlessly drops towards the -30C mark by Friday night! What a winter!
The Great Lakes have frozen over for the most part, with a bit of Lake Ontario still holding out with open water. This probably means a cold spring, and less snow during the rest of the winter due to the absence of the lake effect. Yesterday we got three inches of snow, and it is snowing again this morning. I shudder to think how much snow we would be getting if the lake effect were still in effect.
I am beginning to plan a lone trip to the little house in the city. I do not know when the opportunity to embark will arise, my presence is needed in the country to keep the hearth fires burning during this long cold snap that is blowing in. However, I will be ready to drive off into the south, as soon as conditions are favourable.
I talked to Harriet yesterday and we discussed quilts. Harriet made a quilt years ago, and hand stitched the quilting. My hand stitched quilting experience is confined to a cushion I made as a Christmas present in the seventies. At that time I belonged to a craft group that met weekly, to work on individual projects and chat. We drew names for hand made Christmas gifts, so I made a Dresden Plate hand sewn and quilted cushion as a gift. Actually, last year I bumped into this very same woman for whom I sewed the cushion, at the grocery store, and she told me that the cushion still enjoys pride of place on her living room sofa. Who knew! That year I received two painted greenware Christmas ornaments, a Bible and a bell, items I would never have chosen. They are not very exciting, or creative, but they were carefully hand painted just for me! I hang them on the Christmas tree every year and remember that once someone spent a lot of time and careful effort making these ornaments for my tree. They represent good will. It just reminds me that we never really know how our actions impact other lives, so it is best to do our best to be kind and generous whenever we can.
I am thinking about doing some quilting again. I quilted the cap sleeves for the apron I am making, using the straight stitch on my Elna Lotus. It is a very basic machine, no bells, no whistles, just plain old straight, reverse, and zigzag stitches, plus reliability and longevity. Anyway, I like the result very much, and am thinking about a quilting project after the apron is completed… and of course another apron for Terra, if she likes my apron enough to warrant the time and effort.
The two hours of standing each day is crucial, as well as moving about every thirty minutes, all day long. It is so easy to sit at the computer for four or five hours, lost in a project, or just bopping about the internet. I would love to add a daily walk, but the roads here are not only narrow and icy, there are snowmobiles travelling well above the speed limit charging up and down the road. The snow banks are too compacted and tall for me to get out of their way, so I just will not risk walking along the road. When I lived in downtown Toronto I walked everywhere, miles and miles every day. It was wonderful, as I love to walk. I just do not like walking on ice or in deep snow, or with black flies and/or mosquitoes. Those idyllic images of country life never mention these conditions. During my younger years these were not so important, but those were years when life was busy; I was on my feet and moving most of the time, and far to busy to notice what was going on around me.
We all have pet peeves! I see a lot of blogs when I am researching, there are some great ideas out there. A huge proportion of the blogs with domestic "how to" information are written by young women with children, who identify themselves as "mama" and "wife", with no reference to their ancestral connections. Women who apparently were offered no skills whatsoever from previous generations, and have been left as virtual orphans on planet earth. My pet peeve is "mamas" without mothers, and without fathers, grandmothers, grandfathers, well, without any older generation of mention. If "mama" is such a defining label, for these young women who write blogs all over the internet, then why have they ignored the existence of their very own "mamas". After all, they are the ones who are defining themselves by their family connections, as opposed to other types of self identification. Seems incredibly short sighted to me, writing the previous generation out of existence means writing yourself out of a future existence. In theory at least, all those "mamas" without mothers, will have children who grow up; and if history repeats itself, in turn, there will be a new generation of mamas without mothers, who will write the current crop of "mamas" out of their lives. Who will you become, savvy "mamas" of today, what kind of future are you actually building? What are you thinking?
I have had a lucky life. I spent time learning from my Grandparents, and from my Mom, and from my Dad. Yes, I have extrapolated from those experiences, but their importance was not lost on me, or to me. If I were to identify myself according to family connections, I would call myself a daughter of farmers, of pioneers, of immigrants, of Scotland's best, and England's pride. I would never think of myself as merely a "mama", because that is just a part of what family means to me. Being a "mama" is not something every woman does, but every woman has a birth mother, and the lucky ones have rich extended families, and family histories.
Having said all of that, I still visit the sites of these self identified "mamas", because some of them do have good ideas. I never follow their blogs though, because their navel-gazing perspective is as boring and thin as paint drying. I am not sure if this constitutes an unkind thought, but it is how I see things.
Worldly Distractions
Weather
-2°C
Date: 9:00 AM EST Saturday 22 February 2014
Condition: Mostly Cloudy
Pressure: 100.5 kPa
Visibility: 16 km
Temperature: -2.3°C
Dewpoint: -9.8°C
Humidity: 57%
Wind: WSW 30 gust 58 km/h
Wind Chill: -10
Quote
"Now I see the secret of the making of the best persons. It is to grow in the open air and to eat and sleep with the earth."
Walt Whitman
1819 – 1892