First light is just coming into the sky, the brightness aided by new fallen snow draped across the horizontal in seductive softness. The tree branches, outlined in white, stretch wide to receive the the late winter snow that plummets from the sky, clinging on contact, quickly obscured as each desperate flake falls upon another. Another morning begins.
At last, it is the last day of February.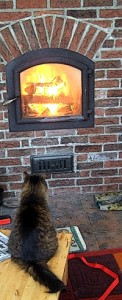 Tomorrow I begin what is for me a marathon of work. I'll miss me, as I slowly become sublimated in my customer service smile and accompanying small talk, which, while genuine, are not the whole of me. The rest of me is what I'll come to miss, the me who thinks, who feels, who acts on impulse, explores thoughts and desire and so much more. That is the part of me that I'm going to miss for the month of March, 2011. This temporary departure from self will be short and relatively painless. When March is over the sun will shine stronger in the sky, and I will find a place to sit where the light can burn away the fog of pleasant small talk, to leave me dry and cogent and my whole self once more.
The last interview was a turning point of sorts. I lost heart. My interest in applying for work is waning. Really, "experts" in the field of employment could find no work for two women of a certain age, one of them me, who are well educated, competent, hard working, honest and get a job done. I've tried, the "experts" tried, we all failed. I could blame me. I could blame them. I think the problem is bigger than both of us. I wonder if a lemonade stand would turn things around…
The new positioning of my desk is wonderful! I have a panoramic view, windows facing north, east and west, forest everywhere. The road, such that it is, is visible from where I sit, and yet I am not visible to those who pass upon it. For years my desk was positioned in front of a large window overlooking the road, like a fish in bowl I sat. It wasn't an issue, people on the road never looked in the direction of our house.
Yesterday was a bread baking day. It has been a while since there has been regular bread baking here. The stores near the little house in the city actually sell several kinds of bread that are safe to eat, so purchasing bread became feasible. Attila has missed the homemade bread. It is much less expensive than store bought bread and far healthier. I needed a break from baking our own bread, now it is time to get back to it.
Mist enjoys the winter months. Attila and I love to sit in front of the fire, with our feet up, coffee cups in hand. Attila usually dozes. I usually contemplate life, the universe and everything and try not to let my thoughts bubble into the morning silence. I am one of those seemingly rare people who wakes up with my mind racing, ready to embrace the day and the world. Attila likes to ease slowly into his day. He sleeps in front of the fire, I contemplate. Mist, well Mist is busy adoring. She adores Attila, and often seeks out his lap as he softly snores in his chair. Usually though, she will sit on the coffee table/foot stool and adore the flames that bring such comforting warmth on a winter's day. Mist lives in a cat heaven. She has the blazing fire to admire, a handy lap nearby, a red ribbon to chase and pounce upon, a full bowl of food in the corner and a fresh supply of water. She sleeps when she pleases, socializes when she pleases and is the master of her own universe. It's a cat's life!
A friend brought this song into my life recently, ever since this song has been coming to my attention unexpectedly. I love it more every time I hear it. Buckets of snow doesn't have the same ring to it though…
Worldly Distractions
Weather
-1 °C
Condition: Snow, risk of freezing rain
Pressure: 100.1 kPa
Visibility: 1 km
Temperature: -0.5°C
Dewpoint: -0.5°C
Humidity: 100 %
Wind: N 9 km/h
Wind Chill: -4
Quote
"My personal hobbies are reading, listening to music, and silence."
Edith Sitwell
1887 – 1964