Yesterday the first task on my morning list was to spray the bathroom with aqueous oxygen, to disinfect the mould, and clean the areas around the tub where the drywall had turned into mould balls. There were also a few areas where mice had visited between the exposed studs, and left their little black calling cards. I disinfected those areas as well.
The insulation was completely removed by about eleven in the morning. I worked from 7:00 a.m. right on through till I finished the job. Fibreglass insulation is a misery to work with, it releases small glass fibres into the air, which float like predators looking to land on sweaty damp skin. I took the precaution of wearing a long sleeve shirt, long pants, and rubber boots. It was hot work! I used an expandable industrial garbage bag, placed in the tub, to dispose of the insulation. When I was finished the job the bag was full, and almost too heavy to carry. I sealed it and then managed to wrestle it onto the back porch.
I finished the job by vacuuming the newly bared wall boards, to remove any remaining glass fibres.
So here it is, done and dusted, at least the part of the project that I am taking on during this visit.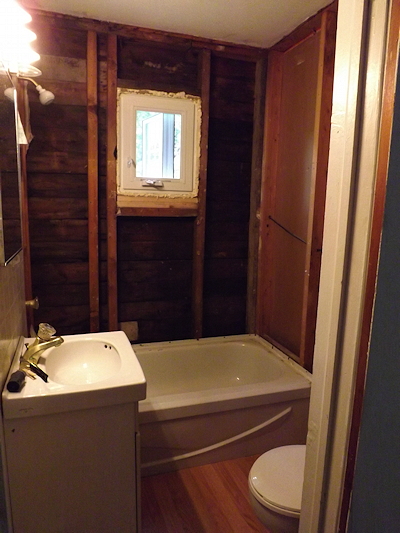 I closed the curtains in the house, and removed every last piece of clothing from my body, dropping shirt and pants and everything inside out on the floor, ready for the laundry bag. It felt so good to remove those sticky, hot and glass fibre laden clothes. I washed myself down at the kitchen sink, with cold water, which also felt wonderful after such a hot job.
Then I cleaned the tub one more time, hopped in and washed my hair in cold water from the tap. I was feeling so overheated, from my morning's work, that this was a pleasant experience!
This morning I opened my eyes at 5:25 a.m., thankful to have slept through the night. After a quick call to Attila, who was getting ready for work, I sat down with my mug of coffee to contemplate the day.
I grew up on a fruit farm in Niagara. Summer, for me, has to include picking fresh produce; I feel there is something missing if I don't get out to a farm to harvest something. So early this morning I perused the local paper and found ads for you-pick strawberries, just outside of town. I called to ensure they were open at 8:00 a.m. as advertised, and was there to join the line up of cars as the gates opened at the farm. I picked quite a few berries, $18.00 worth, in a very short time.
At the farm, after my container was weighed, I joined the other pickers sitting on the flatbed trailer that would take us to the fields. To my delight and surprise our former neighbour was sitting at the end of the row, and I got the seat right next to her! We had a lovely chat, picking in the adjacent rows we had been assigned. The whole outing was deeply satisfying, on so many levels.
The berries were large, ripe and numerous; it made for extremely good picking! As soon as I got the berries home I began to sort and store them in the refrigerator. I also chose the ripest ones to wash and slice for today's meals. As I write there is a bowl of fresh strawberries at my side, topped with sweetened sour cream. Oh so good!
Later Terra and Lares dropped by on their way through town. Attila had salvaged some very nice wood for them, which I transported down to the little house in the city on my recent drive down. Lares loaded it into the truck, along with the saw Terra had lent. Then I baked a giant oven pancake, which we enjoyed with real maple syrup and fresh strawberries. What a treat, good company, good food!
Attila's Mom is due to arrive at the country house today. Her husband, Attila's step-dad recently passed away. She will be driving from upper state Michigan to the country house, and will meet Attila at work. I hope they have a nice visit. I will see them tomorrow night, they will drive to the little house in the city together, after Attila gets home from work. It will be a whirlwind tour for Attila's Mom, as she has not seen either of our houses. It will be great to see her.
Having a high speed internet connection at the little house in the city is a game changer. Attila and I can keep in touch via Skype, greeting each other every morning, and chatting and saying goodnight to each other every evening. The cost is fixed, so there are no financial concerns to inhibit our interactions. It is very handy to have an account with Skype, it allows me to call cell phones and land lines in Canada and the USA. For example, we have been receiving mail addressed to a previous owner of the little house in the city, for almost three years. As far as I can determine, this person has not lived here for over seven years, perhaps longer. Because I now have free access to a telephone service, I called the company that has been sending the mail and explained to them that the individual they were trying to contact had moved away long ago. They removed him from their mailing list. I did the same with a second piece of mail that was addressed to yet another former owner of the house. Eventually I hope to completely eradicate these incorrectly addressed letters.
Worldly Distractions
Weather
17°C (24C at the country house)
Condition: Light Rain
Pressure: 100.1 kPa
Tendency: falling
Visibility: 5 km
Temperature: 16.6°C
Dewpoint: 16.0°C
Humidity: 96%
Wind: NNE 8 km/h
Quote
"Never go out to meet trouble. If you will just sit still, nine cases out of ten someone will intercept it before it reaches you."
Calvin Coolidge
1872 – 1933