Early this morning I received a call asking me if I would like to work for three hours today, at a close location. I agreed and spent a lovely morning catching up with a woman I worked with when I first began working with the company.
The weather has been wonderful! The nights are cool, just the right temperature for sleeping soundly. The days are mildly warm and sunny.
Attila's Fire Wood: Attila has been spending a few hours in the evenings, after he works a ten hour day, bringing firewood in from the back of the property.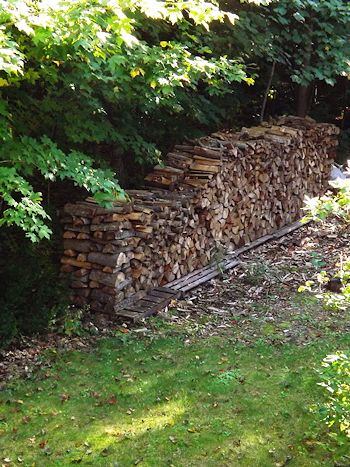 It has been a week of warm memories of a dear friend, Pat Logier, who passed away in 1996. One of Pat's old friends contacted me, and it was so wonderful to connect with him again; it has been over twenty years since we last spoke. He let me know that another mutual friend had posted some youtube videos, of performances of Pat's music at an event celebrating Pat's life in 2005. Another musician who knew Pat also sent me a lovely message, sharing her warm memories, and expressing her sadness at his passing.
I ran into an article about Aboriginal Australian history, outlining the scientific findings that would place the culture as the oldest continuous culture on Earth. They must be doing something right! And they call the culture "primitive". It has outlasted many other "highly developed" civilizations.
We found television viewing options were narrowing, offering primarily programs that used political intrigue, violence, end of the world type scenarios, and crime as their premise and appeal. I began to notice that these programs were having an effect on my dreaming patterns. I did not regards this as a positive side effect. Eventually, we cancelled our television delivery service.
When we cancelled our television service, we switched to Netflix. We found a lot of interesting programs, such as the Duchess of Duke Street. That program disappeared from the roster, as did many other fine programs. The New Arrivals have me wondering if we really want to continue with Netflix. The link to New Arrivals has a row of offerings called New Releases. So I created four categories for the new releases: political intrigue, violence and crime, end of the world, and other, for everything else. Then I looked at each of the programs in the New Releases row, and assigned them to one of the four categories.
Results
political intrigue: 6 (8%) (e.g. House of Cards, Damages)
violence and crime: 21 (28%) (e.g. Raise Hell, The Killing)
end of the world: 5 (7%) (e.g. Prometheus)
other: 43 (57%) (e.g. Life of Pi, The Sessions)
Total: 75 (100%)
Of the seventy-five programs listed on the New Releases row, 43% of them were about dishonesty (political intrigue), violence, crime, and social catastrophe. A significant proportion of the new releases on Netflix are about humans doing bad things. I, for one, am not entertained.
The remaining offerings, the other 57% were what I think of as neutral, ranging from goofy twenty something romances to dignity inspiring movies such as "The Sessions". There were fewer than five that I would spend time watching.
Despite my feedback, I am still seeing the listed arrivals in the categories of horror movies, thrillers, action and adventure. These categories almost always show dark and threatening images with weapons. I have never watched any of these on Netflix, so why they continue to display these images on my profile is beyond my understanding. I fear it is because humans doing bad things is mostly what other people want to watch, and I am offered a popular and generic assortment of programs. And I wonder what that is doing to our collective psyche. I don't think it could be good.
Worldly Distractions
Weather
20°C
Date: 1:00 PM EDT Friday 27 September 2013
Condition: Sunny
Pressure: 102.6 kPa
Visibility: 16 km
Temperature: 20.4°C
Dewpoint: 10.7°C
Humidity: 53%
Wind: SSE 9 km/h
Quote
"Aboriginal Australians are the oldest continuous culture on Earth, confirms a new genetic study. (Credit: Getty Images)"
Source: http://www.australiangeographic.com.au/journal/Aboriginal-Australians-the-oldest-culture-on-Earth.htm