"…My, oh my, what a wonderful day
Plenty of sunshine headin' my way…"
I took this photo on July 12, 2011. Just sitting at my computer, looked up and saw that I had company. People don't visit us often, but we seem to be very popular with the wildlife!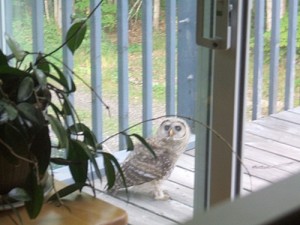 We had a heat wave last week, with very high humidity, Thursday being the hottest day on record since these things have been recorded. Attila worked outside in the sun every day. Each day he returned home completely exhausted and a little less able to recover himself than he was the day before. By Friday night he was falling asleep mid-sentence before dinner time. We were going to visit our little house in the city on Saturday night/Sunday morning, but decided that due to heat exhaustion, we would linger at home and rest as much as we could.
I work in an air-conditioned environment during the day, drive home in an air-conditioned vehicle and sleep in an air-conditioned bedroom. At times the heat wave made me miserably uncomfortable, but I did not experience exhaustion because my breaks from the heat were longer than my exposure. Our homes are not air-conditioned. We have a window-rattler, air conditioning unit, in the bedroom at our country house and turn it on about 15 minutes before we retire for the evening, and turn if off when we rise in the morning. This allows us to get a good night's sleep, which is crucial to keeping on top of heat exhaustion.
So here we are, Sunday morning and the weather is magnificent! It isn't as humid and the temperature is at least 10C lower than it was yesterday at this time. We are catching up with things that were let go while we were surviving the heat wave.
Attila is using our summer kitchen to make macaroni and cheese for my lunches next week, and to bake an apple crisp for my breakfasts. My allergy prevents me from eating out, with rare exceptions, at restaurants, or other people's homes. Preparing food for me is Attila's way of easing the alienation I experience in relation to the social aspect of food sharing events. It is amazing how much of our social interaction involves food and/or drink, how we share opinions on food/drink, share meals, talk about restaurants, eat in communal places like restaurants and cafeterias… none of that for me. I always stand out, sometimes away from, the crowd in communal food events. Attila not only includes me at home, he makes food a special way to convey his esteem and caring when I am away from the safety of home; he helps create balance in my life. I didn't have to ask, he just does it.
Last Sunday Attila and I, with Terra and Lares, made our way to downtown Toronto to visit the Royal Ontario Museum. It was hot, 39C on Bloor at University Avenue. That was not the humidex, that was the temperature on the thermometer. The Royal Ontario Museum is temperature controlled, and was very comfortable.
I particularly enjoyed a textile exhibition. My first exposure to post secondary education was at Ryerson University, where I spent three years learning about textiles, organic chemistry, advanced clothing construction and design, nutrition, food science and human development and health. Textiles are fascinating. I was delighted to be able to view the construction techniques used to create two intricate Chinese costumes and fascinated by the actual garments worn by women during the 1700/1800s. The paper dresses were amusing, as I remember wearing paper clothing, at the time it was popular. Paper garments weren't well conceived, as I found to my distress one hot summer's day! Paper and perspiration: not a stable combination. Luckily I wasn't all that shy in those days.
Terra had a nostalgic visit to the Bloor Street West strip. I lived there with my daughters during Terra's formative years; lots of memories! Terra hadn't been back since we moved away from the area. I'd move there in a heartbeat if I could afford it.
We have been so happily busy this summer!
This morning I found myself savoring every moment of quiet, sipping coffee, listening to the birds singing just outside the window and enjoying the cool breeze that occasionally wafted past.
Worldly Distractions
Weather
22 °C
Pressure: 101.8 kPa
Visibility: 16 km
Temperature: 22.0°C
Dewpoint: 12.7°C
Humidity: 55 %
Wind: 5 km/h
Quote
"It is impossible to enjoy idling thoroughly unless one has plenty of work to do."
Jerome K. Jerome
1859 – 1927 
Notes
Royal Ontario Museum
Riotous Colour, Daring Patterns: Fashions + Textiles 18th to 21st Centuries
Until October 16, 2011
Patricia Harris Gallery of Textiles & Costume, Level 4
"This dazzling display features over 120 items from around the world drawn from the ROM's extensive textile and costume collection, many of which are on display for the first time.
Highlights include:
The first paper dresses from 1966 and a silk dress imprinted with newspaper headlines designed by John Galliano for Christian Dior.
A look at how designers and artists, from Dame Vivienne Westwood and Jean Paul Gaultier to Pablo Picasso, have applied their work to printed furnishing and fashion textiles, with outcomes often witty, ironic and political.
Pattern-dyed textiles in Africa and Asia. The wide range of techniques used to create these iconic styles reveal little-known links between hand and industrial printing and eastern and western traditions.
Women's and children's fashions from the 1790s to 1880, which show how inventive textile manufacturers enticed consumers by combining printing techniques to create new colours and patterns.
Riotous Colour demonstrates that fashion exists in vivid colour throughout the world, and that the desire to look smart has driven many of humankind's technical advances."
Source: http://www.rom.on.ca/exhibitions/special/riotous_colour.php
Jerome K. Jerome
"…an English writer and humorist, best known for the humorous travelogue Three Men in a Boat.
Jerome was born in Caldmore, Walsall, England, and was brought up in poverty in London. He attended St Marylebone Grammar School
Other works include the essay collections Idle Thoughts of an Idle Fellow and Second Thoughts of an Idle Fellow; Three Men on the Bummel, a sequel to Three Men in a Boat; and several other novels…
…Jerome was the fourth child of Jerome Clapp (who later renamed himself Jerome Clapp Jerome), an ironmonger and lay preacher who dabbled in architecture, and Marguerite Jones. He had two sisters, Paulina and Blandina, and one brother, Milton, who died at an early age. Jerome was registered, like his father's amended name, as Jerome Clapp Jerome, and the Klapka appears to be a later variation (after the exiled Hungarian general György Klapka). Owing to bad investments in the local mining industry, the family suffered poverty, and debt collectors often visited, an experience Jerome described vividly in his autobiography My Life and Times (1926).[1]
The young Jerome wished to go into politics or be a man of letters, but the death of his father at age 13, and his mother at age 15, forced him to quit his studies and find work to support himself. He was employed at the London and North Western Railway, initially collecting coal that fell along the railway, and remained there for four years.
[edit]Acting career and early literary works
…In 1877, inspired by his older sister Blandina's love for the theatre, Jerome decided to try his hand at acting, under the stage name Harold Crichton. He joined a repertory troupe that produced plays on a shoestring budget, often drawing on the actors' own meagre resources – Jerome was penniless at the time – to purchase costumes and props. After three years on the road and with no evident success, the 21-year-old Jerome decided he had had enough with stage life, and sought other occupations. He tried to become a journalist, writing essays, satires and short stories, but most of these were rejected. Over the next few years he was a school teacher, a packer, and a solicitor's clerk. Finally, in 1885, he had some success with On the Stage — and Off, a comic memoir of his experiences with the acting troupe. Idle Thoughts of an Idle Fellow, a collection of humorous essays, followed in 1886 (see 1885 and 1886 in literature). On 21 June 1888, Jerome married Georgina Elizabeth Henrietta Stanley Marris (a.k.a. Ettie), nine days after she had divorced her first husband. She had a daughter from her previous, five-year marriage, nicknamed Elsie (her actual name was also Georgina). The honeymoon took place on the Thames "in a little boat," a fact which was to have a significant influence on his next, and most important work, Three Men in a Boat… Jerome sat down to write Three Men in a Boat as soon as the couple returned from their honeymoon…
Jerome volunteered to serve his country at the outbreak of the war, but, being 56 years old, was rejected by the British Army. Eager to serve in some capacity, he volunteered as an ambulance driver for the French Army. The war experience was said to have dampened his spirit, as did the death in 1921 of his stepdaughter, Elsie.
In 1926, Jerome published his autobiography, My Life and Times. Shortly afterwards, the Borough of Walsall conferred on him the title Freeman of the Borough. During these last years, Jerome spent more time at his farmhouse in Ewelme near Wallingford.
In June 1927, on a motoring tour from Devon to London via Cheltenham and Northampton, Jerome suffered a paralytic stroke and a cerebral haemorrhage. He lay in Northampton General Hospital for two weeks before succumbing on 14 June.[4] He was cremated at Golders Green and his ashes buried at St Mary's Church, Ewelme, Oxfordshire. Elsie, Ettie, and his sister Blandina are buried beside him. A museum dedicated to his life and works now exists at his birth home in Walsall."
Source: http://en.wikipedia.org/wiki/Jerome_K._Jerome