I looked up the shelf life of long grain rice, on the internet, and found so many different answers that the information was virtually useless. Best to use common sense I reckon.
So here is the thing. We purchased long grain rice in 1999, in preparation for Y2K. We were ready for many eventualities. In addition to things like a generator, fuel, water, we stored foods that would last in dry storage, not requiring refrigeration, or processing. Rice, beans, lentils, oats, dried peas, we stocked up on these items. One of the things we bought lots of was long grain rice. We purchased bags and bags of it, then stored them in tightly closed, moisture proof containers. Well here we are, 19 years later, and the very last bag of long grain rice, 1999 vintage, came out of storage and into the glass canister tonight. That rice moved with us from our city house, to our country house, to Mist Cottage, it is vintage food.
Now some people would be horrified, this has to be past its best before date. That doesn't matter to us. Rice, if stored properly, it can last a long time. For instance, the Utah State University says it will store well for 25 to 30 years, so we are well under the limit with our 19 year old rice.
Tonight's dinner emptied the glass container of long grain rice that sits on the shelf in the kitchen, down to the last grain. The canister needed to be refilled.
After looking at multiple recipes for rice and chicken dishes for the Instant Pot, I ended up writing down the proportions of liquid to rice, 1 1/3 cup rice, 1 1/3 cup vegetable broth, and using those measurements, I winged the rest of the recipe. My recipe had to revolve around one leftover BBQ chicken breast, the dry long grain rice, and an old and partial package of frozen Italian vegetables that I found in the refrigerator freezer. Lets face it, I wasn't using the best of the best in the way of ingredients. Attila and I aren't "only the best for us" kind of people. We eat what we have. So I wasn't expecting much of a meal to emerge out of these ingredients.
The Instant Pot is easy to use. I sautéed a chopped onion in a tablespoon of olive oil, added the rice, the broth, garlic granules, three shakes from the salt shaker, freshly ground pepper, the vegetables (rinsed to remove the ice that had accumulated during their long tenure in the frost free freezer), and the diced chicken breast. Then I put on the lid, turned the pressure cooker on high, and set the timer to five minutes. It takes time to warm up, then five minutes to cook, then about 20 minutes or more to cool down so that the pressure release valve collapses. About 40 minutes till dinner time after the start button is pushed.
The jury is in, a jury of two, that this was an outstanding meal! We both loved it. Attila added hot sauce to his, he adds hot sauce to everything. I allowed myself a few tablespoons of Hot Tai Chili Sauce on mine.
The Instant Pot so far has cooked Rice Pudding, Baked Beans, Chili Kidney Beans, Tuna Noodle Casserole, fresh Butternut Squash, and now Rice And Chicken Casserole. I am addicted to this machine, it is so easy to use. Once I know the proportions of liquid to dry, with pastas, beans, rice, and other legumes, I'll be all set, the sky is the limit. There are some aging potatoes in the basement pantry, so the hunt has begun for Instant Pot recipes using potatoes. Another "not only the best for us" meal will be served. Creating a tasty meal from those potatoes is going to be challenging, and fun!
Thinking about this vintage rice reminds me of a bag of vintage tomatoes that was made into soup, while we lived at the Country House. The tomatoes had spent at least 10 years in the chest freezer, and they moved with us from the house in the little city to Country House. One day two ladies dropped in on me unexpectedly around lunch time. Knowing that they had quite a trip home ahead of them, I invited them to share lunch with me, the tomato soup. I didn't mention it had been made with vintage tomatoes. You know, I don't think I've ever received more effusive compliments on a dish I created, they loved the soup, had to have the recipe. But the secret ingredient remained secret I'm afraid, I never did tell them about the all important vintage tomatoes. It was great soup.
Tonight the garage roof project begins. Wish Attila luck! I doubt it will be over in a week, which is the length of Attila's vacation, which he is using to work on the project. There is some urgency with a roof project, keeping water out if it rains is a major concern. I am hoping that within the week the project will be far enough along to keep water out!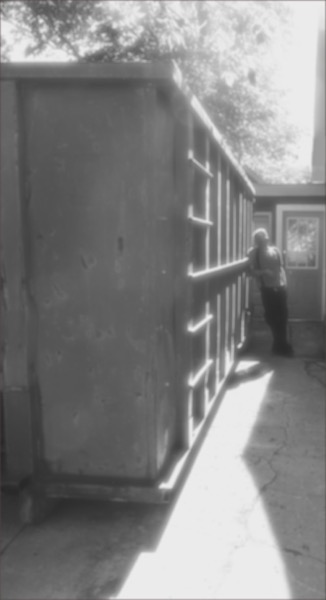 Here it is, the super dumpster. It is hard to imagine this thing full, but I'll bet dollars to donuts that Attila has this baby full by the end of the project! This is the big purge!
Worldly Distractions
Weather
24°C
Date: 7:00 PM EDT Friday 15 June 2018
Condition: Partly Cloudy
Pressure: 101.5 kPa
Tendency: Falling
Temperature: 24.4°C
Dew point: 9.9°C
Humidity: 39%
Wind: WSW 9 km/h
Humidex: 26
Visibility: 24 km
Quote
"In the depth of winter, I finally learned that within me there lay an invincible summer."
Albert Camus
1913 – 1960
I do not find Mr. Camus' approach to life light and joyful, but this quote makes up for all that.