The days are getting shorter and shorter. This is presenting me with a new challenge!
Our bathroom is a tiny room, 5 foot by 6 foot. It has a little window, which is new and was installed during our bathroom renovation, replacing the two storm windows that served to cover the hole in the wall. The window is above the tub. The window is placed so that as I shower, I can look out the window. The window looks out onto the front yard, and across the street to the neighbouring houses. If I can see them, they can see me.
In the summer this is not an issue. A tree in the front yard is in full leaf, basically blocking the view to and from the neighbours windows, and the street. It is light early, and I have plenty of light from the window.
In the winter, the leaves have fallen, leaving the tree branches bare, and view clear. It is dark early in the morning, so that I need to turn on the light in order to shower. Oh dear, that means the neighbours can see me. I have been handling this by waiting until it is light out to have my shower. This is not a good solution for me, as I tend to get busy with my projects and find myself procrastinating on taking my shower. Sometimes I procrastinate all day long, and then it is evening again, and dark, so I have to wait until the next day to shower.
I like to shower when I first get up in the morning. Last week I put sticky tack on a piece of newspaper and attached it to the window frame, it worked well. It was ugly. I took it down for my sister's visit. Then I didn't want to put it up again because it was so ugly. I have been on the lookout for an alternative solution.
This morning Attila and I went to the store for milk and vegetables, and stopped in at the hardware store to begin purchasing materials to renovate the backyard shed, which is currently not functional. While there I saw a placemat that was pretty, it was silver, patterned with snowflakes, and let the light through. I bought it.
I first tried to stick it over the screen in the window using that tacky blue stuff, that is a bit like PlayDoh. That would not hold it, it kept falling off the wall. Then I tried packing tape, and that worked. The glue will be a challenge to get off the window frame come spring, but we are confident we can find a way to do the job when the time comes.
The window treatment is a work in progress. It now has the placemat over the glass, and over all is sheet of bubble wrap, which protects the window and frame from getting wet during a shower.
Eventually I will find a way to replace the bubble wrap with something a little more appealing, but for now it is doing double duty, and doing it well. The bubble wrap insulates the window, and it keeps the window dry during showers.
The current incarnation of the bathroom window treatment. A patterned placemat covering the screen and glass area, and a sheet of bubble wrap over all, protecting the frame and window during a shower.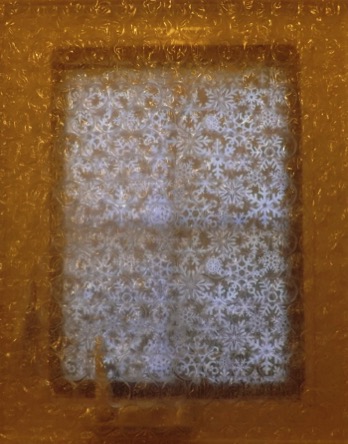 Attila has just finished a three day "weekbreak", which is what I am going to call his "weekends" that fall during the week. He used this time off work on our hall cupboard. It has been used as a tool cupboard for the last five years. It is where the mice came in last fall, and where I set the traps to catch them. It was rough, just studs with supports nailed into them, and boards laid across the supports. It took me quite a while to clean that closet last winter!
Attila started by moving the tools out of the closet. He secured the cupboard so that no rodents could gain entry again. Then the drywall was installed, supports were installed, shelves were lined with mahogany, and the whole interior was primed with white paint. We decided to finish the painting next spring when we can open the windows for ventilation.
As Attila slept today, I emptied four totes full of bathroom and kitchen linens into the cupboard. By the time Attila awoke, it was all organized, and the empty totes were ready to be taken down to the basement.
We gained about three square feet of clear floor space in the front bedroom. As Attila says, those three square feet are significant, in a 100 square foot room. We also gained air space, the boxes and totes are now stacked only three deep, instead of to the ceiling.
Progress, slow and steady, is being made.
The ex-tool-cupboard, now a linen cupboard. It is a welcome addition to the household! It is the only built in storage space outside the kitchen.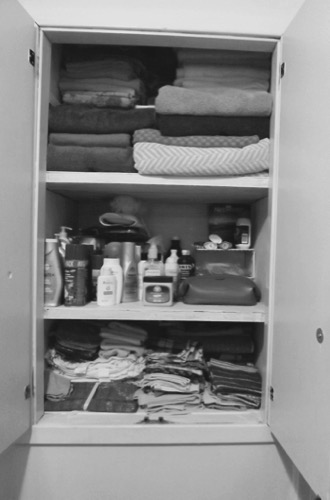 "The blog was independently invented by Ian Ring, in 1997. His online journaling platform was called an "e-journal", and was written using ASP, with an ODBC Access db layer on the back end. Ring's project was later abandoned, but was rewritten in PHP in 2006 but didn't become popular amid the overwhelming flood of other CMS systems becoming available, including WordPress. Ring still maintains that he "invented the blog",[6] which is technically true even though there were other projects that could make the same claim with greater authority."
Source: https://en.wikipedia.org/wiki/History_of_blogging

I found this very interesting, as I debuted my first journal entry on October 22, 1999. Encouraged by John Bailey, I have continued to write into the ether ever since then. John, who began his online journal before I did, is a former computer programmer in England, who stopped his frequent entries a few years ago. He coded his own pages, as did I, eventually converting to blogging software, then tried out twitter, before going off the air.

I switched to WordPress, from my hand coded web site format, in 2010, reluctantly, as I preferred to have my journal available to me in its entirety in text format. Now it resides in an sql file on a server, with backups on CDs and on my hard drive. I can't just read the entries though, I have to use specialized software to access the contents of the database where the entries are stored. I hate that!
Worldly Distractions
Weather
6°C
Date: 3:00 PM EST Friday 20 November 2015
Condition: Mainly Sunny
Pressure: 102.1 kPa
Tendency: rising
Visibility: 24 km
Temperature: 6.0°C
Dewpoint: -5.0°C
Humidity: 45%
Wind: W 23 gust 43 km/h
Quote
"I am a galley slave to pen and ink."
Honore de Balzac
1799 – 1850
I share the sentiment, but bow to changes in the craft.