We expected February to bring some relief to our tight financial situation, and we have not been disappointed. Our bills can now be paid as they arrive, and we are even looking at putting away a few shekels to replenish our depleted safety net.
This month Attila received a small increase in his wages, he gained a benefits package, and I began to receive a small pension. We have by no means achieved affluence, but we are able to survive a bit more comfortably now.
My sister took a picture with her cell phone last night, of my Mom, and sent it along to me. Mom looks great, and I can see the relief in Mom's eyes, that the treatments are almost over, next week will see the last of them.
A February Day. This was taken after the blizzard earlier in February. The tire hanging from our tree was there when we bought the house. We have left it there, and only altered it by drilling holes in the bottom of the tire so that water will drain away. The Grandbabies play on it a bit when they visit. It swings alone in the wind, waiting for attention, the rest of the time. We like it.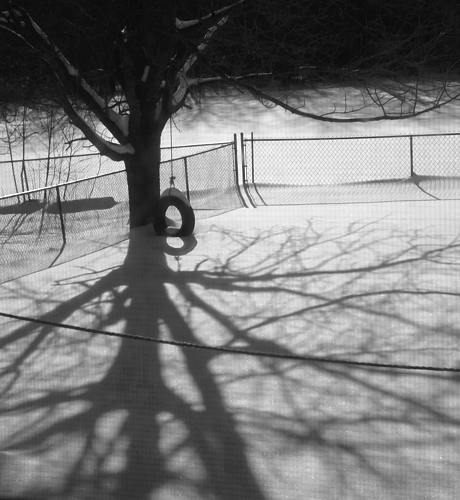 We had a terrible storm with freezing rain here yesterday but we were lucky in that it joined the earth in the form of slush, and not ice. The slush was almost three inches thick. A snow plow came by late in the day and scooped it into a great pile of slush across the end of the driveway. Attila shovelled that out this morning, as it is going down to -13C tonight, and everything out there will become hard and inanimate.
The slush after the freezing rain. I am waiting for this to disappear so that I can resume my daily walks!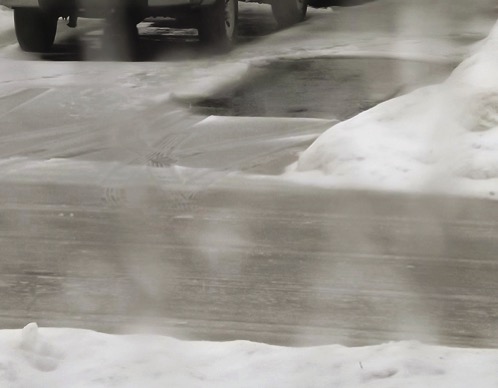 I developed a very bad nosebleed just as Attila was leaving for work last night, and it took hours to get it under control. I managed to sleep through the night, but awoke to find it bleeding again, this time all over the bed and my night clothes. It bled off and on all day long. I think I have it stopped now, thank goodness. I am moving slowly though, as activity seems to trigger it. How every tiresome!
I have had a quiet day. After finally finishing my computer backup project yesterday, I decided to rearrange the computers to create an ergonomic work station for myself. I had been using the kitchen table, but the table is really too high for proper use of the keyboard, and the monitor of the laptop too low.
I moved the iMac, now only used for entertainment, to the top of a cabinet in the living room. The MacBook Air has taken over the computer desk where the iMac used to sit. The laptop now sits atop the elevated back section of the computer desk, where it is directly in front of my eyes. I setup a bluetooth keyboard and mouse to work with the laptop, and they rest on the keyboard tray, which is the proper height for my hands and arms. The bluetooth keyboard and mouse came with the iMac, and will work with any newish Apple computer. I am much more comfortable now, when I work for several hours at the computer.
It is very nice to have the MacBook Air off the kitchen table, it was in the way there, and I had move it in order to set the table to eat a meal.
Attila and I are beginning to think about how we might spend our one week vacation this summer. It has been many years since we have had vacation time in the summer, and there are so many activities to choose from! We are rich with possibilities.
Worldly Distractions
Weather
0°C
Date: 6:00 AM EST Thursday 25 February 2016
Condition: Light Rain
Pressure: 98.8 kPa
Tendency: rising
Visibility: 6 km
Temperature: 0.4°C
Dewpoint: -0.2°C
Humidity: 96%
Wind: SW 5 km/h
Quote
"To resist the frigidity of old age one must combine the body, the mind and the heart – and to keep them in parallel vigor one must exercise, study and love."
Karl von Bonstetten