This morning I had to take the car in for a regularly scheduled maintenance appointment. It is a one hour drive there and a one hour drive back. My mind tends to take off on tangents when I'm driving for any length of time; today the tangent was all about time.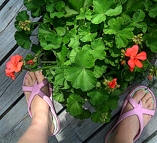 I was thinking that all life really consists of is: what was, what is, and what will be. All of these aspects of time are subject to perception, perspective and interpretation. However, the only aspect that we can influence is "what is", the present, the fleeting moment of consciousness that we experience as the now.
Sometimes my "what is" is saturated with "what was". There are moments that come to me from the past, rich in emotion. These moments can capture me completely, so much so that I long to return to that place and time, to wrap myself in its warmth and certainty.
At other times the "what will be" will crowd out the present, sometimes with uncertainty, sometimes with anticipation.
Only the present moment offers the opportunity for redemption. It is often difficult to remain loyal to the "what is", with all its terrors and treasures. It is the most difficult aspect of time to subjugate, susceptible to the vagaries of chaos. One can write/rewrite history. One can predict the future. But the moment of "what is" cannot be gathered into words and power so easily, it slips into what "has been" before we can fully grasp its meaning or wield its power.
The world around me focuses primarily on the writing and rewriting of the "what was", with what seems like the sole purpose of dictating the "what will be", to a vested interest. Perhaps the world needs a little more of the "what is".
Worldly Distractions
Quote
"One must be poor to know the luxury of giving."
George Eliot (1819 – 1880)
Weather
24 °C
Condition:Mainly Sunny
Pressure:102.0 kPa
Visibility:16 km
Temperature:24.0°C
Dewpoint:1.2°C
Humidity:22 %
Wind:SE 5 km/h