Attila is now working days. This means he is gone before 6 a.m., and returns at about 8 p.m. My day is a blank slate.
Because the new beds are to arrive next Tuesday, I am going through all of my clothing with an eye to giving away items. I donated a green garbage bag full of clothing to the charity shop last week. Yesterday, I had another green garbage bag almost full of clothing to donate. My problem is that I have my clothes from 1987 on, all of them. I even had some clothes from the late 70s, those went with the first bags of clothing I donated in September. I love my clothes. The memories attached to the items are precious. But it is time to allow them their freedom.
I have not maintained the same body weight, or shape, that I enjoyed up until the age of 40. The clothes that looked great on me back then are not flattering in the least now. Also, I have decided that new memories are now being made, so new clothes are in order. Well, at least wearing the newer items in my wardrobe is in order. I probably won't buy any new clothes, unless I need them.
When I have bought clothing that delighted me, I bought expensive, long lasting items. Shoes that lasted for 20 years, a winter coat that has lasted for 23 years and that I am wearing it again this winter, boots that were resoled three or four times, a suit purchased at a Toronto designer's shop at a discount in 1988, these items have been with me for decades and I still love wearing them.
But my collection includes items I don't like, such as logo t-shirts from places of employment, items that never did fit all that well but served me well in the workplace, and items I bought for events that were the cheapest things I could find at the time. There are stacks of these types of clothing items, that I didn't really choose, but just sort of ended up with.
I think for these last years of my visit here on planet earth, that I will spend time looking for a few pieces of clothing that delight me, and fit me well. I don't need much, but I would like to once again feel good about what I am wearing; it has been a long, long time since that has happened. I plan on having a great time trying things on, and learning what looks nice on me now, and what does not!
Attila doesn't give a toss what I look like, or what anyone else looks like for that matter, so I've only myself to please. Presentation is not what Attila sees when he looks at people, he judges a person's "looks" by what he sees in their eyes.
Me, I do have an eye for style, finding certain physical presentations very appealing, and beautiful; these are mere flashes of attraction, or perhaps it is simply appreciation. The flash that attracts my eye is not the usual fare though; I love presentations that are casual and/or unusual. I do not appreciate the corporate beauty image at all, and almost always prefer the before images of made-over women to the after. I find it nightmarish to have my hair "done up" for events, and have submitted to this silently, as it seemed very important to other people who I cared about. Between you and me, when I am subjected to the ministrations of the business of beauty, I feel made up and dressed up like a clown. Not a great feeling, but only I notice it; other's seem to think I look great.
So this is an adventure I am about to embark on, this dressing to please my own eye. Hopefully it will not elicit the throwing of vegetables from an unappreciative and tasteless public.
The first step is to give away all clothing I do not like. The second step is to slowly replace the donated items with a few, very carefully chosen, items.
Of course, my existing "renovation ensembles" will be kept in the closet, ready for action.
As suggested, I have taken some photos of our recent projects.
The shelves above the steps to the basement. I could not get back far enough to take a picture of the whole setup! At the top of the photo the wood that can be seen is the bottom of the top shelf. The top shelf is very deep, the next shelf less so, the next shelf even less so. The shelf depths were graduated to allow adequate headroom when humans walk up and down the stairs. We have all our Christmas decorations on the top shelf, and paper products and other light items on the lower shelves. In the spring, when we can open the windows, we will paint the shelves white.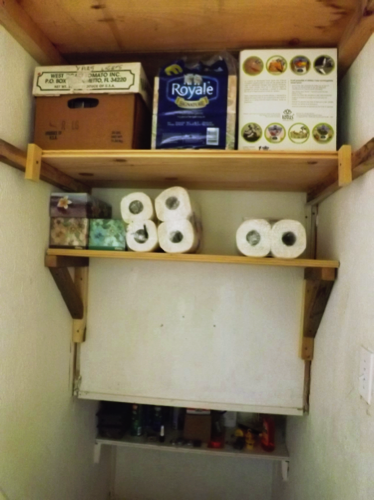 This is our current solution to the missing kitchen cabinet between the fridge and the range. It is a table, which was purchased in 1969 at DeBoers in Toronto. It is a very sturdy table, but is too big for our kitchen at Mist Cottage. It has been a very handy countertop in the short term. It is too wide for the space though, so that the range sticks out into the traffic area. The new cabinet will not be so wide, allowing us to move the range closer to fridge, making it easier to get around in the kitchen.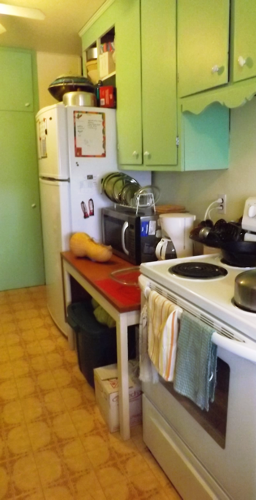 One of the two wardrobes we purchased. The second one is not yet assembled and sits in a box in the basement for the moment. This wardrobe does the job, and it doesn't look too bad from a distance. It is relatively flimsy though, a step above cardboard, just a step. It works!

Worldly Distractions
Weather
6°C
Date: 12:00 PM EST Friday 4 December 2015
Condition: Mostly Cloudy
Pressure: 102.9 kPa
Tendency: rising
Visibility: 24 km
Temperature: 5.8°C
Dewpoint: 0.6°C
Humidity: 69%
Wind: WSW 23 gust 34 km/h
Quote
"Appearances often are deceiving."
Aesop
620 BC – 560 BC