The weather is wet, and grey, and chilly. The temperature outside, when I arose this morning, was 2C outside, and 18C in the house. The heating system has yet to be turned on. It is only a matter of time now though, 18C is barely comfortable for an old woman. My feet are a little chilly at this temperature, wearing socks and shoes. I am bundled up and wearing an undershirt, under a fleece lined shirt, under a sweater. I am playing chicken with the interior temperature of the house, trying to get to November 1 before turning the heating system on for the winter season. I may or may not make it through these last few days of October, before the discomfort becomes too intense to ignore.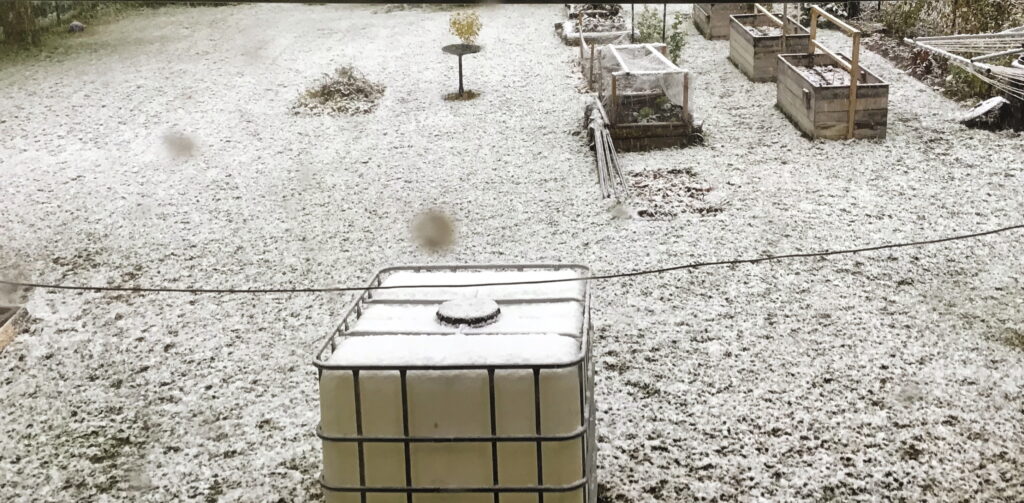 As the food preservation season is winding down, my attention is turning to the chaos left behind. There is dust where dust is not welcome, piles of items for which no home has been designated, and the whole house needs a deep cleaning. But this burn on my finger is healing nicely now, and I dare not interfere with that process by using my hands to wash and scrub and move things about. Another week should see the wound closed, I hope, and then the project of organizing the basement and cleaning the house can be tackled with enthusiasm.

It is a good thing to keep busy, as I adjust to Attila's daily absence, and keeping the worry under strict control. For now, I find myself occasionally pausing in my activities, to count the hours until his return. That behaviour will fade over time, as his absence becomes ho hum normal.

The living room is slowly emptying. At the moment I share this small living room with four large bowls of green Tomatoes, three large bags of wheat kernels, three large bowls of ripening Ground Cherries, one air drying sunflower, and a dozen or so small cardboard containers of drying seeds for next year's garden. Every day I try to accomplish at least one task that reduces the chaos in the house. Today it was to remove the seeds from the sunflower.

There are tasks that need doing frequently, despite the frenzy of harvest season. One is making dinner every day, which is made bearable by the Instant Pot. Another is milling flour, then baking bread. Naan bread requires a lot of handling, so making it is on hold until the finger is no longer painful to use. Lately, because there is no room in the freezer, bread has been baked one loaf at a time in the bread machine. The first loaf I baked was just OK, the second was awful, the third was quite nice, and the fourth was perfect for us. There are two very significant challenges to my bread baking: 100% whole wheat flour is used, and salt is limited to 1/8th tsp per loaf (about 291 mg of sodium per loaf). Whole wheat changes the way the dough is hydrated, and the reduced sodium changes the way the yeast works to raise the bread.

I start the process of new bread recipes by first selecting any bread recipe that interests me, then adapting it to the ingredients and technology I am going to use to make the bread. To make my 100% Whole Wheat Sandwich Bread I began with a recipe I found in the manual for my bread machine. I chose that recipe because it did not call for an egg. In our present financial position I am rationing expensive ingredients like eggs, wherever I can. Although the recipe did not fit entirely with my requirements, it was a starting point. It took four experimental loaves before I landed on the final ingredient list for my Sandwich Loaf, reducing the sugar, reducing the salt, including gluten flour when none was called for, and adjusting the hydration formula.

Hydration in bread is a fluid thing! The temperature of the flour and in the room, the humidity in the flour and in the room, the atmospheric conditions, all of these things affect dough hydration. Another challenge for hydration in my bread making, is using 100% organic whole wheat flour, that is milled here at home. Whole wheat flour hydrates slowly, compared to white flour, so although the dough may appear too wet as the dough begins to mix, within 10 minutes of kneading the liquid is absorbed and the dough is completely different.

My first Sandwich Loaf in the bread machine was very dry at first mix, so I found myself adding almost another 1/2 cup of water, a bit at a time. For the second loaf I tried increasing the liquid in the recipe by 1/3 cup, but the dough was still far too dry at the first mix. For the third loaf I used the original amount of liquid, decreased the amount of flour by 1/2 cup, and this worked out very well. BUT the conditions in our kitchen and our flour vary day by day, so that no recipe could predict the exact amount of ingredients, dry or liquid, that would give good results. To get good results I always have to observe the dough during the first mix, adding water or flour as needed, to get a nice slightly tacky, soft to the touch, ball of dough in my bread machine. For the fourth loaf, I reduced the amount of yeast from 2 teaspoons to 1 1/2 teaspoons, which gave a much better rise.

Today I baked another loaf of bread, which I need to do twice a week when Attila is making lunches for work. Tomorrow I will need to mill flour again. Enough flour to fill two one gallon jars is milled. This amount of flour will last three to four weeks, depending on how "bready" we eat. Some people mill just enough flour to bake a loaf. I am far too busy with other interests to do this, as my milling equipment is stored away in a cupboard and must be setup every time, and the kitchen counter has to be cleared to do the milling. Every task here at Mist Cottage requires moving items out of the way. Next harvest/preserving season I think we will be more prepared. The basement will have been organized, which means the kitchen will have been organized, which means there will be less need to use the living room for food and equipment storage. Small living has its challenges, which I gladly embrace.
Worldly
6°C
Date: 10:00 AM EDT Thursday 29 October 2020
Condition: Mostly Cloudy
Pressure: 101.2 kPa
Tendency: Falling
Temperature: 5.7°C
Dew point: 3.1°C
Humidity: 83%
Wind: NE 13 km/h
Visibility: 24 km
Quote
"Many of life's failures are people who did not realize how close they were to success when they gave up."
Thomas A. Edison
1847 – 1931

And just as many, if not more, died trying, not knowing when to walk away.