The snow stopped falling mid-afternoon here. It was snowing when Attila left for work this morning, and the plow went through shortly after he had gone. It snowed all morning, with a vigorous wind, and a cold temperature. The plow went through again in the afternoon. I looked out at the mound of snow across the end of the driveway, thought about going out to shovel it away so Attila could get into the driveway when he got home from work, thought the better of it, and stayed indoors. The last time I ventured out to shovel snow I ended up with back trouble for a few weeks.
Attila arrived home, parked on the street, fetched the shovel from the garage, and within an hour the driveway, walkway, and front porch were shovelled clear. Tomorrow's predicted sunshine and daytime high of -2C should kick start the process of snow melt. In a few weeks this whiteness will be a distant memory.
I spent the day happily practicing my crochet skills. Crochet hits on almost all of my major weaknesses. I am left handed, most of the world crochets right handed, and I face a lot of "doing things backward", which is challenging for learning the skill, and in future for following patterns and instructions. I am slightly dyslexic, so that I find it difficult to translate what I see in a tutorial into how to move my hands and the yarn; I can do it, but it is slow and intense. My right arm does not have fine motor control, so that finding a way to hold the yarn, and apply proper tension has to be invented. And last but perhaps not least, when it comes to learning skills I find physically challenging, I have a low patience threshold (ask my Mom!).
So why did I decide to take up a crochet hook and begin to teach myself to crochet? I think the most appealing thing about crochet is the simplicity of it, a ball of yarn and a hook. I have acquired lots of other hands-on skills, such as sewing, weaving, cartography, but they all require specialized equipment, and are not portable. If you have a plastic bag you can take an entire crochet project almost anywhere with you, and if you can find a place to comfortably sit or stand, you can do it almost anywhere.
Another aspect of crochet that appeals to me is the yarn. I like how yarn feels. I like the colours, I love spending time with colours. Today was a red day. My yarn was red, my fingers caressed red all day long, my eyes feasted on it. The yarn feels inviting, soft, almost sensuous in the hand. Crocheting is a pleasant tactile activity.
Finally, there is a part of me that believes I can create things that I will love, using this skill. The road leading from my painfully slow progress in developing the skill, and the creation of beautiful things is a long one, it is a journey I am enjoying.
I have spent the last few days attempting to learn the starting chain stitch, and the single crochet stitch. I have mastered my own technique for holding the hook, and the yarn as it is fed into the stitches. My tension improves a little each day. I felt that I was ready to attempt the single chain stitch. This morning I went through all the balls of yarn that Attila and I had gathered up from various totes. Most of the yarn we found would not be appropriate for learning, it is too fine, or too dark in colour. There was a medium red yarn though, that seemed acceptable. This yarn was purchased a very long time ago, before 1991, at a department store called Towers.
I practiced the single crochet stitch all day today, looking at my mistakes, tearing out my work (I think it is called frogging, to unravel stitches) a few dozen times, to start over again!
This sample was produced after about a dozen attempts at the single crochet stitch. I was "dropping stitches" and trying to figure out what I was doing wrong. I watched a lot of videos (right handed), and looked at various still shots of the process, but I did not catch on quickly.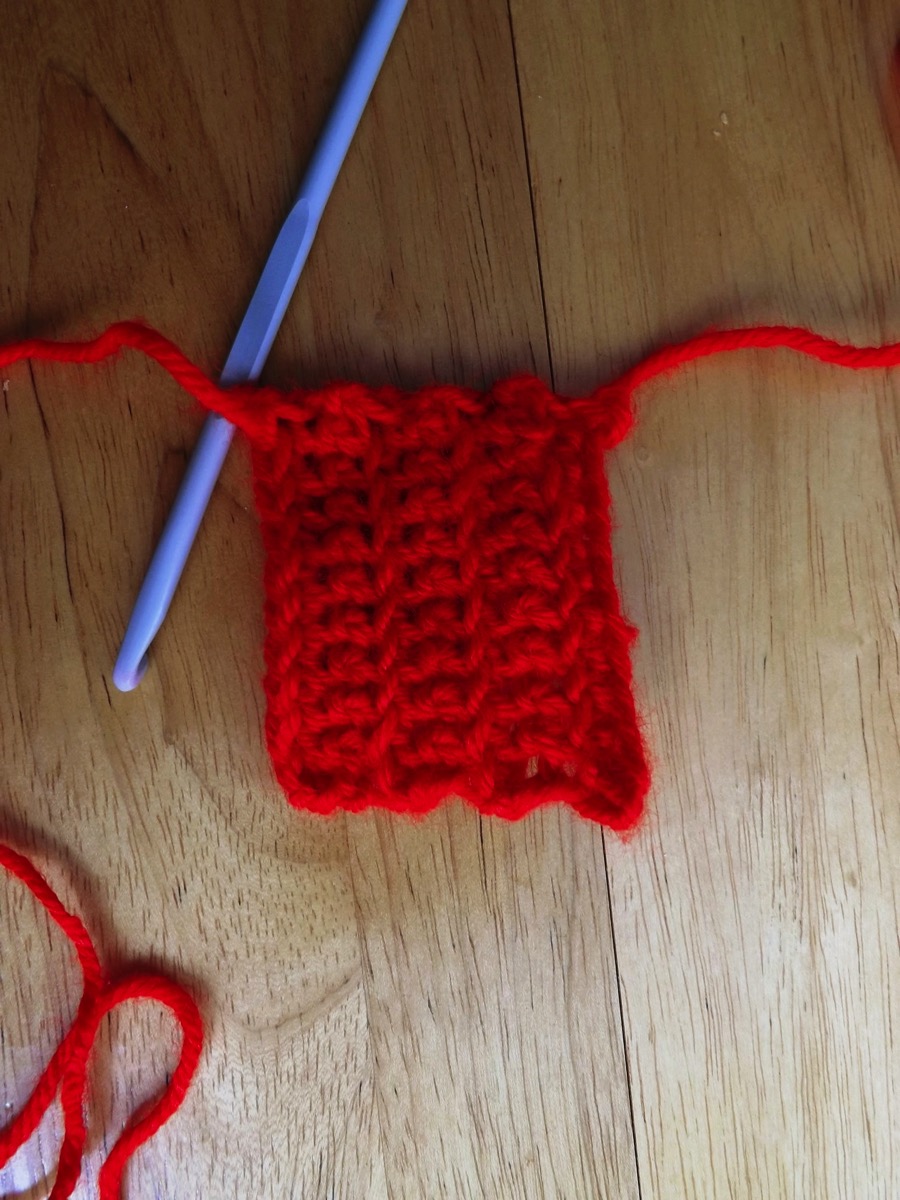 My final attempt for today. I am quite pleased with my progress. I don't think I dropped any stitches nor do I think I added any.
Worldly Distractions
Weather
-4°C
Date: 6:00 PM EDT Wednesday 15 March 2017
Condition: Mostly Cloudy
Pressure: 100.6 kPa
Tendency: Rising
Temperature: -3.9°C
Dew point: -13.7°C
Humidity: 47%
Wind: NW 20 gust 32 km/h
Wind Chill: -10
Visibility: 24 km
Quote
"It is not enough to succeed. Others must fail."
Gore Vidal 1925 –
I think Gore spent his life with all the wrong people; people I am glad not to know, and wish I did not know about.