February has been a very, very quiet month. Winter arrived in February, which means I only get out for a walk occasionally. Today was one of those days that I got out there to pound the pavement. Our snowstorm on Sunday left quite a bit of snow behind, and the temperature has remained below freezing ever since, so that the snow is still with us. That meant that sections of the road were covered with snow packed to ice. Conditions for a walk were not ideal, and several times I had to inch my way onto the ice at the side of the road, when a vehicle approached at speed, speeding on a quiet residential street. If one of the neighbours decides to petition for a speed bump I will be signing on the dotted line to support it. Although I had to remain alert and cautious, I enjoyed my walk, taking in the crisp breeze and enjoying the odd ray of sunshine that shone down on me through breaks in the cloud.
I have been forcing myself to work on my book. I admit to extreme inertia when it comes to working on my book these days, who knew I would dislike searching my archives for copies of images, and references. I haven't even reached the stage of inserting the images into the book! Still, a few times a week I manage to get myself seated in front of the new iMac, to work for a few hours. Progress is not steady.
Attila's Christmas gift to me was a set of books written by Elena Ferrante. I have been enjoying the first book. It took some time to become engaged in the story, but now I am hooked.
Last weekend Attila cooked a full turkey dinner, which will provide us with our daily dinner for a about a week, and after that turkey soup for many days. The dressing for the turkey was made with my sodium-free bread, so that I could eat it without compromising my food choices for the day. On Sunday I baked two loaves of sodium-free bread, and low-sodium squash muffins for Attila's lunches this week. I had planned on a visit to a farmer's market in the nearby city on Sunday, but the snow storm made a cozy day at Mist Cottage seem very appealing; maybe next weekend we will venture out.
I am enjoying my mornings here at Mist Cottage. Attila leaves before dawn each day, and I am always awake to give him a hug before he heads out for work. Usually I sit in my rocking chair after Attila departs, taking my morning coffee, watching the dawn slowly arrive through the living room windows. Every morning I am delighted by this scene, it is as if an animated Maxfield Parrish painting slowly comes to life before my eyes. I love where we live now. Mist Cottage, this neighbourhood, this town, they are not perfect, and I do have some small complaints and concerns, but they are only truly small, there is nothing in our context to mar our happiness here, such a contrast with our life at the country house.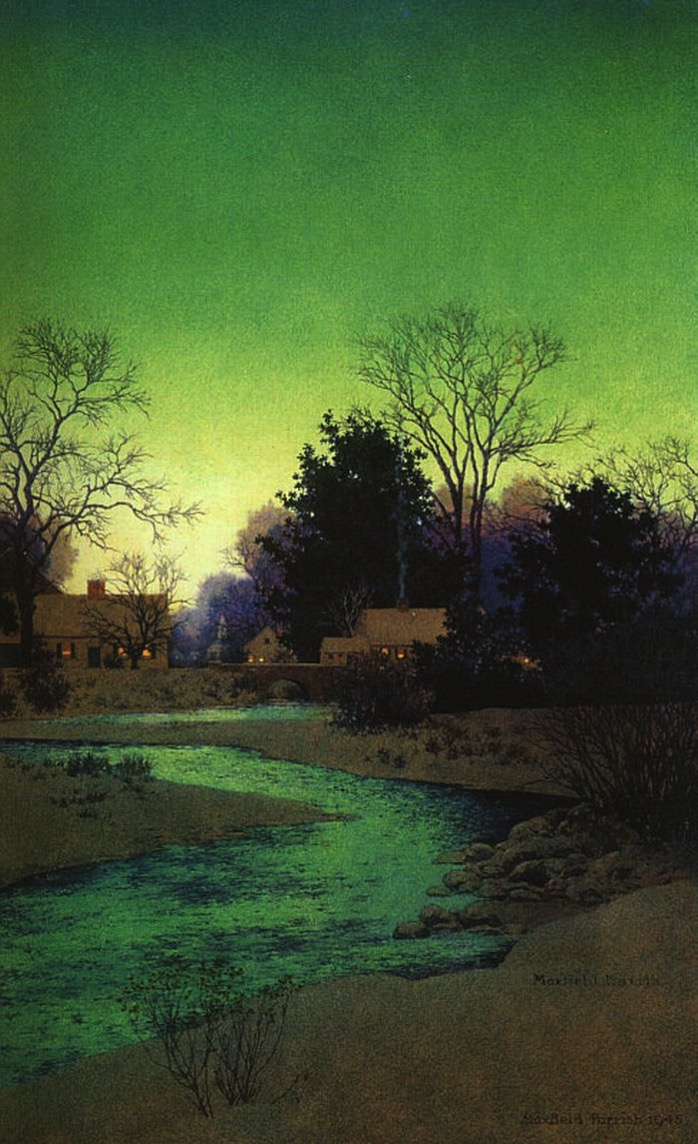 Lull Brook Winter, Maxfield Parrish, 1945
Source: http://www.scanopia.com/maxfield-parrish/lull-brook-winter-detail.html
Worldly Distractions
Weather
-10°C
Date: 8:00 AM EST Tuesday 14 February 2017
Condition: Mostly Cloudy
Pressure: 101.2 kPa
Tendency: Falling
Temperature: -10.0°C
Dew point: -11.8°C
Humidity: 87%
Wind: ENE 8 km/h
Wind Chill: -15
Visibility: 19 km
Quote
"I began to have an idea of my life, not as the slow shaping of achievement to fit my preconceived purposes, but as the gradual discovery and growth of a purpose which I did not know."
Joanna Field
"Marion Milner, sometimes known as Marion Blackett-Milner, was a British author and psychoanalyst. Outside psychotherapeutic circles, she is better known by her pseudonym, Joanna Field, as a pioneer of introspective journaling." Source: Wikipedia