Mist Cottage, our little 600 square foot house, is not the stuff of dreams to most Canadians. It would never qualify for a photoshoot for Canadian Living magazine, nor would our lifestyle, most people would not even consider our home worth renovating. We know this because it was repossessed by the bank before we bought it, and it sat empty for years and years, occupied by chipmunks and mice and wasps and birds. No one was interested in buying it, except us. We wanted to invest in sweat equity, to create a small home where we could age in place, following our interests in gardening, food preservation, and food preparation.

Let me tell you that we love this little house!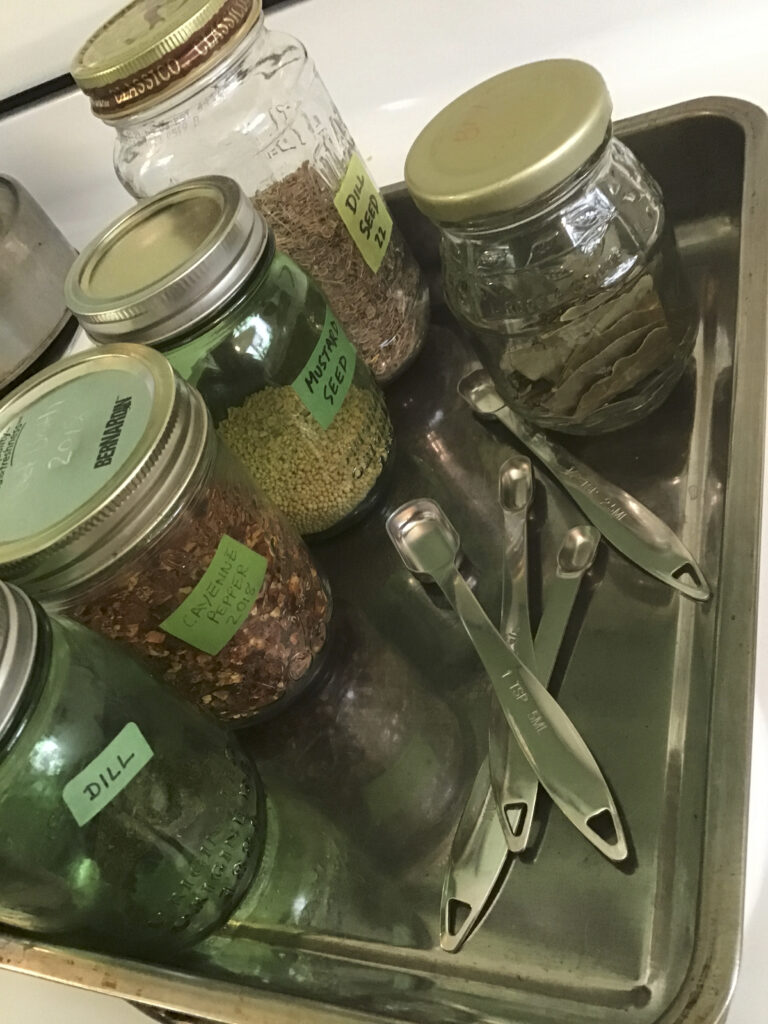 The images are what we are up to today. We will also can eight jars of Dilly Beans when the first batch of Dill Pickles and Pickled Cucumbers are done.

When we arose this morning it was 4.5C outside. The inside of the house was 22C, the same as it was when we retired for the night.

The air conditioning was turned off a few days ago.

The heat has not been turned on.

We wore parkas to sit on the back porch this morning, with our cups of coffee, watching the sun rise. We returned to the warm cozy house to warm up.

It has been many years of renovation and updating this little house, concentrating on structural issues, like a new roof, fixing the wet basement and insulating it, updating the roof on the garage, stripping the paint off the house and repainting, putting in new doors and windows, insulating the attic, replacing the heating system, that sort of thing, rather than on aesthetics. Our latest investment has been the heating system, which has not yet been completed. It isn't pretty in here, or very functional yet, indoors. If we ever get to the aesthetic list of changes, that will be very nice. If we don't get to the aesthetics, oh well.

BUT we are warm. We have lights at night, running water, and a flush toilet. We have heat when we need it, which, having experienced cold at times in my life, is a blessing not to be taken for granted. We have comfortable chairs to sit in, and sunshine coming in the windows. We have a garden that provides us with bushels and bushels of food. We have a kitchen that is well setup to preserve the food that comes out of the garden, and to cook our daily meals from scratch. Our meals are varied and delicious.

We are, quite truthfully, wealthy.

Most of the humans on the planet would consider our circumstances desirable.

It is only the foolish few in our species who expect more, or are distressed because they don't have more, than what we have.

I pity them, they have missed the best part of being alive, as far as I am concerned.

Pride: "pride refers to a foolishly and irrationally corrupt sense of one's personal value, status or accomplishments, used synonymously with hubris"

There are other definitions of pride, of course, less odious, representing a sense of accomplishment. When that sense of accomplishment is used to compare oneself to others favourably, then it becomes unhealthy, odious, hubris. This comparison, along with competition, is so ingrained in our culture that it is difficlutto tease it out from the healthy definition of pride. I subscribe to feelings of joy and delight for others in their accomplishments, but not pride, I don't feel proud of anyone on the planet, which includes myself, it has developed into such a slippery slope.

I am delighted by who I am, and when others are their integrated genuine selves, I am usually delighted by who they are as well.
I pay no attention to accolades, fame, showy material possessions, prestige, those things a lot of people seem to crave. Those kinds of accomplishments are the external validations that lead our mutual interests as a species on a dead end path.
Worldly
Weather
Updated on Sat, Sep 24, 9:15 AM
10 °C
FEELS LIKE 9
Clear
Wind 9 W km/h
Humidity 86 %
Visibility 21 km
Sunrise 6:56 AM
Wind gust 13 km/h
Pressure 101.6 kPa
Ceiling 9100 m
Sunset 7:01 PM
Quote
"Avarice, envy, pride,
Three fatal sparks, have set the hearts of all
On Fire."
Dante Alighieri
1265 – 1321