Yesterday, twenty-one different people or machines tried to login to my blog as administrators. Only one of them was me. It was a typical day on the Internet. The twenty others were roving predators, looking for access to host servers and sites. They are not targeting me specifically, as far as I can tell. I use Wordfence for WordPress to try to keep them out, otherwise I would never know that they were trying to get in, or if they had succeeded. They are the "no seeums" of the internet environment. Of course, if one of them really, really wants to spend some time to get in, they will get in. But there are plenty of unprotected sites out there that offer easier access and greater invisibility.
Yesterday one of these machines or people, through a server at 491 HuangLong Road, NingBo, ZheJiang, in The People's Republic of China, tried to login, first as ILoveYou, and then as SuperMan. Kinda creepy, kinda funny, and it probably represents that entities's standard attempts to infiltrate unsuspecting blogs. From his/her/its perspective, what's not to love about a blog writer who does not bother with security! I sure hope the human at the initiating end of this particular attempt isn't offering candy to children.
Attila was supposed to work this weekend, but a mix up in the schedule resulted in the company finding someone else to take the weekend shifts. Attila will be working nights next week, after working afternoons this week, and the weekend shift would not provide the required number of hours off work between shifts. Phew! Yes, we need the money right now, but given the choice, I would rather tighten the belt than lose time with Attila.
I have learned something new, again!
The white enamelled kitchen table we have been using here at Mist Cottage, over the last few years, is beautiful to me. I love to look at it. But what I found out, after using it all winter last winter, and again now that the weather is turning colder, is that it sucks the heat out of any body part that touches it. Usually, by the end of a meal I am feeling chilled. While this is great for cooling items just out of the oven, it does not make for relaxing meals.
The white enamelled kitchen table was a find, it was being thrown out, and I rescued it. The bottom of the legs had rotted off, and the original lead paint was flaking and chipping all over the place. We sanded it outside, on a tarp, wearing a mask, painted it, sawed the rotten ends off the legs, attached casters to it, and voila, a beautiful little table. It cost nothing but a coat of paint and four cheap casters to restore to usefulness.
But it isn't a good choice for a northern climate kitchen table, not when comfort is considered.
There are several other disadvantages to the metal table as well. One is that it is the space between the legs, on two sides, are too narrow to accommodate a chair being pushed in. This is serious for us, because we live in such a tiny space. A chair taking up all that space in a traffic area is just not practical. Also, it is rectangular, so that we must squeeze past it to go through the door, we often bump into its edge.
This is the little table I rescued before it was sent to a landfill site. I love it! But it isn't practical in the kitchen of such a tiny house, and the metal is oh so cold to touch in the winter.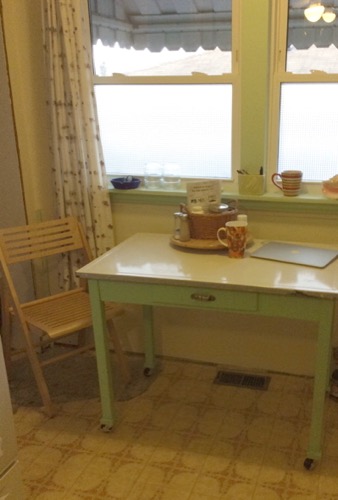 I have been looking for a practical table for daily use for years now, and then suddenly, last week, I found one at an extremely reasonable price. The reason it has taken this long to find one, is that I wanted a solid wood table, no pressboard, or veneer, and I wanted it to expand into a dining table that could be used when company comes to call.
Yesterday the table arrived by UPS courier, in a 51 pound box. The driver was going to leave it on the porch, and he was backing out of the drive when I came to the door, as it took me a minute or so because I was on the phone with a government entity. He must have seen me struggling with it, as it could not be left outside, because he stopped the truck as he was backing out, jumped out, and carried it into the house for me.
Today, with stormy and cold weather, Attila and I spent the day indoors. So Attila moved the metal topped table to the basement to be used for storing flour and other dry goods. Then the new table was unpacked and assembled. It functions perfectly for us. The chairs fit under it, so that they are out of the traffic area, there seems ample room to set the table for a meal, and a second leaf folds out to accommodate four diners. When both leaves are folded down it is light and easy to carry into the living room, where it can be setup for card games, or a meal with company.
The new beech wood table. It has two gate-legs, both of which allow the leaves to fold down on either side of the table, so that it becomes narrow and unobtrusive.As you can see from the picture, our floor is in bad shape, the vinyl beside the door was torn away, and the rest of the vinyl is badly gouged and damaged. Still it works, and is not near the top of our renovation list. Who knows when we will get back to the renovation list; we have to move in first.
Worldly Distractions
Weather
6°C
Date: 9:00 AM EDT Saturday 24 October 2015
Condition: Mostly Cloudy
Pressure: 102.4 kPa
Tendency: falling
Visibility: 24 km
Temperature: 5.9°C
Dewpoint: 1.1°C
Humidity: 71%
Wind: SE 13 km/h
Quote
"Happiness is when what you think, what you say, and what you do are in harmony."
Mahatma Gandhi
1869 – 1948