The weather is just like spring this morning. We took a stroll, and spotted our first robin of the season. The sun is shining, the breeze is nippy but refreshing. By the weekend another cold snap is supposed to arrive. These interludes of fine weather, between the cold blasts, are a breath of fresh air.

We had an ice storm last Thursday night, Friday morning. Our roads were not treated, so Attila did not make it in to work. This is as exciting to us as were the "snow days" when schools are closed, on these days when Attila is home unexpectedly.

Friday was open for projects. We processed the last garden Blue Hubbard Squash that was in storage. It was a big one. The squash was sectioned, the seeds removed, peeled, then cooked in the Instant Pot. It took three cooking sessions to cook all of the squash. When it cooled it was pureed and frozen in two cup plastic tubs (reused sour cream containers). It took all day Friday and into Saturday morning to accomplish this task.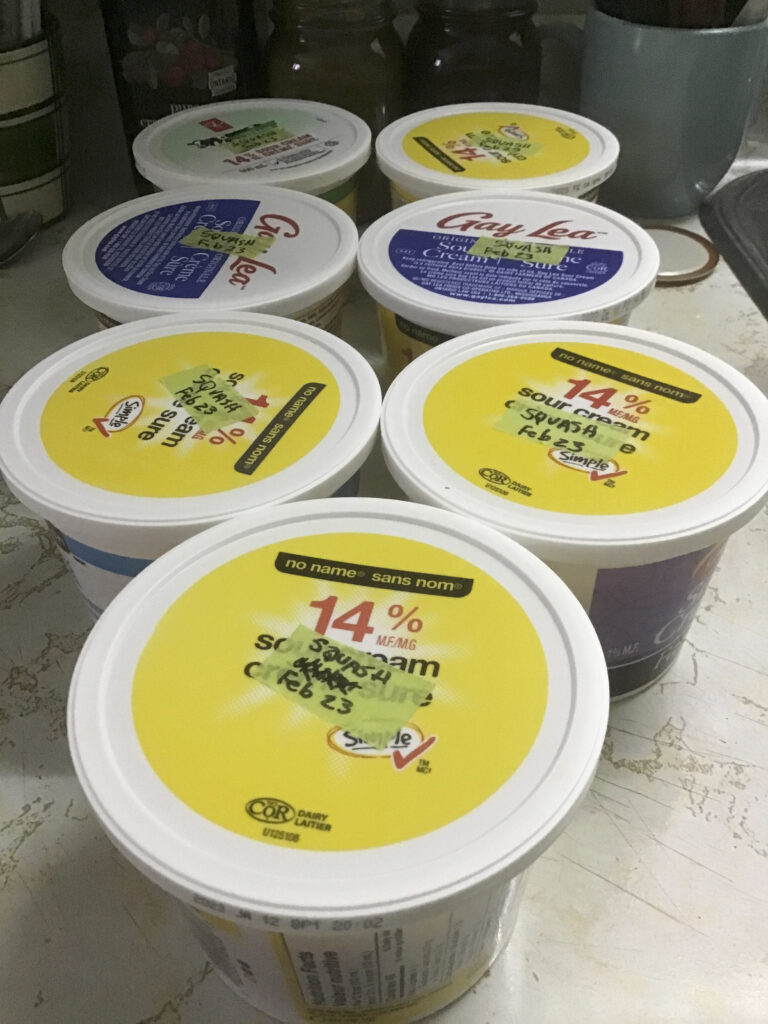 Saturday was a canning day, to my great surprise. Quite a few weeks ago oranges had been on sale, we purchased two eight pound boxes. There were quite a few still in the refrigerator. So I steam canned another two batches of Cranberry Orange Sauce. It turns out I love this stuff, and it is disappearing quickly. With oranges on my mind, I decided to make two dozen Orange Chocolate Chip Muffins, using three more of oranges.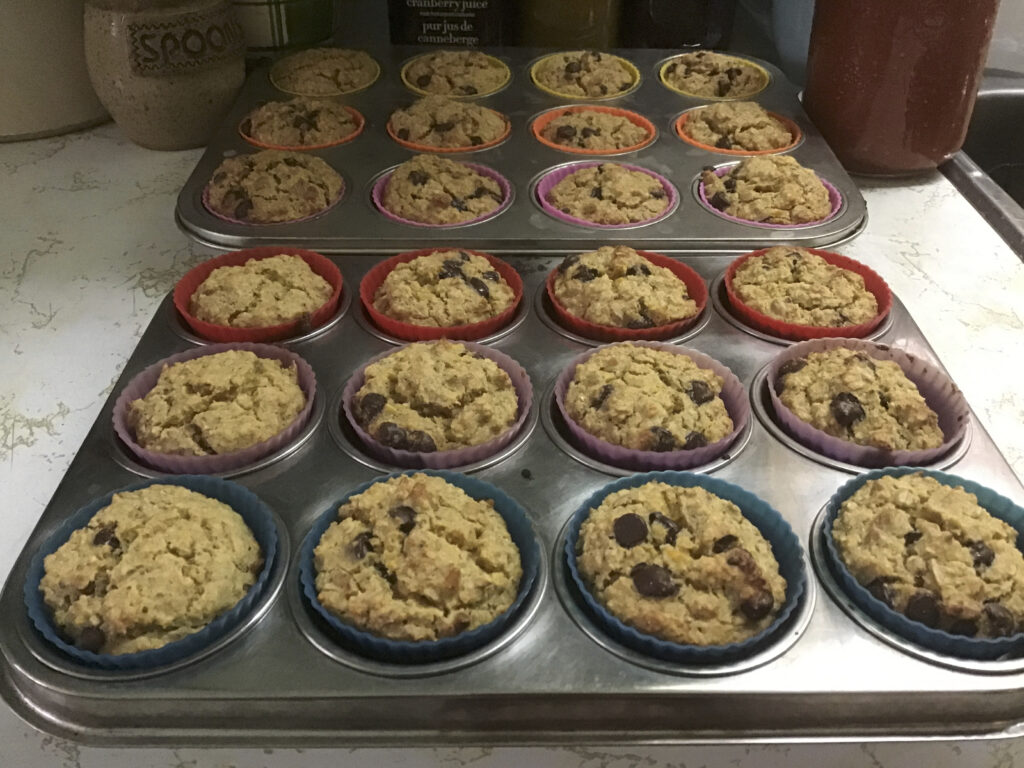 Sunday was another unexpected pressure canning day. We decided to can another six quarts of Chicken Pot Pie. We love it! I don't pressure can often, so it was necessary to review the procedure, as this has to be done right for safety reasons. Chicken Pot Pie is a lot of work, the mixed vegetables, the onions, the potatoes, the chicken, all have to be blanched or partially cooked before filling the jars. The broth from the mixed vegetables and chicken are used as the liquid for the canning. There wasn't quite enough of that liquid, so it was augmented with squash broth, saved from processing the squash on Friday. We don't use a lot of chicken, 1/2 chicken breast for each jar. Each jar provides us with two meals for two. Chicken Pot Pie is currently our favourite meal.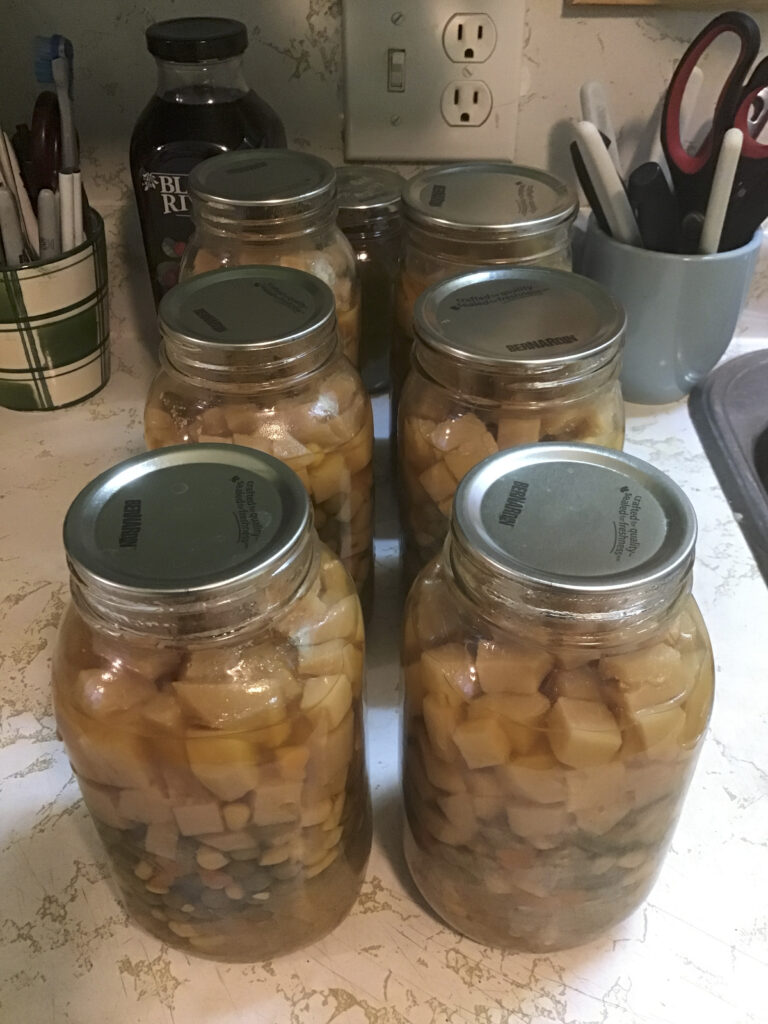 Today the project was to process the remaining oranges, we don't want to lose any and they are getting old. After soaking them in a water/baking soda mixture for ten minutes, then scrubbing them, I removed the stem and blossom ends, sectioned them, then chopped them in the food processor. The mixture was placed in six plastic cups (reused from commercially sold fruit cups), then frozen for later use. I use this mixture to make Orange Chocolate Chip Muffins.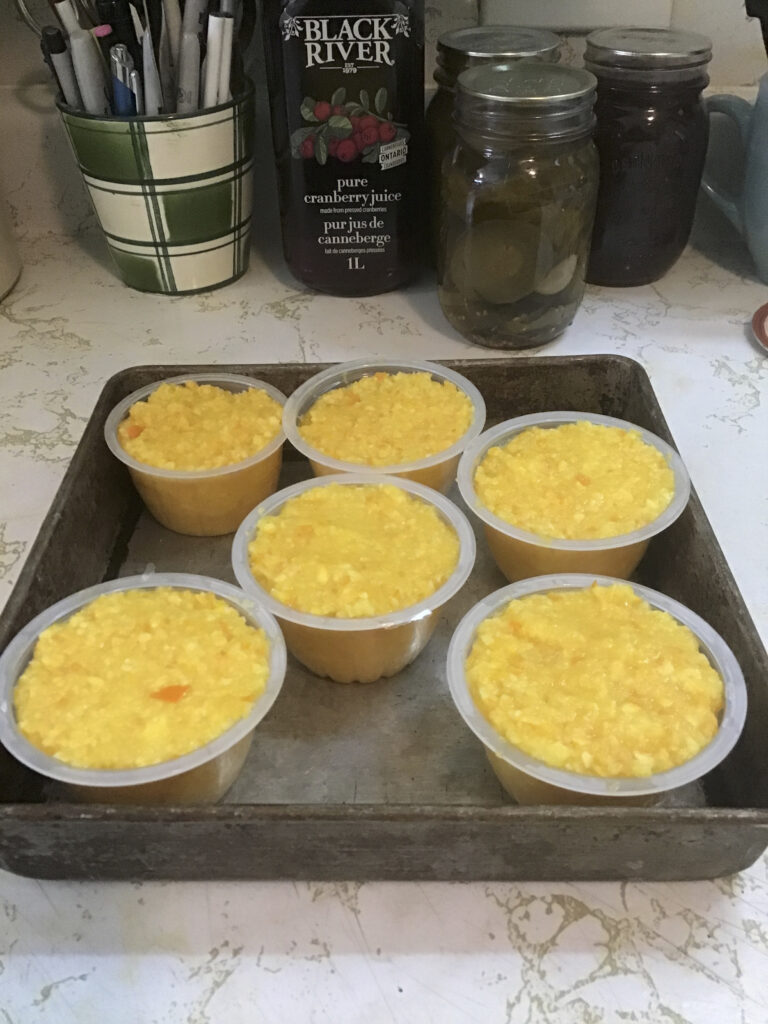 We have already started to prepare our evening meal, Polish Potato and Dill Pickle Soup. It is a delicious soup, a little high in sodium, so I will only be able to enjoy a small helping. My canned Dill Pickles were made with the regular amount of salt called for in the recipe in 2019/20/21. Last summer I reduced the salt with great results, for a much healthier product. However, we still have some higher sodium jars of dill pickles in the pantry, that were canned in 2020, so those will be used first. Eventually we will be into the low-sodium pickles, and then I can have a bigger helping of this soup!

Winter projects in the kitchen are either "feast or famine". Sometimes there is a lot of food to either cook in quantity or preserve, so we are very busy in the kitchen. Sometimes we are eating the food that has already been cooked or preserved, so we aren't as busy in the kitchen, but are eating well nevertheless.

When we shop the items in our grocery cart are predominantly ingredients, mostly sale items which we buy in quantity while they are relatively inexpensive. Lately though, there haven't been many ingredients on sale, so our grocery trips are economical. This weeks grocery bill was under $15.00. This is a bit of a blessing for us just at the minute, the dollars are needed elsewhere.

I studied Home Economics at university, then became a Home Economics teacher. That was many years ago now, but my interest in all things home related has never waned. I love to cook, tolerate sewing, enjoy renovation, and a lot of other aspects of DIY. I have a healthy library of cook books, attained over the last 50 years. Lately I've been pulling one off the shelf from time to time, just to take a gander.

My book case is just beside my desk, so this morning as I sat there, it was easy to reach over and pull out a book at random. Here is a recipe from the book:

Master Mix
8 1/2 cups all purpose flour
1 tablespoon baking powder
1 tablespoon salt
2 teaspoons cream of tartar
1 teaspoon baking soda
1 1/2 cups instant nonfat dry milk
2 1/4 cups vegetable shortening
Sift together dry ingredients in a large bowl. Blend well. Use a pastry blender, cut in shortening until evenly distributed. The texture of the mixture should resemble corn meal. Store in an airtight container, in a cool dry place. Use within 10 weeks. Makes 13 cups of mix.
This mix can be used to make things like biscuits, cookies, cobblers, muffins, pancakes, quick breads. e.g. biscuits would require that you just add water.

More details about how to use this mix, and the recipe itself, can be found at Healthy School Recipes USDA.
Worldly
Weather
Updated on Mon, Feb 20, 2:15 PM
6°C
FEELS LIKE 2
A few clouds
Wind 23 NW km/h
Humidity 46 %
Visibility 23 km
Sunrise 7:00 AM
Wind gust 34 km/h
Pressure 100.6 kPa
Ceiling 9100 m
Sunset 5:43 PM
Quote
"I have a new philosophy. I'm only going to dread one day at a time."
Charles M. Schulz
1922 – 2000

I like this philosophy, it is a thought that will help me through dark times. I think I will combine it with:

"When I'm stuck a day
That's gray,
And lonely,
I just stick out my chin
And Grin,
And Say,
Oh!
The sun'll come out
Tomorrow
So ya gotta hang on
'Til tomorrow
Come what may
Tomorrow! Tomorrow!
I love ya Tomorrow!
You're always
A day
A way"
from the musical Annie, with music by Charles Strouse and lyrics by Martin Charnin, published in 1977