Today was a very sad day at our house. Mist had declined rapidly in the last few days, her health failing in a myriad of ways. We took her to the veterinary clinic about an hour away, the closest I could find with an open appointment. The vet mentioned that she had lost her body fat, and most of her muscle mass. We were advised that her health would further decline, so we made the decision to let her go in peace. She was ready to go. We stayed with her through her passing, and it was a gentle loving end; she suffered no distress at all.
Home won't be the same without her.
Attila and I are in a state of grief, as we knew we would be.
Mist the Kitty
Our Sweet Girl
1996 – 2015
Mist
Mist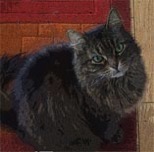 Worldly Distractions
Weather
19°C °C °F
Observed at: Muskoka Airport
Date: 10:00 AM EDT Wednesday 22 July 2015
Condition: Sunny
Pressure: 101.0 kPa
Visibility: 16 km
Temperature: 18.7°C
Dewpoint: 10.4°C
Humidity: 58%
Wind: W 18 gust 28 km/h
Quote
"If we deny love that is given to us, if we refuse to give love because we fear pain or loss, then our lives will be empty, our loss greater."
Unknown