Spring is in full force, at last. We have a short period of time now, days only, before black fly and mosquito season begins. For a few blissful days we can sit out of doors in our shirtsleeves without care. We didn't know how precious this was the first spring we were here. We know now.
Yesterday, I did finally get through to the government agency, after 17 attempts. On attempt number 15 I got all the way through to talk to real person, and even got to give her some of the into I was required to supply; but we were disconnected. I almost cried! I kept trying though and at the end of today I got through again, after a 25 minute wait on hold. This time I gave the agent all the information, but was told that because I hadn't reported this earlier the call had to be escalated. NOW, I reported this the instant that the other government agency told me about the issue, the instant! So now I am waiting for two "escalated" calls from the government agency I called. Luckily, the ball is now in their court, at least for a few weeks. But if they ignore the escalated status, I have to go through this all again to REMIND them about it. Sheesh.
My goals for the day are to collect the leaves out of the garden, and to begin cleaning the screened in porch. During the heating season Attila stores firewood in the screened in porch. The heating season is over until October, so I can begin to collect the debris. After the large material is moved out, the dust and twigs can be swept up, and the floor and walls washed. I would like it ready for black fly season, so that we will have somewhere to sit outside.
We have decided to spend our one-day weekend stacking firewood. I help a bit, but really, Attila does the bulk of the carrying and stacking of firewood. It would be wonderful to have this task completed before black fly season. Once the black flies are out and about, sweaty human bodies become bug magnets.
Attila's birthday present arrived in the mail, so I had to drive into town to pick up the package. While I was there I dropped off my $20 at the office, that takes payment for the fresh food baskets. Once summer is here we will probably try instead to buy local produce near our little house in the city. Local produce in Muskoka exists, but it isn't priced within reach of our food budget.
The very, very last bit of snow on our property, May 1, 2013. This is the remains of the one story high snow bank beside the house, where the snow on the deck, which fell from the roof, was removed to the ground floor.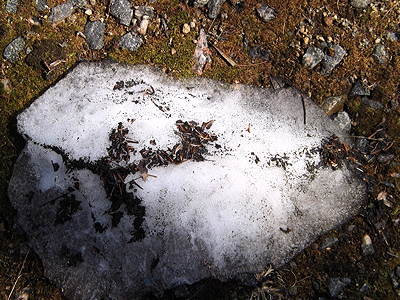 Worldly Distractions
Weather
24C
Condition: Sunny
Pressure: 102.6 kPa
Visibility: 16 km
Temperature: 23.9°C
Dewpoint: 10.3°C
Humidity: 42%
Wind: S 17 gust 30 km/h
Humidex:25
Quote
"Editor: a person employed by a newspaper, whose business it is to separate the wheat from the chaff, and to see that the chaff is printed."
Elbert Hubbard
1856 – 1915