Today I feel like Rosie the Riveter, in my oversized and wonderfully loose bib overalls and steel-toed shoes, hammer in hand, standing on the ladder pulling nails out of wall studs. Pulling out nails while standing on a ladder is tricky business. Erring on the side of caution, I hold on to the studs for dear life, as I muscle those nails out of the wood. I have discovered that I very much like demolition, particularly when I can take my time.
Maggie the Unnailer, enjoying the golden years. Removing nails left behind by the fake wood panelling; doing the prep work to install drywall.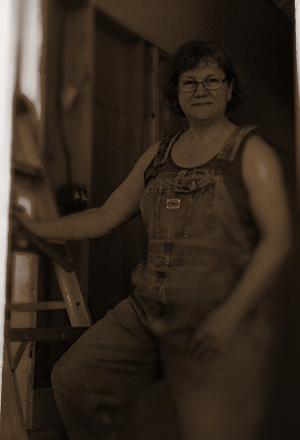 August has begun as it will continue. Yesterday Attila visited the Dermatologist and will spend the next three weeks following a routine set out by the doctor. Next week I briefly visit the hospital for my every-five-year, routine colonoscopy. The month of August ends with five days of work. The money is needed, but I'd rather not go there, really I would rather not. It makes me more than a little unhappy. I will go though.
One bright spot in August is a promised overnight visit from Luna, Janus and the three Grandbabies.
Luna, Janus and the Grandbabies haven't been here in years, so this is a very rare and special occasion. We are planning to have the Grandbabies help us bring firewood out of the bush; nothing strenuous or dangerous, and just enough effort to be fun. It will be an experience for them, because they will be helping with the full-blown, heating-exclusively-with-wood job; this isn't just cottage or summer camp fun. If it is not raining we might have a campfire, complete with hot dogs, hamburgers, grilled cheese sandwiches and s'mores.
Janus has a new job which will find them all living seasonally in Europe, for several months each year. We will see them a lot less than we see them now, which is about twice a year. The Grandbabies are growing up so fast! I think I've made my peace with not seeing them often enough to know them as people; we usually only see them at family gatherings, large, happy, hectic times. It hurts to think about it, so I don't; it is what it is.
The weather today is perfect, from where I am standing. Sunny, a few clouds in the sky, mild, breezy and quiet but for the sounds of things that grow.
Worldly Distractions
Weather
20°C
Condition: Mostly Cloudy
Pressure: 101.1 kPa
Visibility: 16 km
Temperature: 19.6°C
Dewpoint: 13.4°C
Humidity: 67%
Wind: W 11 km/h
Quote
"Nothing in education is so astonishing as the amount of ignorance it accumulates in the form of inert facts."
Henry Adams