The house is now feeling a bit cool, but that is not surprising since the temperature has been dipping below -20C every night since Saturday. Now, the weather people say, the temperature will begin to rise. I hope it just keeps going!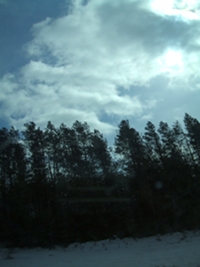 The mess on the desk is finally dwindling, as a result of concentrated effort. It seems time is leading the way to clutter; I'm fighting the good fight. One of the things I love about visiting the little house in the city is that there are few belongings there; life is simple there. All the complicated issues are saved for our day-to-day life in the country house.
A notice came in the mail yesterday; time of use metering will begin here in a few weeks. This complicates life even further and as far as electric heat is concerned, the time of use electricity prices just terminated any hope of using the electric heaters. Heating exclusively with wood has been a cost-cutting, environmental choice until now; heating with wood has become a necessity.
Luna got in touch yesterday to say that they are moving again, soon. Janus has been offered a transfer and a promotion. Their destination is a long way from our country house, and from the little house in the city. We will miss seeing the grandchildren. I rejoice that Terra and Lares are still living near the little house in the city.
This is a singer/songwriter I've enjoyed listening to for many years. I heard him live in Toronto, and had a chat with him; there are some wonderful people in this world of ours. This song is a particular favorite, it resonates deep into the feelings of loss I experience(d) when loved ones have passed.
Worldly Distractions
Weather
-21 °C
Condition: Clear
Pressure: 103.0 kPa
Visibility: 16 km
Temperature: -21.0°C
Dewpoint: -22.8°C
Humidity: 86 %
Wind: calm
Quote
"Nothing contributes so much to tranquilizing the mind as a steady purpose – a point on which the soul may fix its intellectual eye."
Mary Wollstonecraft Shelley
1797 – 1851