Happy Mother's Day to all Mothers!
We made a lighting trip to visit with my mother yesterday, it was her birthday after all. We left after Attila got home from work, drove three hours, had a wonderful time and a fantastic meal at my sister's home, with Mom and nieces et al and nephew in attendance.
My Mom owns property which she and one of my brothers are clearing. One of Mom's birthday presents was, as you can see below, a tool to make clearing land easier. Mom is 82, and is always, always busy with a project!
Mom's Machete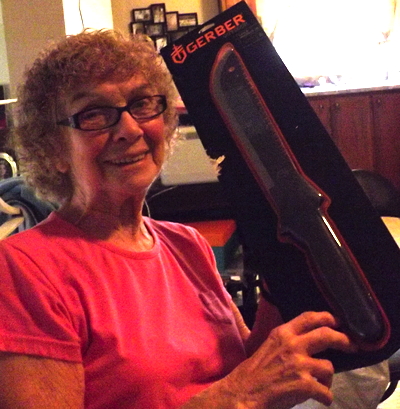 We drove back last night, arriving sometime after midnight. It began to spit snow and blow as we travelled north. The temperature went down to around 2C, but that doesn't take into account the wind chill factor. We spent a cold night under our blankets and were comfortable enough.
This morning it has been even windier, and the snow is blowing hard across the sky. We should be singing Jingle Bells for Mother's Day. It is still below 5C, so Attila has started a fire in the little cast iron stove in the basement, to try and warm things up. Mist is down there now, in front of the blaze, resting comfortably. Of course, we heard about our lack of appropriate attention to providing heat; she wore herself right out.
I am keeping this from Mist, it might inspire further rebellion!
Terra called to wish me Happy Mother's Day, before she headed for some much needed sleep. She is working nights on weekends and must sleep during the day.
Harriet and Hogan dropped by for a cup of tea and a chat. They were on their way home from their cottage, taking the scenic route. It was lovely! Their cottage was not damaged by the floods, but they did have a few repair and maintenance projects to tackle.
Worldly Distractions
Weather
5C
Condition: Mist
Pressure: 100.7 kPa
Visibility: 10 km
Temperature: 5.0°C
Dewpoint: 4.6°C
Humidity: 97%
Wind: WNW 15 km/h
Quote
"God will not look you over for medals, diplomas, or degrees – but for scars."
Elbert Hubbard
1856 – 1915
Note
Elbert Hubbard
"Elbert Green Hubbard (June 19, 1856 – May 7, 1915) was an American writer, publisher, artist, and philosopher. Raised in Hudson, Illinois, he met early success as a traveling salesman with the Larkin soap company. Today Hubbard is mostly known as the founder of the Roycroft artisan community in East Aurora, New York, an influential exponent of the Arts and Crafts Movement. Among his many publications were the nine-volume work Little Journeys to the Homes of the Great and the short story A Message to Garcia. He and his second wife, Alice Moore Hubbard, died aboard the RMS Lusitania, which was sunk by a German submarine off the coast of Ireland on May 7, 1915…
…Hubbard was born in Bloomington, Illinois, to Silas Hubbard and Juliana Frances Read on June 19, 1856. In the fall of 1855, his parents had relocated to Bloomington from Buffalo, New York, where his father had a medical practice…
Ironically, a little more than three years after the sinking of the Titanic, the Hubbards had boarded the RMS Lusitania in New York City. On May 7, 1915, while at sea 11 miles (18 km) off the Old Head of Kinsale, Ireland, it was torpedoed and sunk by the German u-boat U-20.
In a letter to Elbert Hubbard II dated 12 March 1916, Ernest C. Cowper, a survivor of this event, wrote:
I cannot say specifically where your father and Mrs. Hubbard were when the torpedoes hit, but I can tell you just what happened after that. They emerged from their room, which was on the port side of the vessel, and came on to the boat-deck.
Neither appeared perturbed in the least. Your father and Mrs. Hubbard linked arms—the fashion in which they always walked the deck—and stood apparently wondering what to do. I passed him with a baby which I was taking to a lifeboat when he said, 'Well, Jack, they have got us. They are a damn sight worse than I ever thought they were.'
They did not move very far away from where they originally stood. As I moved to the other side of the ship, in preparation for a jump when the right moment came, I called to him, 'What are you going to do?' and he just shook his head, while Mrs. Hubbard smiled and said, 'There does not seem to be anything to do.'
The expression seemed to produce action on the part of your father, for then he did one of the most dramatic things I ever saw done. He simply turned with Mrs. Hubbard and entered a room on the top deck, the door of which was open, and closed it behind him.
It was apparent that his idea was that they should die together, and not risk being parted on going into the water. "
Source: http://en.wikipedia.org/wiki/Elbert_Hubbard
Roycroft
"Roycroft was a reformist community of craft workers and artists which formed part of the Arts and Crafts movement in the USA. Elbert Hubbard founded the community in 1895 in the village of East Aurora, Erie County, New York, near Buffalo. Participants were known as Roycrofters. The work and philosophy of the group, often referred to as the Roycroft movement, had a strong influence on the development of American architecture and design in the early 20th century."
Source: http://en.wikipedia.org/wiki/Roycroft