We headed to the Rideau Camp with Iris in tow after Attila arrived home from work on Friday night.
There is a complete fire ban in force at the moment, so there was no campfire. That worked out perfectly, because it was far to hot to even think about being near the heat of a camp fire. Things are dry in Eastern Ontario, very, very, very dry. It would not surprise me that if we do not get rain soon, it will be called a drought. As we drove home from the Rideau Camp we passed large lawns that were brown and dead.
The temperature was too hot for me by 11 a.m. on Saturday morning, and the same thing happened again this morning. The humidity was high, always a potent combination with hot temperatures. Attila is not bothered by the heat, he just kept on working around the camp, happy as a clam. I sat in the shade, closed my eyes, and waited for the day to be over.
While we sat at the picnic table at the Camp on Friday night, eating our dinner, we heard something travelling through the bush behind the table. We looked into the bush and not twenty feet away stood a deer, staring right back at us. It stood for about a minute watching us, then continued on its way.
The projects I tackled at the camp were to cut branches from the trees from the bottom up, so that the lowest branches were well over my head, and I could walk through the forest without ducking. I did this to about a depth of 20 feet into the bush around the perimeter of the camping area. Attila took over after 11 a.m., to remove the smaller trees that formed the underbrush in the same area around the camp. This serves several purposes. It provides us with more "living space". There is no place for the mosquitoes to lurk, so that they must venture into the open to attack us, which makes them vulnerable to dragonflies. I love dragonflies, and we have plenty of them at the Rideau Camp. Another advantage of keeping the underbrush under control, is that there isn't as much danger of coming into contact with the wood ticks, and apparently they are very bad in the area this year. The removal of the underbrush also allows for easier air flow, so the breezes flow through the area more freely.
When Attila removed the smaller trees, I requested that he save the trunks for me, as I wanted to try using them. He did so. I chose three trees that formed a line, then began to weave the fresh small diameter trunks around the three trees to create a crude wattle wall. It will provide limited visual protection for our compost bucket toilet.
Thankfully, after the blistering hot days, the nights cooled to about 17C. We slept in t-shirts, with light sheets and were quite comfortable. Because I was so overheated from the heat of the day, the battery operated fan was a huge help in cooling my core body temperature so that I could sleep. My new air mattress was a big success. I had 30 year old closed cell foam pads from my tent camping days with the kids, so I took two of them and put one on both Attila's and my trailer cushion. Attila's said it was noticeably more comfortable for him. On my cushion I placed the foam pad, with the new air mattress on top of it. It was very comfortable, more comfortable than the 4 inches of memory foam I had tried previously. I can tell you that in the heat wave I was more than a little thankful that I had removed the memory foam and used the air mattress!
My new sandals worked well, and this weekend was a real test. I wore them to work in the bush in the mornings, and my feet were comfortable, my footing sound, and there were no issues with toes stubbing, or sticks injuring my feet. I wore socks sprayed with permethrin, which kept insects from bothering my feet through the openings in the sandals. The sandals were warm to wear in the heat, but any footwear would have been. They were definitely bearable in the heat, which is a vast improvement on rubber boots.
I discovered an interesting thing about clothing sprayed with permethrin. We have had 100% success keeping insects from biting us through clothing sprayed with permethrin. But that is because we have only sprayed clothing made of plain woven cotton cloth. On Friday I sprayed a pair of stretch pants, thinking they would be more comfortable in the heat. It was a big mistake. Once the fabric was stretched while wearing it, the mosquitoes had no trouble at all finding my delicate flesh. It only took a few mosquito bites to send me into Iris to change into my woven cotton pants, which worked to keep the bites at bay.
There were lots of tent caterpillars, and Attila destroyed every nest of them that he found on our property. As well there were swarms of army worms on some of our trees, and again Attila destroyed every swarm that we found.
Another discovery made on this trip to the Rideau Camp, is that crows are one of the most annoying birds I have ever come across. At 5:05 a.m., on Saturday morning and this morning, hundreds of crows gathered in the treetops not far from our camp area. Then they began to caw, together, in unison, at each other… it was a cacophony no human could sleep through. Their concert lasted for about 45 minutes. The only time they were silent during the concert was when an owl hooted; there was a sudden hush, a long pause, and the crows started up again. And then suddenly they dispersed, flying off in all directions.
We checked on our composting toilet this weekend, and it is working as it should, no odour, no interference from animals. The next step is to build the composting bins. We have chosen our location carefully, far from the well and the camp fire area, and in an area with deep soil suitable for a base. We have decided that our compost will sit for four years after the bin is full, rather than the recommended two, because it will be frozen for six months of the year. We plan on using the compost to enrich the soil for ornamentals.
On Saturday night we were surrounded by fireflies, what fun! They danced around Iris, and provided great entertainment, which was welcome as we could not have a camp fire.
We enjoyed our weekend, but I did not enjoy the heat of the day during the heat wave on Saturday and Sunday. It will be easier to tolerate the heat in July and August, when the mosquitoes have died down and protective clothing no longer has to be worn.
This is the Rideau Camp early in May. There is a lot of undergrowth and walking through the woods involves contact with leaves, lots of leaves.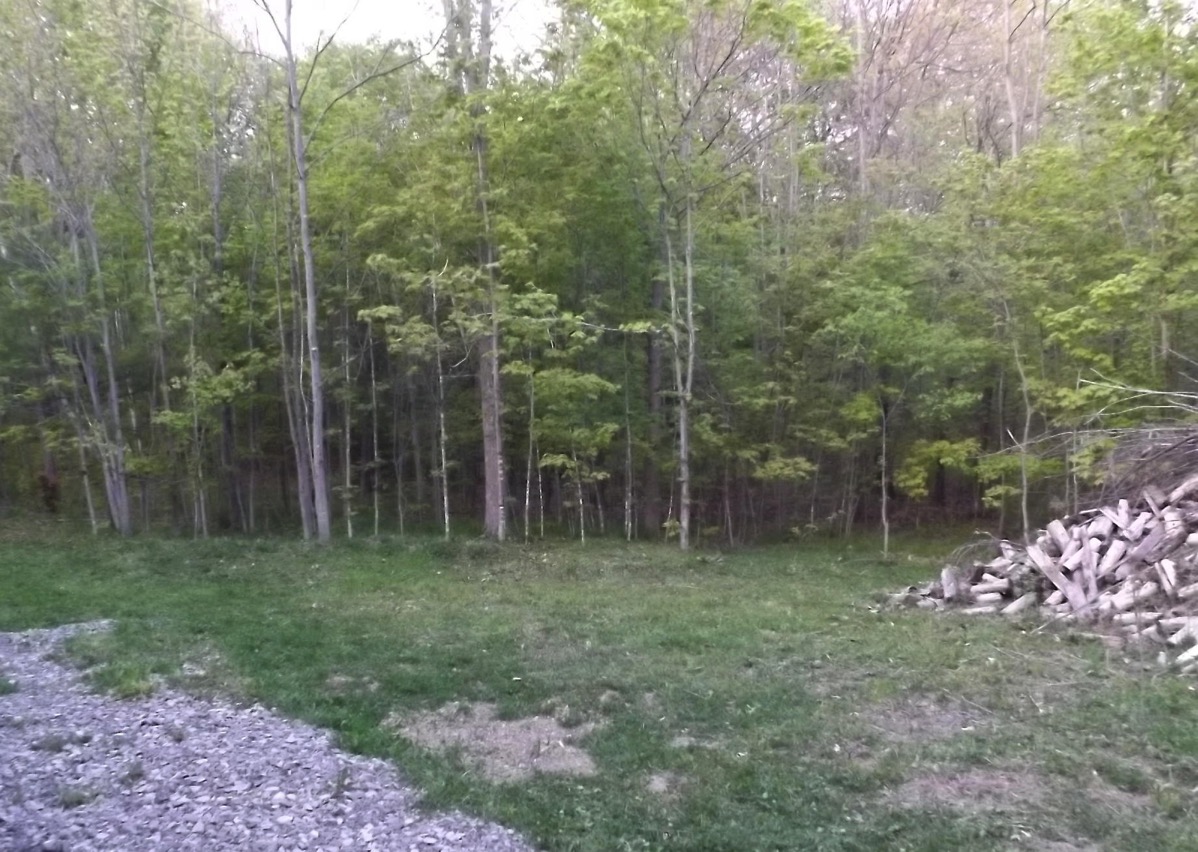 This is the same area of the camp as shown in the last photo. The branches have been trimmed from the bottom up, so that one can walk underneath the lowest branches left on the trees. The beauty of this approach to opening up an area for human use, is that it does not affect the tree canopy, although it does affect the forest floor. We notice that the dragonflies like it a lot, and that the birds don't seem to notice any difference at all.
This is my crude wattle wall, built from the culled small tree trunks we took from the same area. It is of limited use, but I had fun building it. I did not use stakes, but the trunks of three live trees as the warp for my weaving.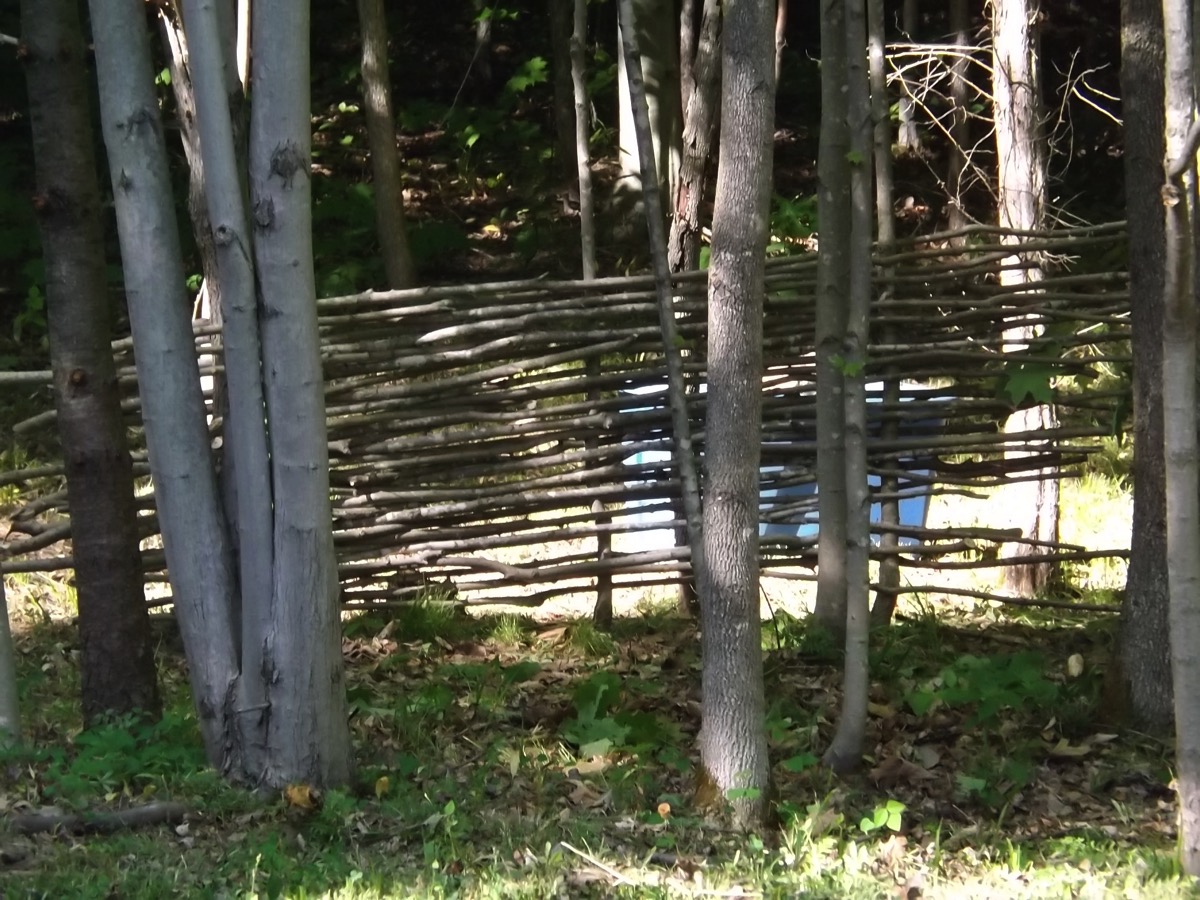 These might be the tallest dandelion flower heads I have ever seen, they were just over two feet high. Not exactly the bumper crop of my dreams, but interesting.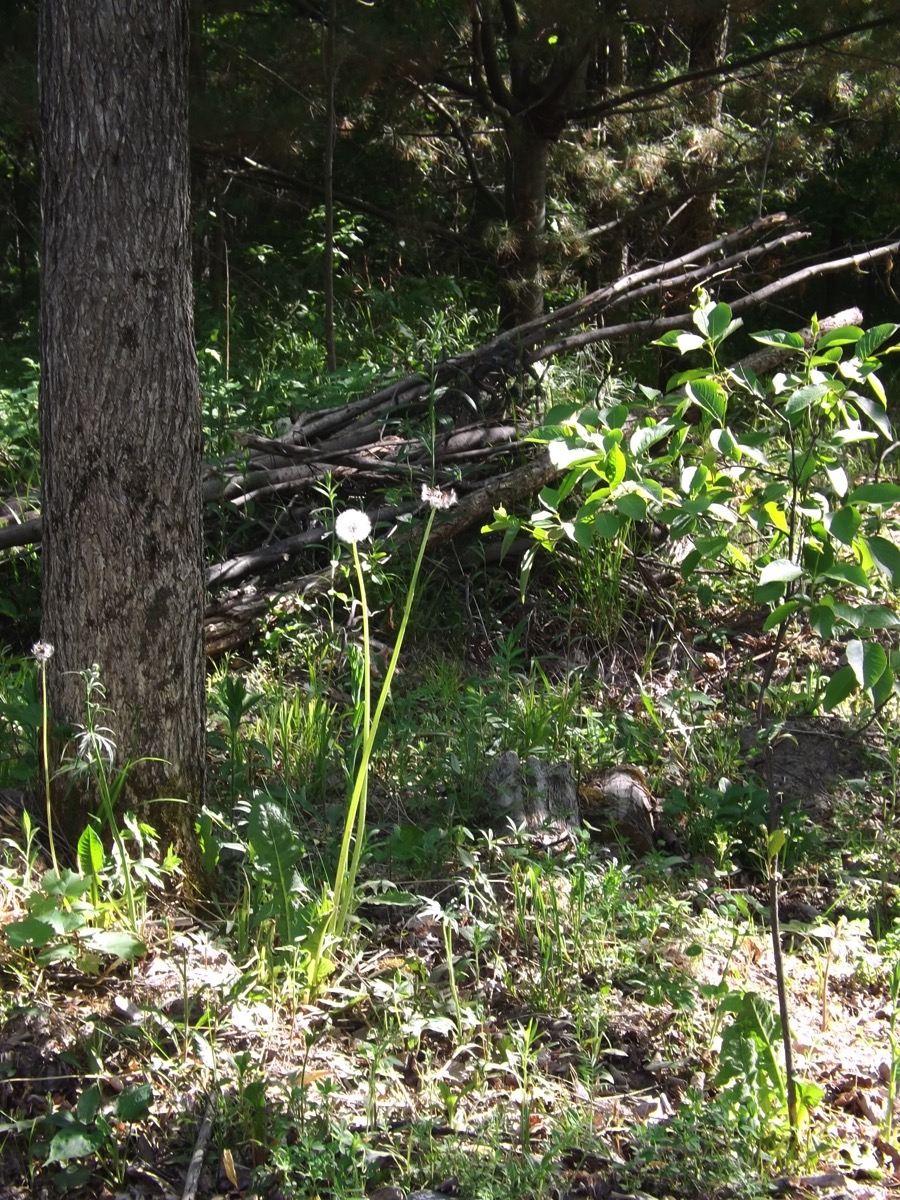 Worldly Distractions
Weather
32°C
Date: 2:00 PM EDT Sunday 29 May 2016
Condition: Mostly Cloudy
Pressure: 101.6 kPa
Tendency: falling
Visibility: 19 km
Temperature: 22.2°C
Dewpoint: 18.3°C
Humidity: 78%
Wind: S 16 km/h
Humidex: 41
Today
Increasing cloudiness near noon. 30 percent chance of showers late this afternoon with risk of a thunderstorm. Wind southwest 20 km/h gusting to 40. High 29 except 22 near Lake Ontario. UV index 8 or very high.
Tonight
Mainly cloudy. 40 percent chance of showers this evening and after midnight with risk of a thunderstorm. Wind southwest 20 km/h gusting to 40 becoming light before morning. Low 16.
Quote
"Children should feel loved because they exist, not because they've behaved in a certain way."
Julie A., M.A. Ross and Judy Corcoran
I think this is a statement that must work two ways, to say also that parents should feel loved because they exist, not because they've behaved in a certain way.
How many diatribes by the young have I read and heard, in newspaper articles and blogs, criticizing their parents for not being what they "should" be or should have been, for not living up to the adult child's expectations; these are children that grew up in loving homes, who did not experience real want or need. Elder abuse is a social problem, too often committed by the elderly person's children.