Happy Easter everyone, may this wish find you safe, happy, and healthy!
The COVID-19 virus has reached Attila's extended family. We had a lovely chat with his Mom today, she is well, and is staying at home thank goodness. Attila's step-father's niece was one of the people who died on the cruise ship the MS Zaandam, and her partner is now hospitalized. Attila knew her, but I had not met her, or her partner. It is sad news.

Here at home, we keep ourselves busy, and as far out of harm's way as we are able. Last week I got out my sewing machine, which is 51 years old this year. I know how to sew. I am good at sewing. I taught sewing in the public school system. I dislike sewing. When I was younger I would force myself to remain positive and focused to accomplish whatever sewing project was at hand, be it clothing for me, or for my children, or mending. But as I have "matured" I have become a lot less willing to spend time doing things I dislike, and sewing is right up there with bookkeeping on my hate-to-do list. But needs must, and we need face masks, so the little sewing machine came out of the storage box.

I saved many scraps of fabric over the years, so luckily I have the scraps I need to make a few face masks. I do not however have elastic. No matter, I found two old headbands that were 12 inches long, they would have to do. It has been a while since I last sewed, a decade or so I guess, so I am a bit rusty. I cut the material for my mask incorrectly, which means I have to devise a way to work around that error. So I decided to start with Attila's mask, because the material for that one was cut correctly. It took me all day to drag out all the equipment, set it all up, make the mask, and put everything away again.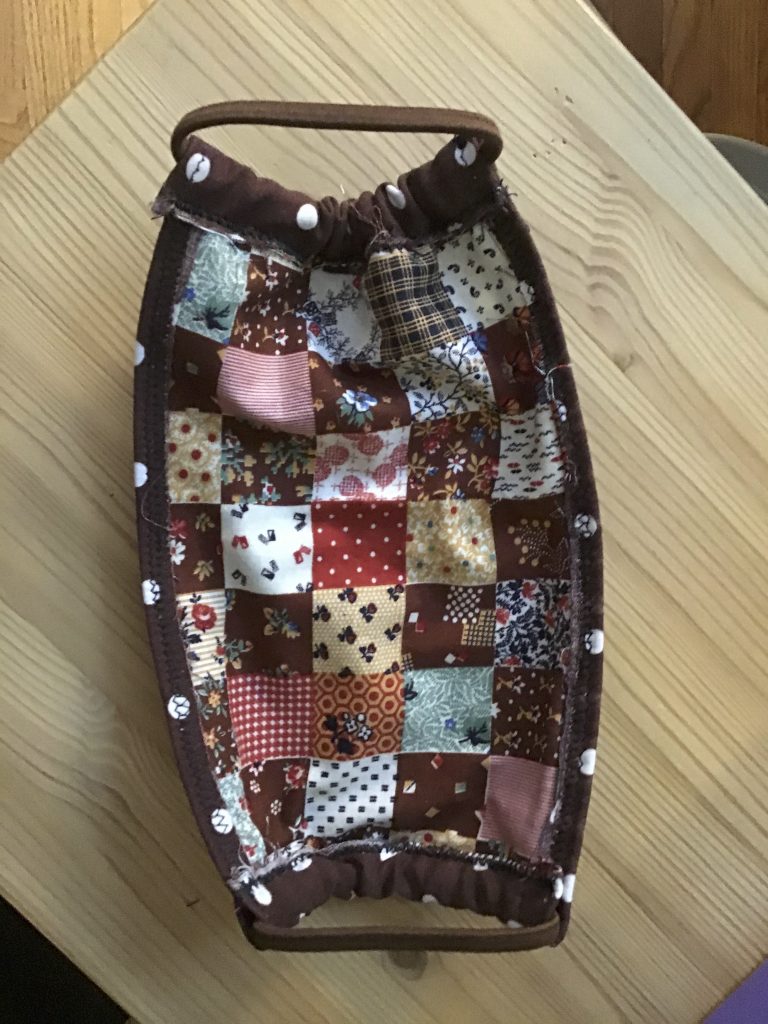 Much to my dismay, my trusty little sewing machine had a problem, for the very first time in 51 years of use. It now will only sew a zig-zag stitch, no more strait stitches. So the mask was made using the zig-zag stitch. The results were acceptable. The second mask, my mask, will have to wait until next week, when I will gather resolve to drag everything out again, and create a mask for myself.

When we lived at the country house, I had taken up clay and pottery as a hobby. I didn't get very far with that, as our power supply was only 100 amp and the kiln stretched that to its limit. But I still have all the equipment. And guess what, I have one used NIOSH N95 non-medical grade mask, and a used welding face shield, both needed for sanding and working with slips. They are still good, so Attila can use them when he has to go to the grocery store to pick up our groceries, later this month. That is good news. He will look like an alien, but he won't care one bit.

Yesterday I baked a loaf of sweet bread, with raisins and cranberries, also a dozen sour cream raisin muffins. These are our Easter treats. Today Attila is roasting a small chicken, with garden vegetables, carrots and our very own Brussels sprouts. Something to look forward to!

Meanwhile, in the garden, the radishes Attila planted are coming up, and small rhubarb leaves are beginning to unfurl. Everything is turning green, and even though the weather is gray and dreary and cold out there, the green is very cheerful, and hopeful.
Worldly
Weather
10°C
Date: 5:00 PM EDT Sunday 12 April 2020
Condition: Cloudy
Pressure: 101.4 kPa
Tendency: Falling
Temperature: 10.3°C
Dew point: 0.5°C
Humidity: 50%
Wind: SSE 15 km/h
Visibility: 24 km
Quote
"We can't take any credit for our talents. It's how we use them that counts."
Madeleine L'Engle
1918 – 2007